10 Healthy Vegan Snack Ideas , energy balls, energy bars, superfood quinoa bowl, smoothie bowls and many more vegan and gluten free snack ideas!
SNACK ATTACK recipe round-up!
These are some of my favorite recipes that are healthy + vegan + gluten free and they are all pretty easy to make!
Snacks should be easy right? Well today I am showing you 10 of my favorite snack that are good for breakfast or snacks as well as EASY to make!
There are a couple recipes that require a little prep or work to prepare but the "easy" part …is that one time of work/prep will give you a few snacks or breakfasts! 😉
So let's get to it!
3 ingredient blueberry muffin energy balls!
these are my FAVORITE for a quick pop in your mouth snack on the go, or even better when you use it as a topping on some nice cream or smoothie bowls! these require about 5 minutes of prep and then they are ready to go! stored in the fridge and ready when ever you need them!
Healthy Peanut Butter Pretzel Energy Bars!
these are my newest obsession! I love my soft granola bars just as much as I love my fruity smoothies, often I eat them together for breakfast! these guys are super soft and gooey and besides the chocolate chips they are naturally sweetened with medjool dates and maple syrup! 😉
1 bowl No-Bake Vegan Chocolate Chip Nut Cookies!
Breakfast energy cookie for the win with theses! they have sesame seeds for added health benefits and they have a nice crunch from the almonds and fiber from the oats!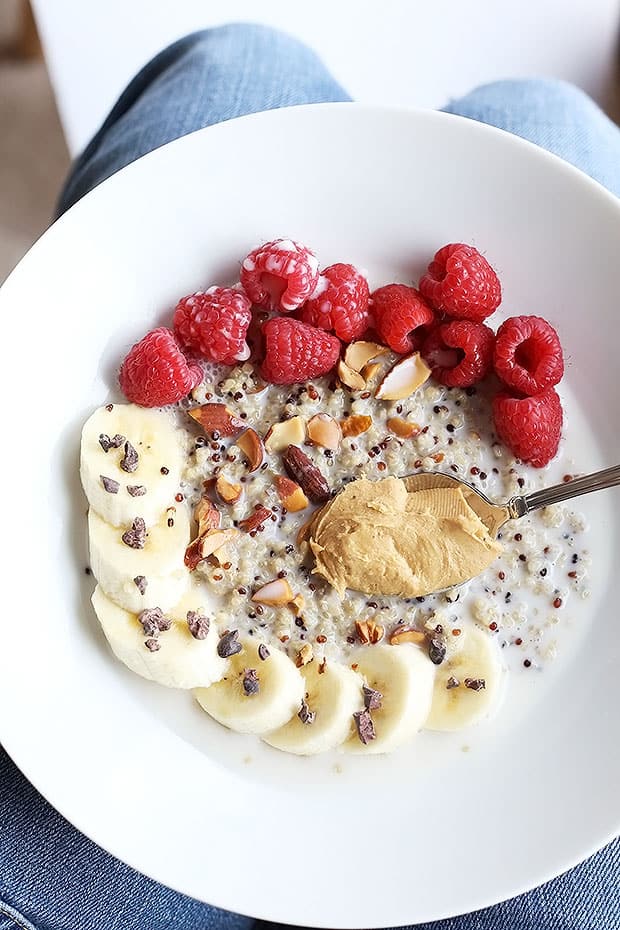 7 ingredient superfood quinoa breakfast bowl!
I love to switch it up between quinoa and overnight oats!  I usually eat these for snacks or lunches because they are super filling and have lots of flavor and textures! TIP prep the quinoa plain in advance and store in the fridge so it is all ready for you and you just add toppings just like a bowl of cereal!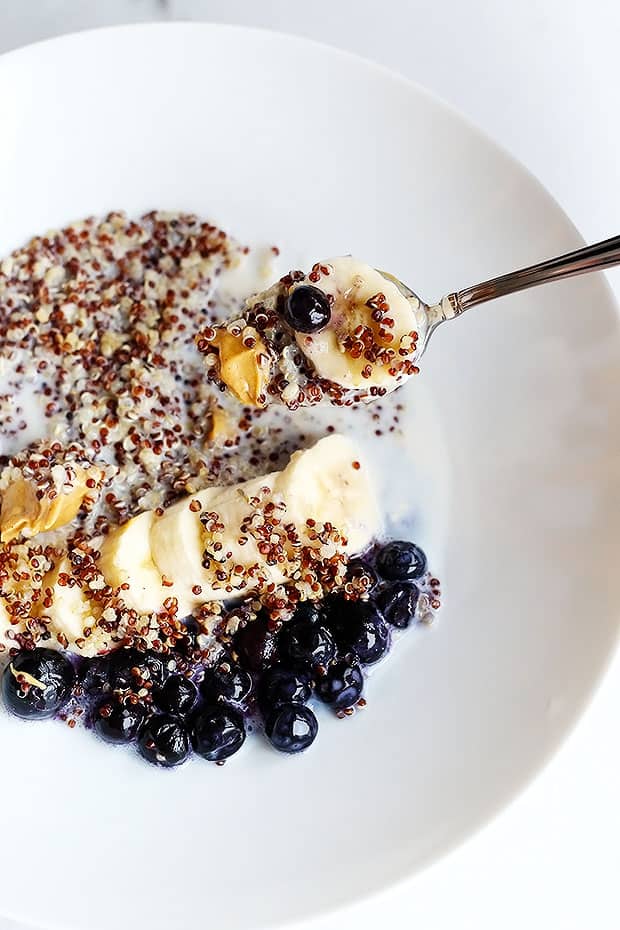 5 Ingredient Quinoa Superfood Breakfast Bowl!
I don't which is more of a superfood between this quinoa one above and my Chocolate Chia Superfood Breakfast?!  Either way they are both great for an afternoon snack attack or when your totally hungry before dinner but don't want to spoil your appetite and just need something to hold you over! 😉
Be my Valentine PINK Smoothie Bowl!
smoothie bowls and smoothies! I can never get enough of them! raspberries or blueberries are my all time favorite flavors to add to them! and this pretty pink color always puts a smile on my face! 😉 trust me you won't be able to NOT smile when eating a pretty pink bowl!
this is TOTALLY fruity and screams to be eaten in the soon to be summer HEAT! it's sweet and pack a sour punch!
date balls are the most versatile to switch up flavors and great for a sweet tooth that is also hungry!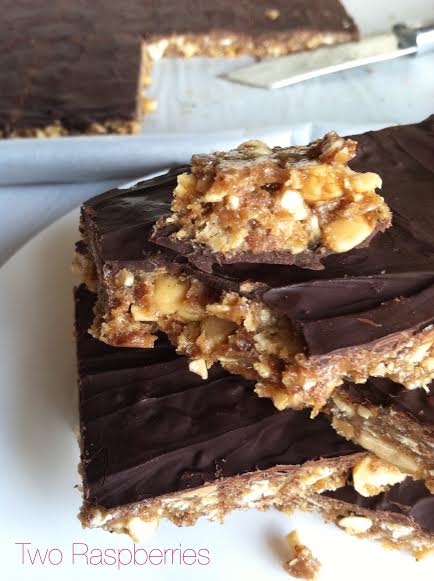 Chocolate Peanut Butter Granola Bars!
nothing is better than peanut butter and chocolate together! I don't know if these should be a snack or a dessert because they are that good! 😉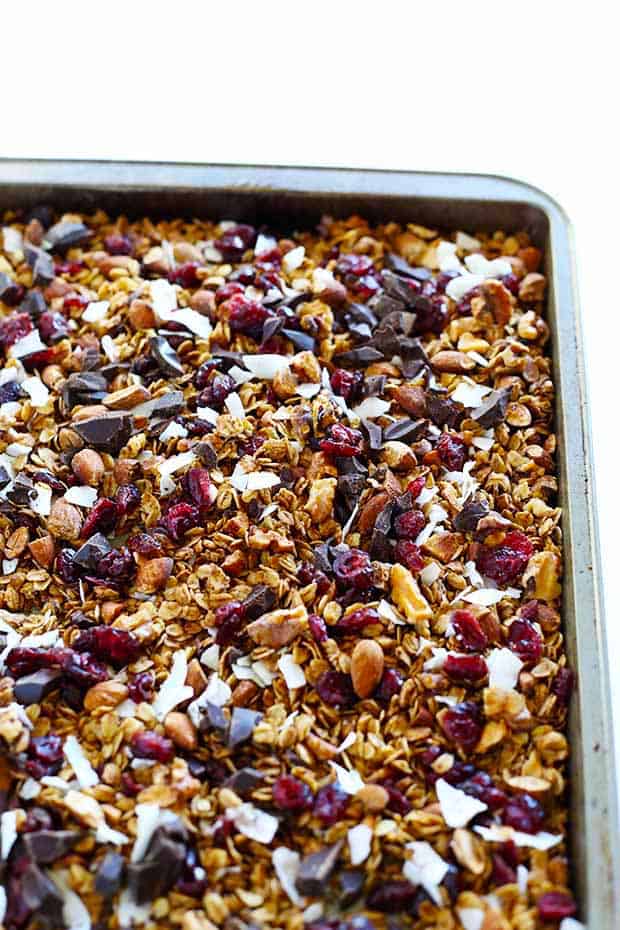 Healthy Dark Chocolate Cherry Cinnamon Granola!
PERFECT for tossing in your purse or lunch box! great for snacking. sweet cherries and dark chocolate are always amazing together but paired with coconut and oats it is seriously delicious! also really tasty in a owl with some almond milk! 😉
I hope you give this a try and let me know what you think! let's keep in touch too on TwoRaspberries, Facebook, Twitter, and Pinterest! 
want to PIN this for later? click here
and don't forget to sign up for email updates (drop your email in the box below!) 
****************************************
**************************************