This 5 ingredient Healthy Broccoli Quinoa Salad is SUPER quick and easy to make and is paired with a tahini chili sauce. Vegan and Gluten Free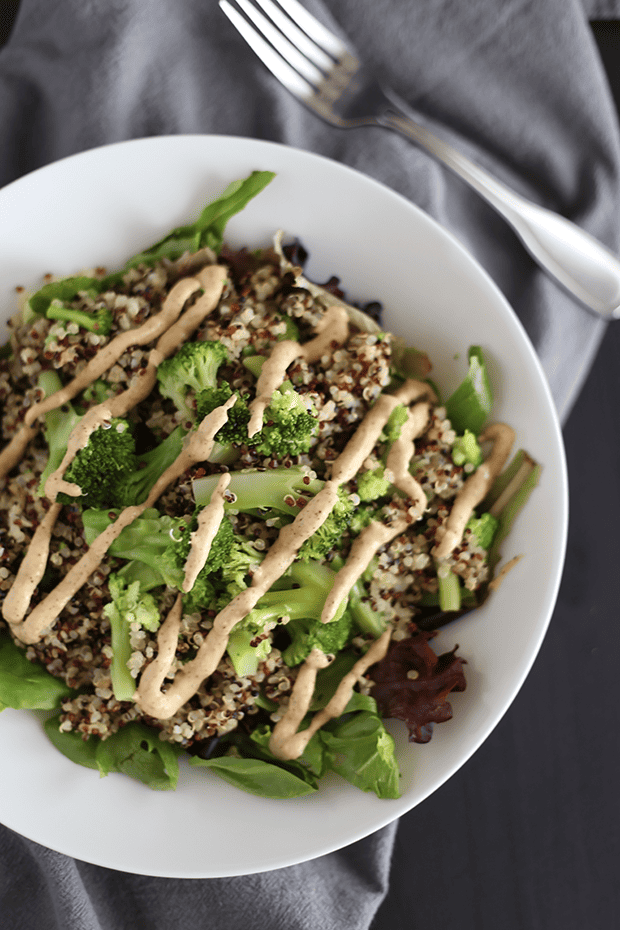 5 ingredient recipes are the best don't you agree? I mean they are never very time consuming and usually they are really simple with a pop of flavor! … in here we have really simple broccoli and quinoa over a bed of lettuce and the flavor comes from our tahini chili dressing… which is ahhhmazing!
As you know I love my 5 ingredient recipes like my Sweet Potato Spinach Quinoa Salad and my Quinoa Superfood Breakfast Bowl!
So to keep this 5 ingredients we cooked the quinoa is water but if that's just not your thang' then you can cook it in half water and half low sodium veggie broth but then keep in mind it will be 6 ingredients then. HA 😉
Tahini… you can sub this for natural runny almond butter or other nut/seed butter if you just can't get into the tahini thing, honestly it is kind of a acquired taste, at least for me it was but if you google sesame seeds (which is what tahini is) or tahini health benefits, you will see that there is loads of health benefits like folic acid, B vitamins, vitamin E, potassium, iron and SO much more. check out this article for more! I really encourage reading how amazing tahini can be! 😉
Broccoli, do I really even need to explain how healthy broccoli is? …just a few things would be fiber, minerals, vitamins and antioxidants. Also because we steamed this broccoli so it retained a lot of it's healthy nutrients, as you may (or may not) know when you heat certain veggies at high temperatures they loose some or all of their nutritional value… but like I have said a million times on here, if you're eating fruits and veggies cooked/raw/steamed/bakes/sauteed any way you like them you are still better off than those who are eating junk! 😉 just sayin'…
ok! this 5 ingredient Broccoli Quinoa Salad is:
Healthy + Easy
packed FULL of vitamins, minerals, protein and antioxidants!
great for meal prepping (keep dressing on the side until ready to eat)
savory with a spicy dressing!
Alright! I really hope you give this a try and let me know what you think in the comments/ratings below! Also snap a pic and tag me on social media I love connecting with you! 😉
Print
5 ingredient Healthy Broccoli Quinoa Salad
This 5 ingredient Healthy Broccoli Quinoa Salad is SUPER quick and easy to make and is paired with a tahini chili sauce. Vegan and Gluten Free
Author: TwoRaspberries
Prep Time:

10 mins

Cook Time:

20 mins

Total Time:

30 mins

Yield:

2

1

x
Category:

Lunch/Dinner
½ cup

dry tri-colored quinoa rinsed well (cooked per instructions in water or low sodium veggie broth or half water and half broth)

2 cup

broccoli chopped tiny (fresh or frozen)
Lettuce (spring mix or baby greens or your favorite)
DRESSING:

2 TBSP

natural runny tahini

2 ½ TBSP

water

½ tsp

chili powder
optional for sweetness ½ teaspoon put maple syrup
Instructions
rinse and drain quinoa. Cook quinoa according to package instructions. (I used water but you can also use low sodium veggie broth or half water and half broth)
chop broccoli tiny and once the quinoa is ¾ the way cooked (most of the water is absorbed) add the broccoli on top and continue to steam/cook for another 10 minutes until the broccoli is soft and no liquid is left in the pan.
prepare dressing by mixing everything up in a small bowl, it will get funny textured first but keep stirring and it will combine and get creamy! add ½ teaspoon per maple syrup to sweeten if desired.
serve on a bed of lettuce and drizzle tahini sauce over the top!
Serves 2