This 5 Ingredient Superfood Breakfast Bowl is packed full of healthy fiber and vitamins from the chia seeds and blueberries! It is super simple, vegan and gluten free!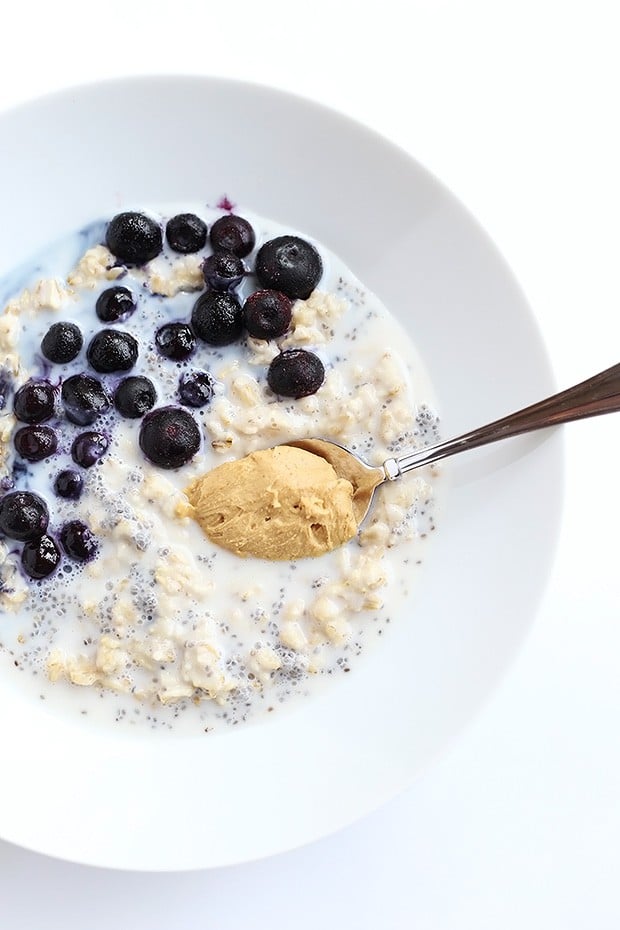 I think you are going to LOVE this 5 Ingredient Superfood Breakfast Bowl because it is not only tasty but really filling as well as packed FULL of healthy fiber and vitamins!
I absolutely adore breakfast bowls! Often times I find myself eating a breakfast bowl at lunch time because they are SO easy and fast to make!
this video is for my ebook Simple Clean Vegan Lifestyle but the recipe demonstrated in here is this  5 Ingredient Superfood Breakfast Bowl! 😉

I tend to eat the same one for like 1-2 weeks and then it's time for a new combo.
This one in particular is my current favorite because it has so much good for you stuff in it!
Almond milk- has vitamin D
Chia seeds are FULL of vitamins and minerals you can read my post about them here!
Old fashioned rolled oats! Fiber and heart healthy deliciousness! Plus really filling!
Blueberries! I think everyone in the world knows that blueberries are FULL of antioxidants and free radical fighting properties!
Peanut butter! Seriously taste amazing on everything so how could I leave it out?!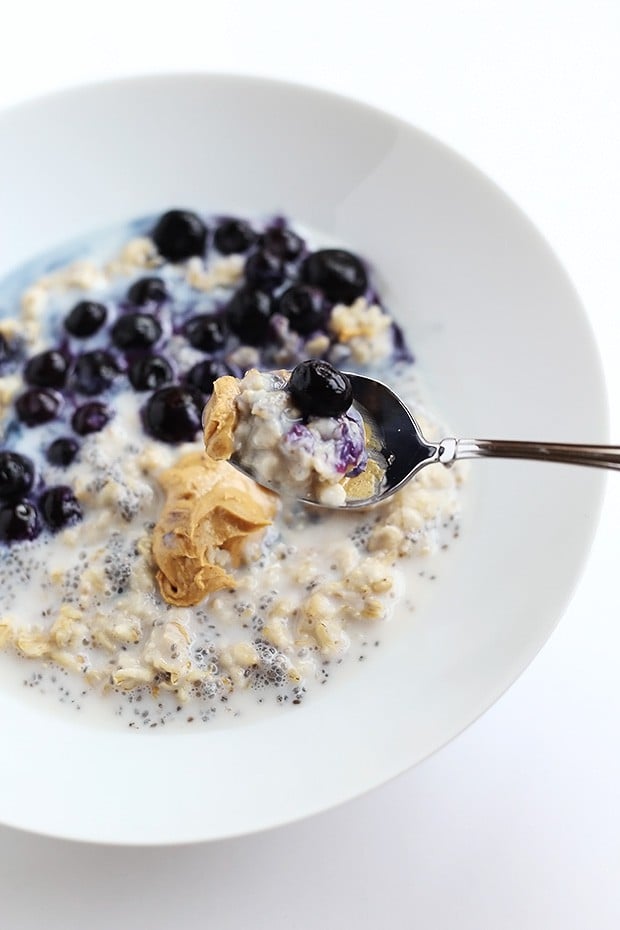 I have also included a "LOADED" option and it's the last picture in this post! Basically I loaded on extra toppings for even more flavor and texture! So if your not sold on the whole 5 ingredients then LOAD up the bowl! 😉
Also I included "optional sweeteners" I personally do not use them, I feel like the peanut butter and fruit give plenty of flavor but if you are not used to not adding a sweetener then choose one of the options I listed in the recipe!
I hope you love this recipe! let me know what you think and take a pic if you try it and tag me on social media!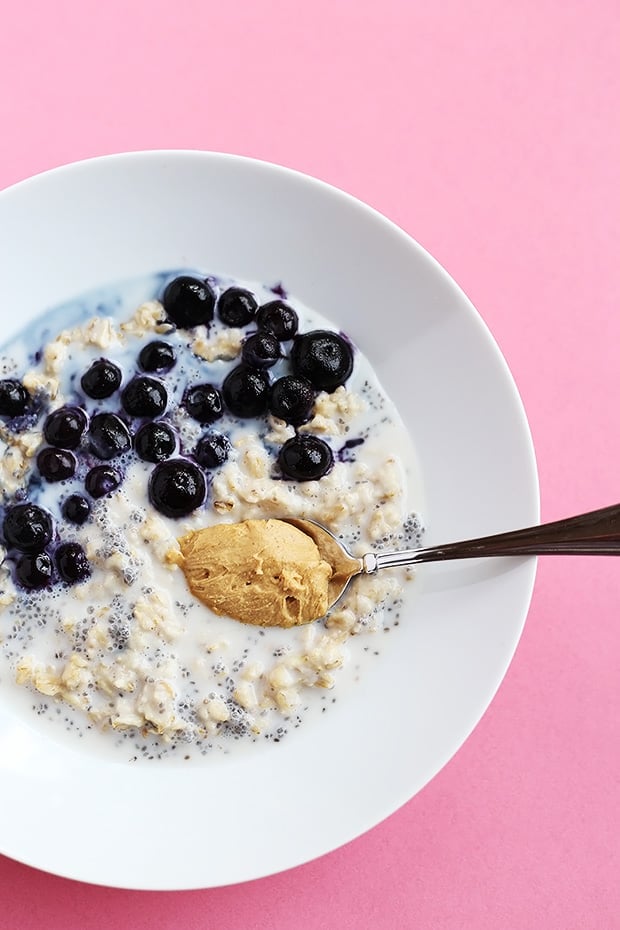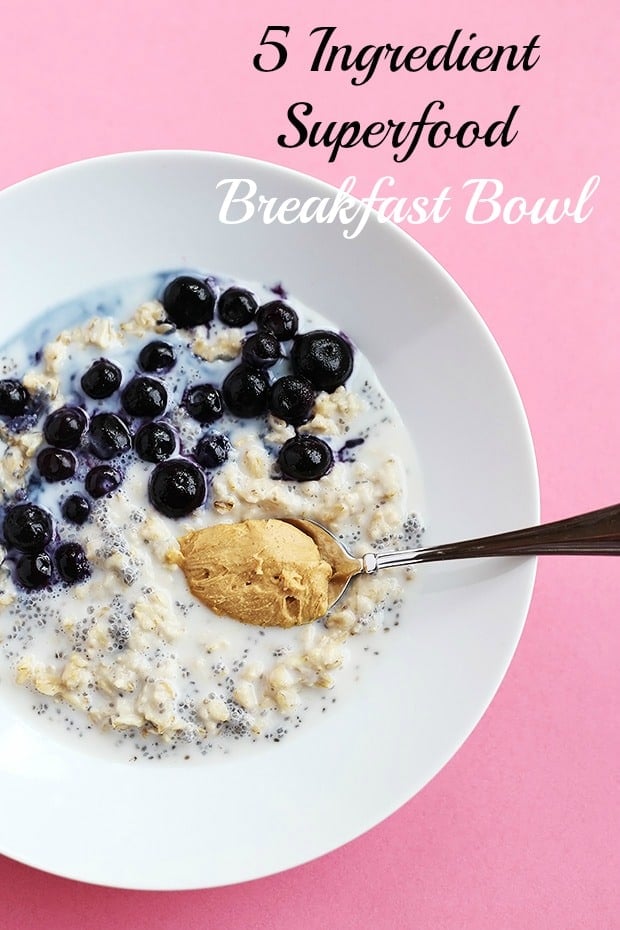 I hope you give this a try and let me know what you think! let's keep in touch too on TwoRaspberries, Facebook, Twitter, and Pinterest! 
want to PIN this for later? click here
and don't forget to sign up for email updates (drop your email in the box below!) 
*******************************
****************************
Print
5 Ingredient Superfood Breakfast Bowl
5 Ingredient Superfood Breakfast Bowl
Author: TwoRaspberries
Prep Time:

30 mins

Cook Time:

5 mins

Total Time:

35 mins

Yield:

1

Category:

breakfast
- ½ cup old fashioned rolled oats (plus 1 cup liquid, water or almond milk)
- ½ cup blueberries
- 1 tablespoon peanut butter
- ⅓-1/2 cup unsweetened vanilla almond milk (I use SILK brand)
- 1 teaspoon chia seeds
OPTIONAL sweetners:
Maple syrup, coconut sugar or brown sugar
OPTIONAL for the loaded bowl:
- Raw cacao nibs
- Banana slices
- Cinnamon
- Chopped pecans
Instructions
First start by putting the chia seeds in the ⅓-1/2 cup almond milk (this will be poured over the top of the oats so it just depends how much liquid you want) let this mixture sit for at least 30 minutes or even better would be to prepare this the night before you are going to eat this breakfast and it will be ready in the fridge!
Prepare your oats! If using the microwave you may want to use a little less than 1 cup liquid to ½ cup oats and if you are doing stove top then use the whole 1 cup liquid. I like to use half water and half almond milk for my oats but it's really up to you!
Once the oats are done, add them to a bowl and top with blueberries and a spoon of peanut butter! Then get the almond milk + chia seed mixture and pour over the top! ENJOY!
This serves 1 person
Notes
I personally do not use a sweetener in my oats because the blueberries and the peanut butter are perfect for me BUT if you need a sweetener you can add one of the optional ones listed in the recipe!
easy. healthy. totally YUM!