9 Favorite Superfood Quinoa Recipes! Quinoa Bowls, Quinoa Patty's, Mixed Veggie Quiona bowls! everything Quinoa Today!
Hey everyone!!! since you know I LOVE Quioa 😉 cause it's SO easy and versatile with all the things you can do with it PLUS it makes some really yummy leftovers... just sayin! 😉
and not to mention all the good for you things like protein, fiber, manganese, magnesium, phosphorus, folate, copper, iron, zinc, potassium, plus B and E vitamins! check out specific info here!
SO! I wanted to share with you my 9 favorites from the blog that I make over and over again! and come of them are the TOP PINNED things on the blog here! so let's get right into it shall we!!!
you can check out ALL the Quinoa recipes here (plus more to come) otherwise lets just get right into the BEST ones!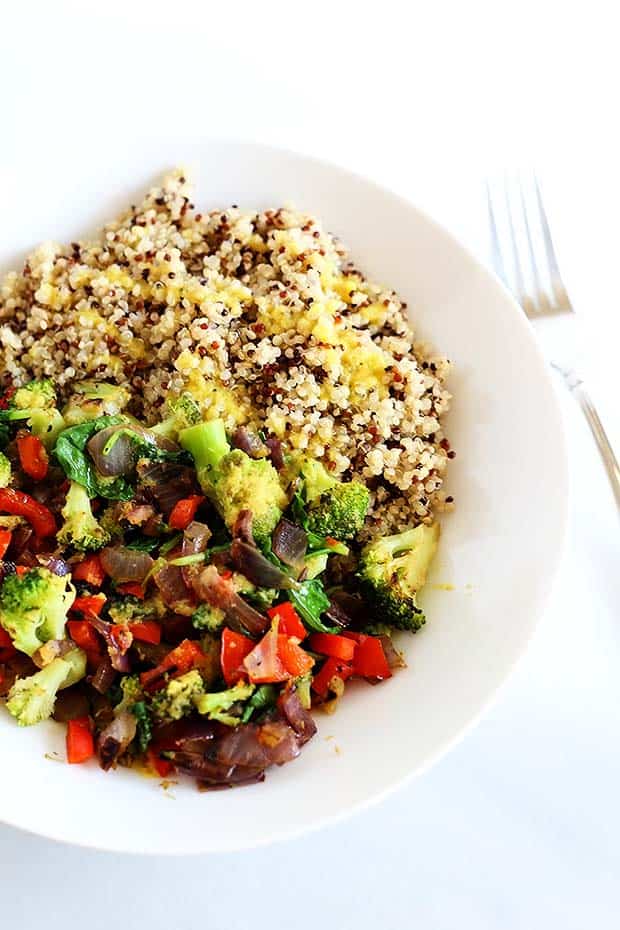 I would have to say this Superfood Quinoa Bowl (or one of the breakfasts that will be below) is probably my favorite and the most re-made recipe I have for quinoa! so if you haven't tried it yet then you must! 😉
5 Ingredient Quinoa Superfood Breakfast Bowl I mean it was SO good I had to do another version of it (BELOW) in attempts to convince any of you who had not tried it yet, to TRY IT!!! 😉 so simple and amazing hot or cold!
7 Ingredient Superfood Quinoa Breakfast  this is the newest Quinoa recipe and let me just say... it's got all the right things! soft quioa, crunchy cacao chips and almonds, creamy peanut butter and fresh fruit!!! perfect winner in my book!
Detox Quinoa Bowl I have two words to describe this bowl... SO FRESH! I mean the cooked quinoa paired with the raw veggies and creamy avocado plus crunchy nutty walnuts.... you need this in your life!
Healthy Quinoa Salad  if you are looking for a fresh new salad idea that's filling and TOTALLY SATISFYING then look no further! This is the perfect quinoa salad to prep the night before and bring with you the next day it keeps it's flavor really well! 😉 the oranges bring out SO much juicy sweet-ness I mean it's salad at it's finest!
this is an oldie but a goodie! Healthy Mixed Veggies Quinoa this is a beginner qunioa recipe, back when I first started to make quinoa and didn't really know what would pair good with it...I guessed on this recipe and ya know what... it turned out pretty yum-o if you ask me! it has plenty if textures going on and it's really simple to make!
another old but goodie! Healthy Summer Toasted Quinoa this one has nutritional yeast added to it for extra vitamins! also super easy because it was one of the very first ones I ever made with quinoa but hey, it turned out tasty so that's all that matter rights?! ;-).
Clean Healthy Buddha Bowl I'm not sure this could get any healthier! HA! such fresh ingredients and truly for someone who loves natural flavors and appreciates fresh foods! definitely on my favorite list! plus another ones that it really good as leftovers! 😉 (yes leftovers are one of my favorites because they make life SO much easier)
and last but not least! Sweet Potato Quinoa Patty's!  this are my favorite addition for topping on salads! yes they are good on a burger bun too but they are so soft with a slight crisp on the outside they they make much better salad toppers in my opinion because I like my salads to be a little bit substantial if ya know what I mean!  I don't love to eat just lettuce HA!
ok! I think that's all for now! don't forget to check out ALL the Quinoa recipes here (plus more to come)
***and sign up for emails so you never miss anything!!! cause I mean who wouldn't want healthy + easy food delivered right to their email right?!?!?! 😉
************************************