These easy Apple Spice Rolls taste just like a homemade apple pie wrapped in a super soft and perfectly doughy roll. Vegan and super yum!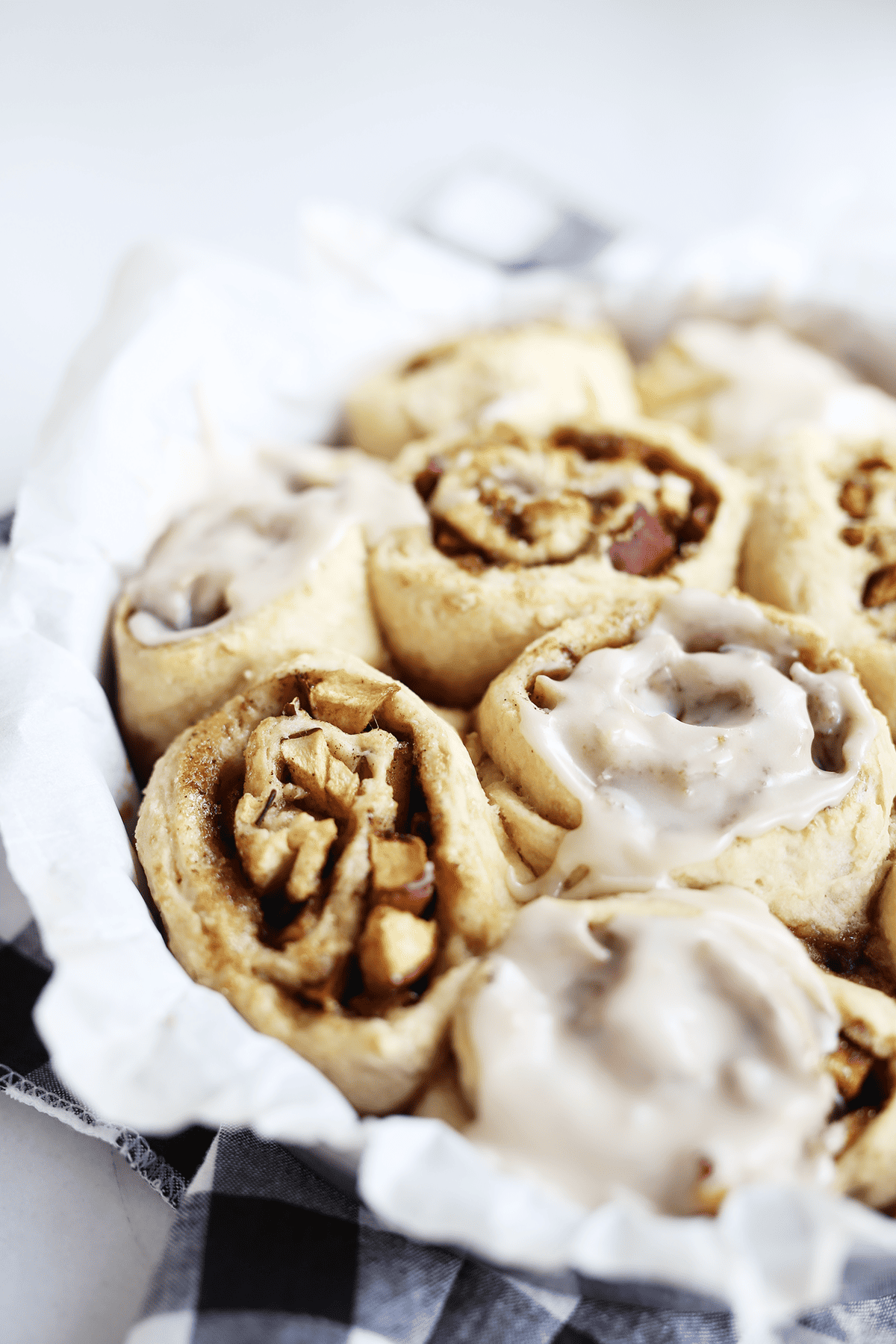 RECIPE RUNDOWN:
Flavor- sweet apple with autumn spices cinnamon, nutmeg and all spice.
Texture- perfectly doughy, gooey and soft with a slightly soft but crisp apple filling.
Ease of making- intermediate baking -due to needing to work quickly while the dough is cold.
Ease of clean up- super easy clean up, no mixer or anything fancy just two bowls, 1 spoon 1 knife and a couple measuring cups.
TIPS for making these Apple Spice Rolls:
Apples- I used red but you can use any apple you like best. I also pealed about half of the skin off before chopping but feel free to peel the whole apple or none at all whichever you prefer!
Dough- you must keep it cold! Cold marble board or a baking sheet cold from the freezer lined with parchment paper. P.S. all beginners should lay out parchment paper and flour it for their rolling surface because if the dough gets too soft this will help you be able to roll the dough by rolling a little bit forward and peeling back the paper as you go.
Cutting in the Butter- see this cinnamon roll video if you're not sure how to cut in the butter.
Customization: You can add any type of apples you like best, I used red but feel free to add your favorite. You can also add some chopped nuts of chunks of caramel, you could use pears instead of apples or even peaches!
Additional notes:
These Apple Spice Rolls are simply delicious, they remind me of an apple pie but instead of that flakey crust you get an ooey gooey soft dough wrapped around those little bites of autumn spiced apples that smell so good! (yes middle roll please that's totally me, I mean I love un-cooked cookie dough so what else would you expect)
More Recipes like this:
Print
Apple Spice Rolls
These easy Apple Spice Rolls taste just like a homemade apple pie wrapped in a super soft and perfectly doughy roll. Vegan and super yum!
Author: tworaspberries
Prep Time:

20

Cook Time:

40

Total Time:

1 hour

Yield:

8

-

1

0

1

x
Category:

dessert

Method:

baking
DOUGH:
2 ½ cup unbleached all purpose flour (plus ¼-½ extra for rolling)
1 ½ TBSP vegan cane sugar
Pinch of sea salt 
2 tsp baking powder
1 cup non-dairy milk (I use SILK unsweetened almond)
4.5 TBSP COLD vegan butter (I use Earth Balance in the the red pkg.)
FILLING:
1 ½ cups or 2-3 medium apples (washed, pealed if desired and chopped small)
⅔ cup packed brown sugar
½ tsp cinnamon
¼ tsp all spice
¼ tsp nutmeg
1 TBSP melted vegan butter
ICING:
1 cup powdered sugar
1-2 tablespoon water (just enough to create desired consistency)
Instructions
Pre-heat the oven to 375˚ F
Line a baking dish with parchment paper
In a large mixing bowl add the flour, sugar, baking powder and salt.
Cut in the cold butter until it forms a sandy texture, work fast so you don't melt the butter.
Slowly add the non-dairy milk and gently stir it into the flour butter mixture, avoid over mixing which will create a tuff dough, leave it slightly crumbly. Place in the fridge while you make the filling. *
Wash, peel and chop the apples, place in a bowl and mix in the brown sugar and spices.
Melt the 1 tablespoon vegan butter and set aside.
Flour a surface, SEE NOTES PLEASE! **And place the dough on the floured surface, flour the top of the dough ball and the rolling pin and roll out into a large rectangle.
Spread the melted butter and the apple mixture all over the rolled out dough and start to roll it up. Slice into about 2'' thick rolls and place in the lined baking dish.
Bake for 40 minutes, when rolls are almost done prepare the icing by mixing both ingredients in a bowl and spread on the rolls when they are fresh and hot from the oven.
Notes
* always work as quickly as possible with the dough because the warmer it gets the harder it will be to work with and roll up.
** it is best to work on a cold surface when rolling out dough so if you have a marble pastry board that will be great but if you do not have one then it would work great to place a baking sheet in the freezer to get nice and cold then when ready to roll out your dough remove it from the freezer and line it with parchment paper (not wax paper) and then flour the surface and roll out the dough. IF THIS IS YOUR FIRST TIME making rolls you may want to just line any surface that you choose to work on with parchment paper anyways to help you roll the dough and peel back the paper as you roll just incase your dough starts to get soft on you too quickly!
Keywords: dessert, breakfast, cinnamon rolls, apple spice rolls, apples, baking, vegan, easy, buns