Super easy, super healthy, super de-lish! Baked Sweet Potato Hash! Prep ahead option!
So comforting! Sweet potatoes, there's just something about them... Baked, sautéed, chunks, frys, even microwaved! I love them!
I made this one day as just a way to use up a couple sweet potatoes that I had totally forgotten I bought! I put them in a dark bottom cubbard, (is that true by the way? Are they supposed to be stored in a cool dark place?)
Anyways, totally forgot about them!
So I chopped them up and mixed in some other starchy veggies to make this a really heart dish! Threw a few seasonings on there and yum! It turned out so flavorful and comforting!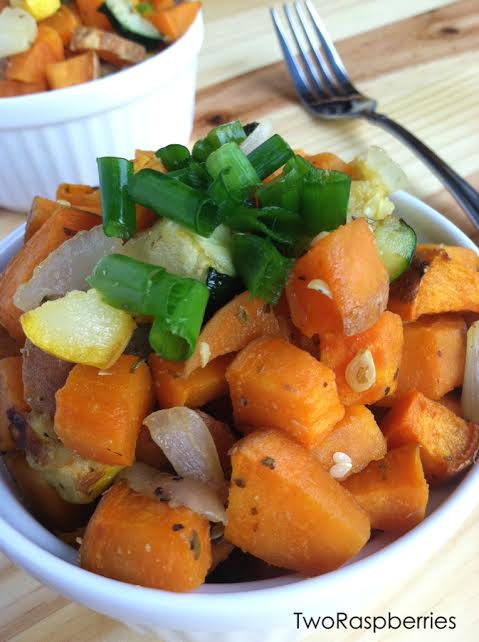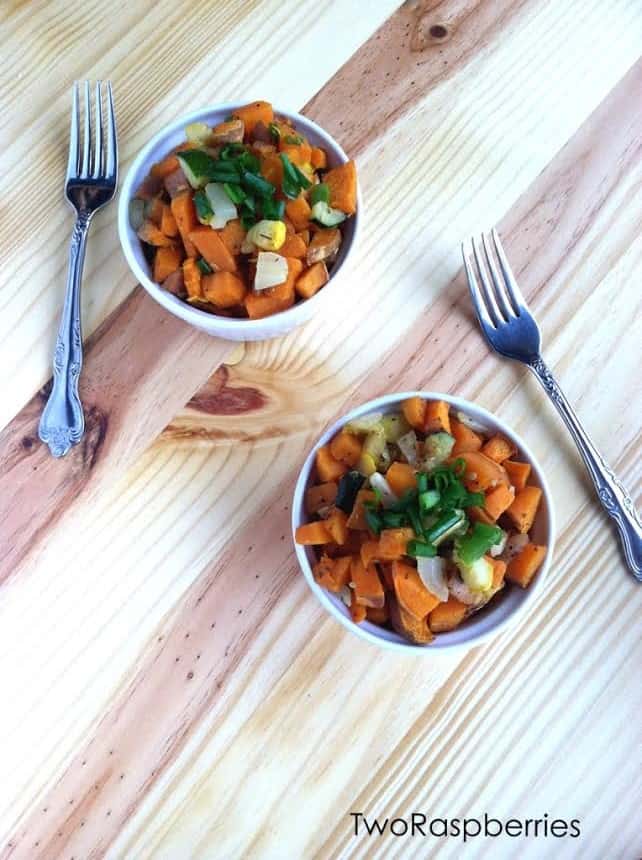 Now I make this Baked Sweet Potato Hash pretty often because it's so easy ... What I like to do is make 2 dinners in one night, while tonight's dinner is cooking I like to choose up this stuff and pop it in the fridge, the next night dinner is a breeze, pour in a bowl and sit and relax until it's done!  😉 I'm all about quick and easy!
So fun fact: did you know that including a little bit of fat (not much is needed just 3-5 grams per serving) with your sweet potatoes actually significantly increases the benefits of the beta-carotene from them! So I guess a little coconut oil on top is actually a really good thing more than just flavor!
Info from whfoods.com
(I like to use coconut oil because it tolerates heat better than other oils)
Anyways,
I hope you love this recipe as much as we did! Let me know if you try it 😉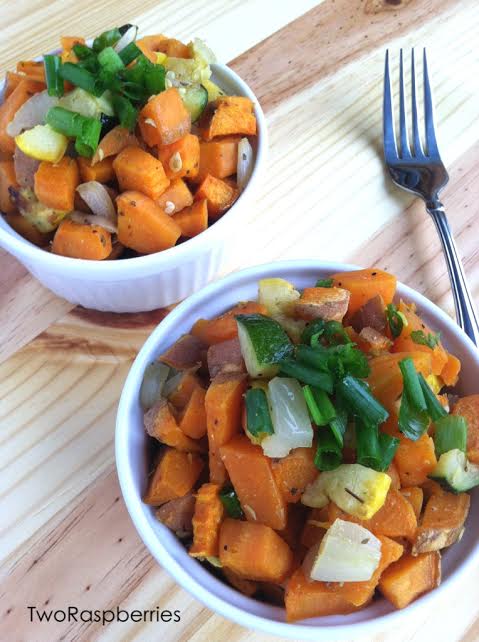 Print
Baked Sweet Potato Hash
2

medium sized sweet potatoes

1

small zucchini

1

small yellow squash

⅓

of a large yellow onion

1 tsp

garlic powder

1 tsp

Italian seasoning
Pepper to taste

1 Tbsp

coconut oil
Optional:
For a sweet caramelized taste you can add 1 tablespoon of maple syrup, I have had both ways and they are both great
Instructions
Pre-heat the oven at 375
Chop all your ingredients and toss them in a baking pan (I chopped mine pretty small, the smaller they are the faster they bake, the bigger they are the longer it will take to bake)
Drizzle your coconut oil over the top and stir everything together
Place in the oven stirring every so often (I stored about every 10 min)
Bake for 40-55 minutes depending on size of potatoes
Serves 2 side dishes, pair with a large green salad
Notes
prep ahead option, if your in a pinch for time, chops everything up the night before and store in the fridge, when ready pour into a baking pan and bake! I only do this one night before I will be eating it.
you might also like these potato recipes!