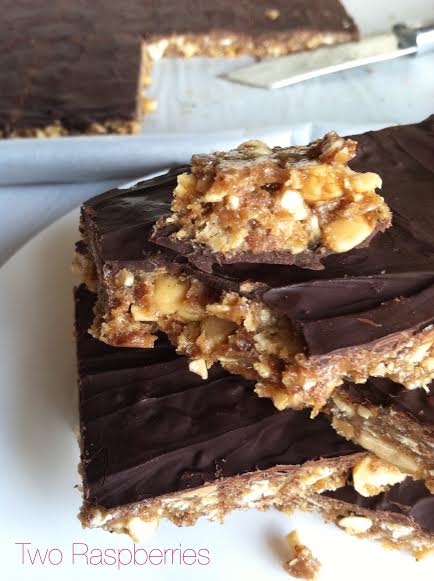 Hellooo Chocolate and Peanut Butter!!! 😉
if your like me and you eat granola bars like ALLL the time them meet your new best friend!
how was everyone's Holiday?! I hope it was great and filled with lots of love and spending time with family 😉
welll guess what! if you follow me on instagram of FB then you probably already seen it BUT I have blonde hair now!!! I'm super excited about it!
and an update on the pupperz, he is still doing very well still we have about 2 weeks left of his medication "maintenance" now because now he just gets his meds every 3 days and then fingers crossed when it's all gone that he will be in the clear 😉 but if it comes back he will have to go back on meds... at least it doesn't mean surgery again so I'm happy about that but still hoping for the best and hoping it stays gone!
I just wanted to share that really quick! NOW...on to these yummy but healthy treats 😉
these Best Ever Chocolate Peanut Butter Granola Bars are of course Vegan and Gluten Free and Soy Free!
they are so easy to make seriously no baking required for these! you literally combine all the ingredients in 1 pan and then shape it on a sheet and place in the freezer until firm!
they are super healthy but taste like dessert!
and I mean do I need to say anything other than Chocolate and PB in the same sentence to convince you how de-lish these are?!
I kept them in the fridge for about a week and they stayed fresh, I ate one pretty much every day and Nick was begging for a third batch to be made... yeah you read that right a third batch because the first batch was gone in like 2 days... yeah they taste like a candy bar but with all natural ingredients!
I hope you try them and love them as much as we did!
Hope you all enjoy this recipe... if you make it you will totally be addicted!
don't forget to follow us on:
and sign up for our email updates (link in the sidebar)
Print
Best Ever Chocolate Peanut Butter Granola Bars Vegan GF Soy Free
Best Ever Chocolate Peanut Butter Granola Bars Vegan GF Soy Free
Author: Michele
Prep Time:

10 mins

Cook Time:

15 mins

Total Time:

25 mins

Yield:

2

0

1

x
Category:

snack/meal on the go
1 cups

whole rolled oats

¼ cup

GF all purpose flour

2 cups

GF Vegan chocolate rice crisps

1 cup

salted peanuts

¼ cup

plus 1 tablespoon brown rice syrup

½ cup

plain natural PB (or salted natural PB)

1 tsp

vanilla extract

½ cup

maple syrup

½ tsp

salt

⅔ cup

vegan GF SF chocolate chips (I like sunspire 65% cocoa one)
Instructions
get a food processor and put oats and pulse a few times just to break up the oats a little and add to a large bowl
same things with the rice crisps put in food processor and pulse until bro0kwn up and add to bowl and same for the peanuts peanuts...
add flour to bowl and stir everything together
in a medium pan (leave it off) add you brown rice syrup, Peanut Butter, maple syrup, vanilla, salt and then turn on medium heat and sitr until everything is mixed well
next add your bowl of dry ingredients but add it slowly in about 3-4 different batches mixing it each time
once everything is mixed turn the heat off and grab a cooking sheet lined with parchment paper and pour the mixture onto that
SPRAY YOUR HANDS WITH NON-STICK COOKING SPRAY (otherwise it will all just stick to your hands like crazy)
use your hands to for a large rectangle (see picture) kind of like kneeding bread form an tight bar shaped rectangle
melt your chocolate chips in the microwave about 1 minute
pour chocolate over bars and spread out evenly
place in freezer for 15 minutes then remove and cut into bars... store in fridge until ready to eat or wrap up and bring with you.
store for about 1 week
Served 10 Large bars or 20 small bars