Blueberry Nice Cream with Chocolate Date Sauce is like a vegan sundae! It's healthy, only 4 ingredients, naturally sweet and best breakfast ever!
Can you believe it is the official starting day of summer?! It has been warm here in MN so far and that makes so oh-so-happy! I love waking up to sunshine and the smell of green grass.  Literally the first thing I do now days when I wake up is open the windows and doors just to get all the sun, warmth and amazing outdoor smell inside!
It hasn't been outrageously hot long enough to make it too hot to open the doors and windows yet so it's absolutely perfect! And you know what else is perfect? ….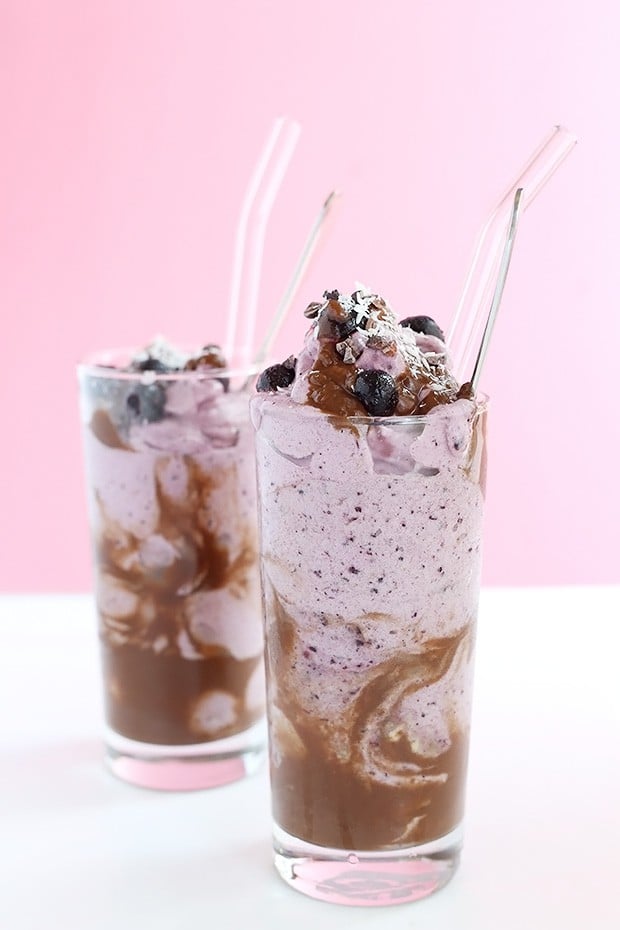 I think you are going to LOVE this delicious-ness you are looking at right now!
Cause' I mean... Blueberry Nice Cream with Chocolate Date Sauce, how can you resist?! what's could be a better way to start off summer than with a sundae?! This one is SO simple and you can 100% have it for breakfast! 😉
Do you remember the Healthy Chocolate Date Sauce from last week? well to it put simply, I am totally obsessed with it, if you haven't made it yet you are SO missing out.  Here is just one of the ways to use the chocolate sauce... in a nice cream sundae! But you can totally top this on top smoothie bowls or even in blended smoothies….YUM!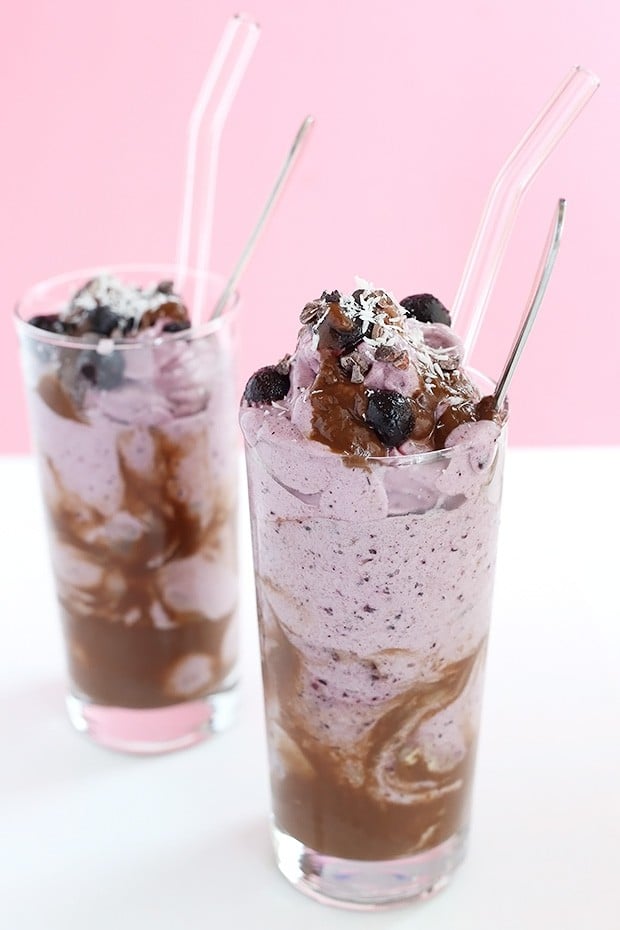 There are only 4 ingredients (not including water) in this blueberry dream. The nice cream is just frozen bananas and frozen blueberries blended with a tiny splash of water and the chocolate date sauce is just medjool dates, cocoa powder and water! (you can sub raw cacao powder or carob powder in the chocolate sauce if you would like)
To describe this Blueberry Nice Cream with Chocolate Date Sauce in a few simple words I would sayyyy:
Cold
Creamy
Indulgent
Rich
Sweet
Healthy
Naturally sweetened
Best breakfast ever
I know you can't resist trying this so take a pic and tag me on social media when you do! You are going to LOVE it! Also comment and rate it below it's really helpful! Thanks so much friends! You are the BEST! 
I hope you give this a try and let me know what you think!
Leave a comment and a rating if you do try this!
Also take a pic and tag us on social media!
 let's keep in touch too on TwoRaspberries, Facebook, Twitter, and Pinterest! 
want to PIN this for later? click here
and don't forget to sign up for email updates (drop your email in the box below!) 
***********************************
Subscribe to Email Updates!
***********************************
Print
Blueberry Nice Cream with Chocolate Date Sauce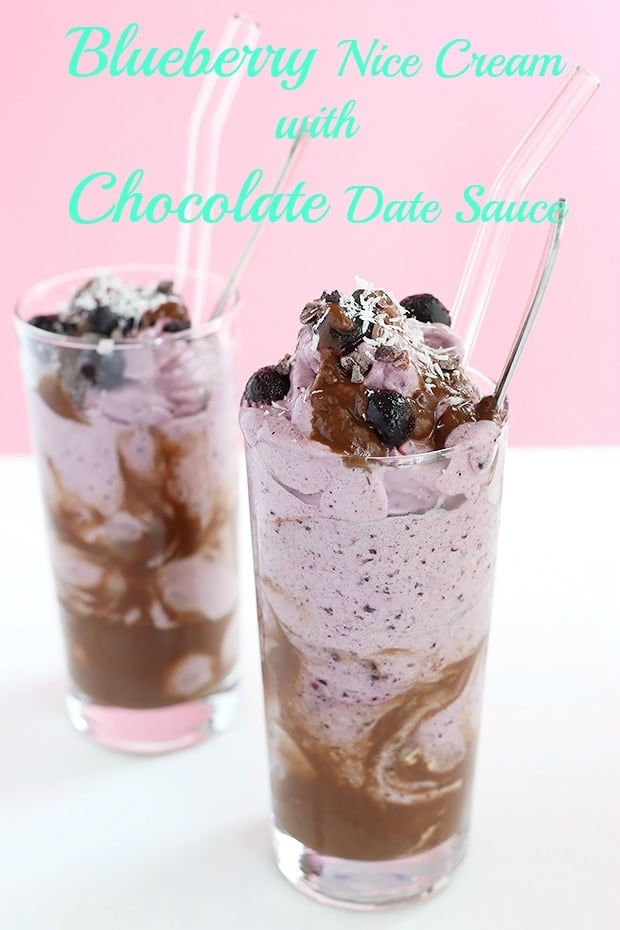 THIS is my kind of breakfast!!! 😉