Chili Lime Rice Tacos are fresh with a little spice! Stuffed with Corn, mushrooms, pepper and tomatoes. Easy, vegan , gluten free, low fat, oil free!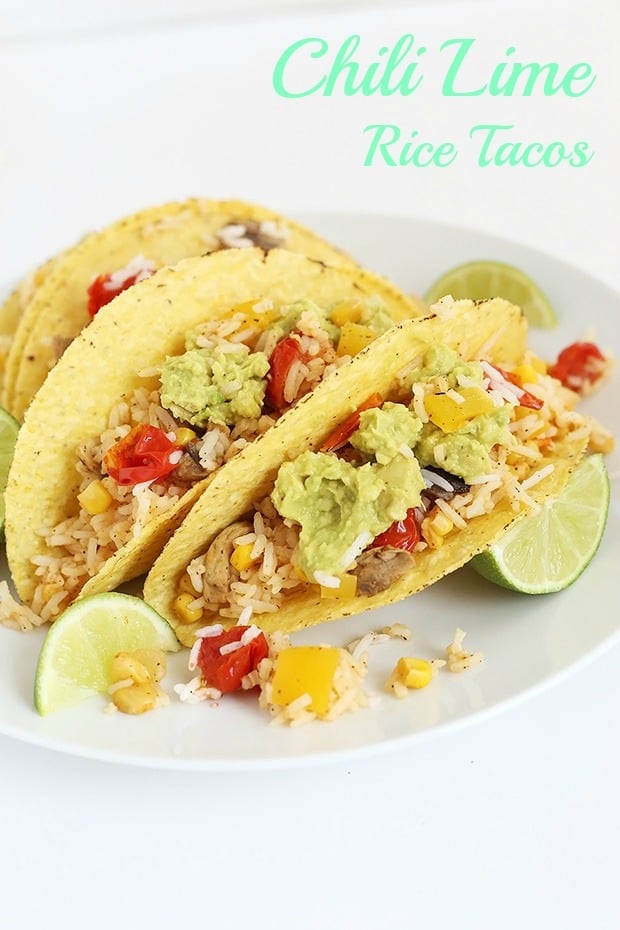 How? How is it the end of June already? … it's going SOOO fast! I seriously wish there was a slowdown button on life! HA!
Even though I can't give anyone a slow mo' button I can give ya' TACO's! ... cause, taco Tuesday hello?! 😉
I think you are going to love how easy these are to make, spiced a little with chili with a hint of lime fresh-ness and topped with a dollop of lime avo smash! YUM!
Corn, mushrooms, tomatoes and yellow pepper are the choices for added texture and flavor in these taco's, but feel free to add any other veggies you like!
Quick note: I also have a couple different options for preparing this recipe so be sure to read the recipe notes carefully!
The base of these taco's is rice (stating the obvious) HA! If you don't like rice you can feel free to substitute Quinoa or check out my other Vegan Caribbean Quinoa Taco's s that actually uses quinoa!
I flavored the rice with lime juice (how this is oil free!) and veggie broth as an optional second step! I also used chili powder on the veggies and the rice because chili and lime just go amazing together! The chili spice gets tamed down by the fresh lime and it's just a perfect pair!
For the taco shell I used hard corn taco shells, if you prefer a soft shell you could totally swap the hard shell for a soft corn or other tortilla of you choosing! Heck you could even skip the shell all together cause the filling is amazing! …Then of course these would no longer be taco's HA! 😉
I over think everything, that's nothing new!
Here's the skinny on these oil free low fat supa healthy Chili Lime Rice Tacos:
Easy! Like usual 😉
Rice flavored with lime and veggie broth!
Perfect blend of veggies seasoned with chili spice = YUM!
Crunchy and delicious!
Filling and flavorful!
Perfect dinner!
Great for family get-together's!
Can totally double this recipe!
If you give these taco's a try be sure to comment and leave a rating below! Thank you SOOOO much you're the best! Also take a pic and tag me on social media I love seeing what you make! 
I hope you give this a try and let me know what you think!
Leave a comment and a rating if you do try this!
Also take a pic and tag us on social media!
 let's keep in touch too on TwoRaspberries, Facebook, Twitter, and Pinterest! 
want to PIN this for later? click here
and don't forget to sign up for email updates (drop your email in the box below!) 
********************************
*******************************
Print
Chili Lime Rice Tacos
Chili Lime Rice Tacos stuffed with Corn, mushrooms, pepper and tomatoes. Easy, vegan , gluten free, low fat, oil free!
Author: TwoRaspberries
Prep Time:

15 mins

Cook Time:

30 mins

Total Time:

45 mins

Yield:

16

Category:

Dinner/Taco's
- 1 cup dry basmati rice cooked in water SEE NOTES* (about 3 ½ cups cooked)
- 1 ⅓ cups chopped mushrooms
- ½ yellow pepper
- 1 ½ cups corn (I used a no salt added can)
- ⅓ of a small white onion chopped
- About 30 cherry or grape tomatoes sliced in half
- ⅛ teaspoon onion powder
- ¼ teaspoon cumin powder
- 1 teaspoon chili powder -plus ½ teaspoon if adding veggie broth at the end
- Pinch of fresh black pepper
- 1-2 small limes (will need 4-5 tablespoon of fresh juice from it)
- ¾ cup vegetable broth (optional see notes*)
- 2-3 ripe avocados
- 16 hard shell taco shells
Instructions
First cook your rice in water according to package directions. Mine was 1 cup dry rice to 2 cups water, bring water to a boil and then add rice and let simmer covered with a lid for about 20 minutes until water is absorbed. (I always wash my rice before adding it, you need a mesh like strainer to do this)
Next start chopping the pepper, mushrooms and onion. Add them to a sautee pan along with the corn. Add the seasonings (onion, cumin, chili and pepper) to the veggies and cook on low-medium heat for about 15-20 minutes while the rice is cooking.
Once the rice is done, add 2 tablespoon of fresh squeezed lime juice to the rice and mix it in.
Add the rice to the veggies in the sautee pan and (SEE NOTES FOR NEXT STEP)
In a small bowl add the ripe avocado and using a form mash it up! Add the 2-3 tablespoon of lime juice depending on desired consistency and stir it in.
Serve! Add mixture to tacos and top with avocado mixture
Makes about 16 tacos
Notes
*Once the rice and veggies are done cooking you can either mix it all up and enjoy the taco filling like that OR you can add ¾ cup of vegetable broth along with another ½ teaspoon chili powder and simmer letting everything absorb the veggie broth , this just adds moisture and a little more flavor… I do recommend doing it this way but if you do not have veggie broth it will still be delicious without this step!
*Another option would be to cook the rice in veggie broth instead of water, you will need more veggie broth to do this though (about 2 cups)
summer tacos done de-lish!