these Chocolate Banana Walnut Breakfast Cookies are soft and chewy, fruit sweetened and totally calls for a spread of PB on top I mean it just goes together! Vegan + Gluten Free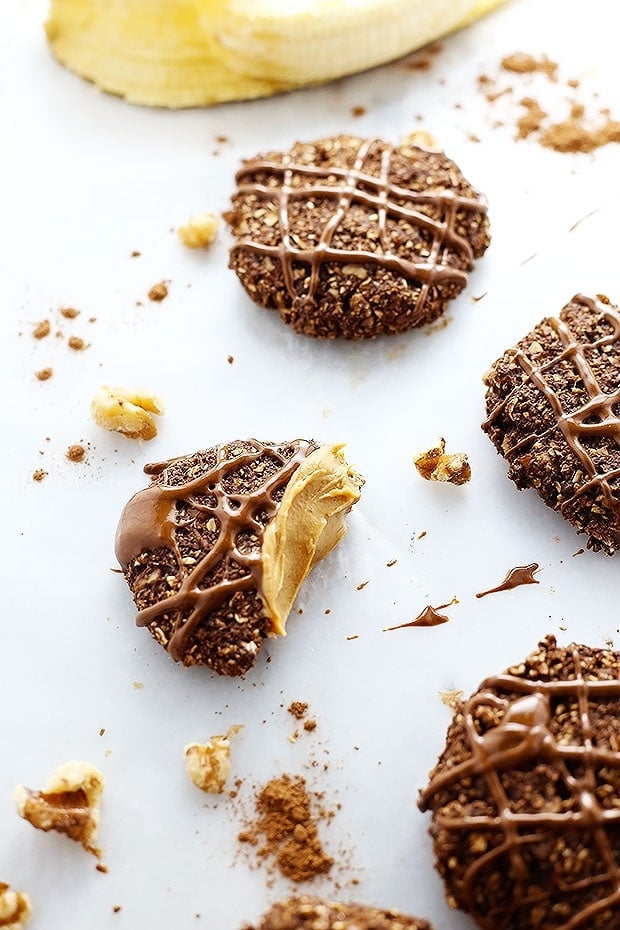 I've got such a thing for breakfast cookies see example A and B 😉
Although I don't eat them for breakfast, I eat them as an afternoon snack especially these smothered in PB! So why am I calling these breakfast cookies? I asked myself that too and then I realized afternoon cookies just don't sound right… then I began to ask myself what actually qualifies as a breakfast cookie? My conclusion: still not sure but I like to say it's a cookie that is healthier than your average cookie and made from something substantial like oats, which is what's in these Chocolate Banana Walnut Breakfast Cookies!
I question things like that all the time, why is this called that and why is that called this? You follow me?  I ramble in my head a lot too, probably ask too many questions in this life but when you work at home and make food all day you begin to wonder things! Am I right? Does anyone else work from home?
By the way TOTALLY not complaining 😉 I love it, just trying to justify my many thoughts that go through my head!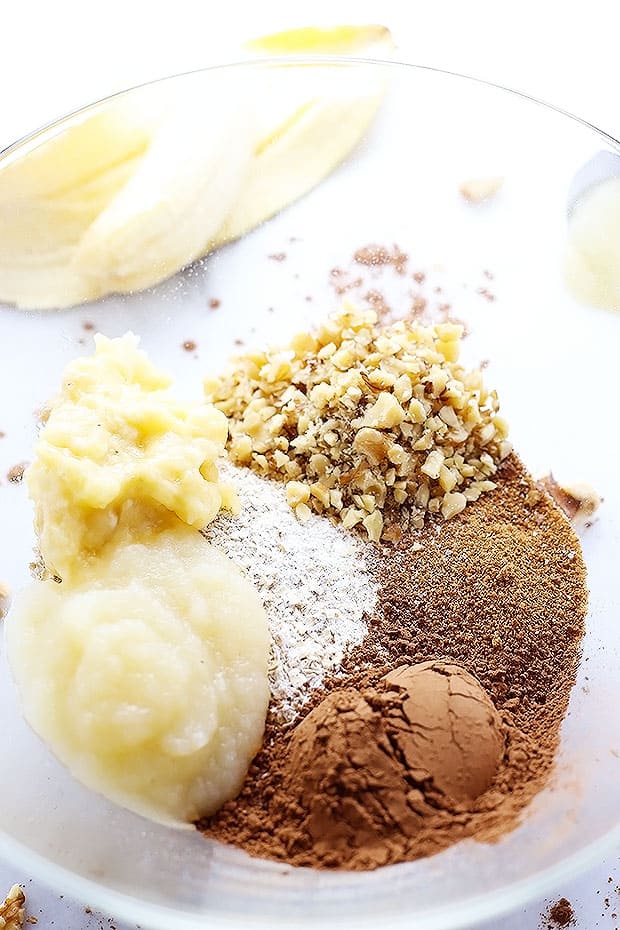 Anyways back to these cookies, I sweetened them with banana and apple sauce and a small amount of coconut sugar… you can use regular sugar if you want but it won't be as healthy at least that's what the internet tells me…
Coconut sugar is a low glycemic sweetener and is supposed to be a better choice what do you think?
What do you think about sugar? Good? Bad? Moderation ya only live once?
Also for these cookies I used oats processed into a rough flour because oats are definitely a breakfast food, healthy and GF if you get certified GF oats.  Oats processed into flour also gives it more texture, instead of buying oat flour that is already processed and really smooth like flour.
I made a chocolate and PB drizzle for the top because… why not?
and you need to PB spread on it to! 😉
I am so excited for you to make these and p.s. the drizzle and PB spread over it is not optional YOU NEED IT! After you taste it you will totally get why I said it's not optional!
I hope you give this a try and let me know what you think! let's keep in touch too on TwoRaspberries, Facebook, Twitter, and Pinterest! 
check out some of my favorites on amazon also! 
want to PIN this for later? click here
and don't forget to sign up for email updates (drop your email in the box below!) 
************************************
**********************************
Print
Chocolate Banana Walnut Breakfast Cookies
Chocolate Banana Walnut Breakfast Cookies
Author: TwoRaspberries
Prep Time:

10 mins

Cook Time:

11 mins

Total Time:

21 mins

Yield:

5

1

x
Category:

Breakfast Cookie
1 ½ cup

old fashioned rolled oats (GF certified if necessary)

2 TBSP

coconut sugar

2 TBSP

cocoa powder (cacao powder would also work)
Pinch of sea salt

¼ cup

walnut (roughly chopped)

3 oz

. apple sauce

½

a ripe banana
DRIZZLE:

1 TBSP

vegan chocolate chips (I use Enjoy Life brand)

1 TBSP

of Peanut Butter (I used PB&Co. brand)
EXTRA PB FOR SPREADING ON TOP!
Instructions
Pre heat oven at 360
Add your oats into the food processor and process until it's a rough flour consistency.
Add oats to a large mixing bowl, add your coconut sugar, cocoa powder, salt, walnuts, apple sauce and ½ ripe banana (smushed really well, I just used my fingers to smush it before dropping it into the bowl)
Mix everything together really well, spray or line a cookie sheet and form a cookie shape and place in the oven for 11 minutes.
While baking make your drizzle, 1 tablespoon of vegan chocolate chips and 1 tablespoon of peanut butter in a bowl and put in the microwave stirring every 15 seconds until melted. Be careful no to burn the chocolate. Either drizzle over the cookies with a spoon or pour it into a plastic baggy and squeeze drizzle over the cookies.
Eat like that or spread extra PB on it! ENJOY
***Makes 5 cookies
***Store in a sealed container but not until completely cooled.
Notes
This recipe is for only 5 cookies, you can double it for 10 cookies but because of the banana in them I don't suggest keeping them for more than 2 days so that's why it's a small batch recipe.
chocolate and peanut butter, need I say more?