These Vegan Chocolate Chip Peanut Butter Cookies are crispy and melt in your mouth! Quick and easy to make, vegan, gluten free and refined sugar free option!
Remember these Best Vegan Gluten free Peanut Butter Cookies from last month? They just got better my friends! 😉
What goes better with peanut butter more than chocolate? Ahhhh nothing! Opinions? Comment below if you love peanut butter with something other than chocolate I would love to hear!
So it's that time of year is when everyone starts to add peanut butter, chocolate and pumpkin spices to everythinggg so I'm just goin with it even though I'm not huge on baking I give it my best try every year! 😉
A balance of baked goods and other simple healthy foods because life is all about balance right?!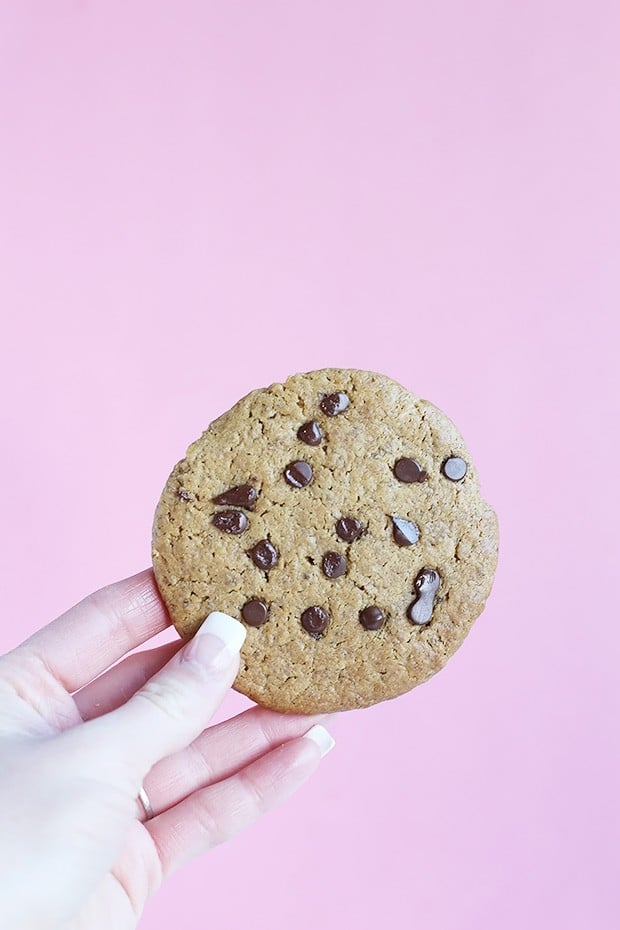 These cookies are crispy and totally turn into a mouth full of peanut butter when you eat them! Plus they are EASY! I have made these so many times I have the recipe memorized! I have even made them in half batches! Only thing I have not tried yet is freezing the dough…stay tuned!
I have SO many ideas to make this cookie grow up and become a million different versions of itself 😉 HA! Mostly because I can't believe how easy this cookie is to make, it takes literally like 5 minutes to mix up and then bake them for 15! Try them asap! Pretty please with a cherry on top…errrr a chocolate chip on top! 😉
Another thing, I used PB&Co. white chocolate wonderful for these cookies, now the reason I'm telling ya this is because these cookies are refined sugar free except the peanut butter has a little sugar in it… SO with that being said (I also put this in the recipe notes) I tested this recipe with all natural peanut butter as well (ingredients just peanuts) and it turned out great! Slightly different taste but that's expected and the cookie was a little more crunchy but it was still delicious! Just make sure with the natural one that you stir it up and pop in in the fridge if it's not already so that it can get firm and not so runny.
So basically what my rambling self is trying to say, both peanut butter's work! 😉
A few more things about these Vegan Peanut Butter Chocolate Chip Cookies:
EASY PEAZY!
Only 7 ingredients
Crispy and melts in your mouth!
Naturally sweetened (depending on your peanut butter of choice)
Addictinggg!!!
If you try these comment and rate it below! It's super helpful! Also snap a pic and tag me on social media 😉 I love seeing what you make! 😉
I hope you give this a try and let me know what you think!
Leave a comment and a rating if you do try this!
Also take a pic and tag us on social media!
 let's keep in touch too on TwoRaspberries, Facebook, Twitter, and Pinterest! 
want to PIN this for later? click here
and don't forget to sign up for email updates (drop your email in the box below!) 
*******************************
*******************************
Print
Chocolate Chip Peanut Butter Cookies
Chocolate Chips and Peanut Butter unite for a crispy and melt in your mouth cookie!
Author: TwoRaspberries
Prep Time:

5 mins

Cook Time:

15 mins

Total Time:

20 mins

Yield:

10

Category:

Dessert/Cookie
- 1 flax egg (see notes)
- 1 cup natural creamy peanut butter (see notes)
- ¼ cup pure maple syrup
- 1 teaspoon vanilla
- 4 tablespoon tapioca flour (also works with Bob's Red Mill all purpose baking flour in the red package)
- 1 teaspoon baking soda
- ⅓ cup vegan chocolate chips (I used Enjoy Life brand mini ones)
Instructions
Pre-heat the oven to 350 degrees F and line a baking sheet with parchment paper or spray with non-stick spray.
Make the flax egg in a small bowl first and set it aside to thicken and get gel like.
In a large bowl, add the peanut butter (at room temp, not melted just creamy) and then proceed to add the maple syrup, vanilla, flour, baking soda and the flax egg last because it should be thickened by this time.
Mix everything until it forms a batter.
Roll them into golf ball sized balls and place them on the lined baking sheet, using your hands push them flat, then top them each with chocolate chips. (you could mix the chocolate chips in the batter but I preferred this way, both work fine though.
Once the oven is pre-heated, place them in the oven for 15 minutes.
Remove them from the oven and let them sit for at least 15-20 minutes to set, otherwise they will just fall apart!
Makes about 10-12 large cookies.
Store in a sealed container for 2-3 days.
Notes
1 flax egg = 1 tablespoon flax seeds ground up into a flax meal (this will make about 1 ½ tablespoon flax meal) -mixed with 3 tablespoon water and let sit a few minutes until it becomes a gel consistency!
*if you are using flax meal that is already ground up then you need 1 ½ tablespoon flax meal with 3 tablespoon water
PEANUT BUTTER- I have tried this recipe with PB&Co. white chocolate wonderful peanut butter AND Trader Joe's all natural peanut butter (only ingredients are peanuts) and both turned out great! The all natural peanut butter from Trader Joe's had slightly more of a hard crispy texture though, but still delicious!
With the all natural peanut butter (ingredients just peanuts), be sure to stir it up and put it in the fridge so it can get more firm and not so runny before using it!
chocolate and PB can't be beat!