This Chocolate Oat Nut Granola is Vegan, chocolaty, crunchy, and completely de-licious!
You are going to Love this recipe because not only is it crunchy and delicious, it contains real cocoa powder which is actually really good for you! Yes, I'm telling you a form of dark chocolate is beneficial for you! I'm going to share some of the health benefits with you!
This granola also makes a perfect snack-on-the-go, just throw some in a little zip lock bag or little container and pack it in your lunch or throw it in your purse! (I'm so the type that has like a million snacks in her purse at any given time hahaha)
I have always been someone who reads about the benefits of certain foods and how they can help our body…
I thought it would be fun to fill ya in real quick on some of the health benefits of cocoa powder (the real stuff dark cocoa powder nothing added)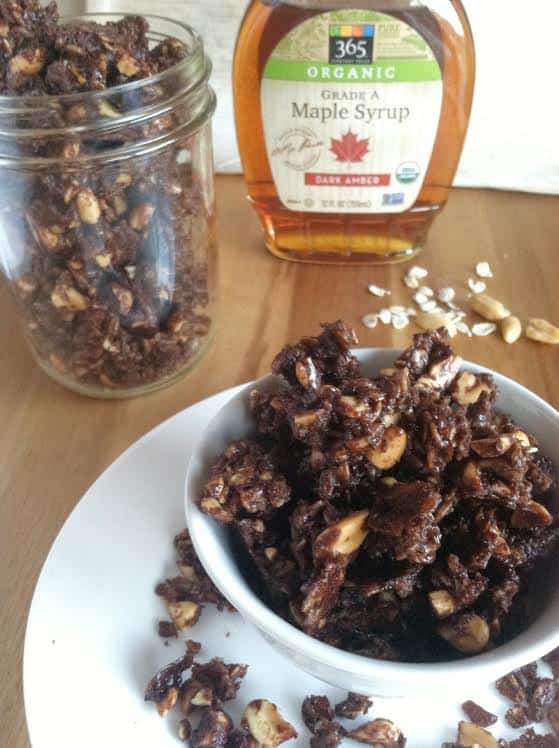 now... on to the reason why 100% pure natural cocoa powder is GOOD for you!
Please note: I am not a certified nutritionist and I do not have a nutrition degree, this is all information that I have gathered over years of reading about food and their benefits.
Fun facts
100% pure Cocoa Powder contains:
Flavonoids: which helps to postpone pre-mature aging, it is rich antioxidants that help systematic inflammation, improves blood flow, lowers blood pressure, good for cardiovascular health by helping to decrease your "bad" LDL cholesterol in people under the age of 50 and increase "good" HDL cholesterol, it was also linked to reducing the risk factors of diabetes,
It contains Polyphenols which are a type of antioxidant that help you skin stay looking younger and detoxifies the body, an antioxidant is a chemical substance that can help your body defend itself from free radicals which are atoms that can damage your cells which can lead to a weakened immune system
Minerals: pure cocoa powder contains iron, manganese, magnesium and zinc.
Iron: carries oxygen and helps make red blood cells essential for you immune system.
Manganese: a component of enzymes that form cartilage and bones, and metabolize nutrients, and function as antioxidants (remember antioxidants help your body defend itself from free radicals that cause damage) inside every cell in your body.
Magnesium: helps produce energy and maintain a normal heart rhythm.
Zinc: is vital for the production and development of new cells, including immune system cells. Without enough zinc, the number of bacteria-fighting cells goes down and you become more susceptible to illness.
I hope you enjoyed learning a few new things about Cocoa Power! Let me know if you liked these fun facts or if it was totally boring to you?!?!?!
Try this recipe! Comment! If ya try it, picture it and tag me on Instagram!
If you know any other fun health benefits of cocoa powder feel free to leave them in the comments below!
Print
Chocolate Oat Nut Granola Vegan
Chocolate Oat Nut Granola -Vegan
Author: Michele
Prep Time:

15 mins

Cook Time:

24 mins

Total Time:

39 mins

Category:

Granola/Snack
- ½ cup of sugar
- ½ cup of Packed Brown Sugar
- 2 ½ tablespoon Cocoa Powder
- pinch of salt
- ¼ cup of butter melted (I used earth balance vegan butter)
- ¼ vanilla Almond Milk
- 3 tablespoon Maple Syrup (I used Dark Amber)
- ¼ teaspoon Vanilla
- 1 ¾ cups Rolled Oats
- ½-3/4 cups of lightly chopped Peanuts (or nuts of your choice)
Instructions
pre-heat your oven at 300 degrees
in a pan combine the sugar, brown sugar, cocoa powder, salt and stir it together.
turn pan on low heat and add melted butter, almond milk, maple syrup, vanilla and stir until well combined approx 1-2 minutes.
next add in your rolled oats and chopped peanuts and mix
use a baking sheet and spray it with non-stick cooking spray and pour the mixture onto the sheet spreading it out into a thin layer.
place in the oven *stirring every 7 minutes! (the mixture will start to flatten and spread that's why you need to carefully stir every 7 minutes)
after it's done remove it from the oven and let it sit for at least 20 minutes to cool before you start break up the granola into chunks!
once cooled break up the granola and enjoy!
Notes
if you do not like your granola to taste "browned" take it out of the oven after 21 minutes!... I like mine a little crunchier and "browned tasting" so I left mine in for 24 minutes! some people think that browned is burnt tasting so if you are one of them please take it out of the oven after 21 minutes! that extra 3 minutes makes a HUGE difference in the taste!
STORE in an air tight container for up to 1 week.