Chocolate Sauce Cinnamon Chia Pudding is one of my favorites! Super food chia seeds paired with healthy chocolate sauce and fruit is a perfect combo. Vegan
First Friday in December! I wanted to give you one more chocolate cinnamon combo since I seem to be obsessed with that combo lately! Remember my chocolate cinnamon overnight oats from last month? Yeah something about this time of year just says cinnamon and chocolate to me… until January hits and then it's like cinnamon whaaa? It's weird but true ha! Anyone else like that?
Ok, SO today I'm showing you a creamy-cinnamon-chocolate sauce chia pudding topped with all kinds of yummy fruit! And healthy chocolate! I mean the chocolate sauce is made from dates and cocoa powder blended with water! Dates are FULL of so many vitamins and minerals you need to add this healthy + nourishing chocolate sauce on this superfood chia pdding!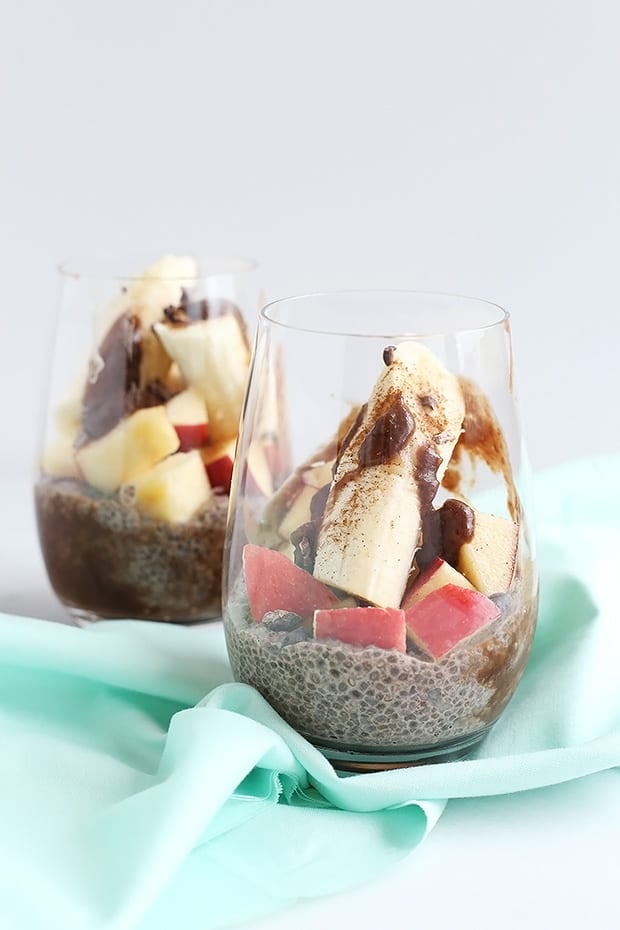 Chia seeds, you need them in your life period. Read my top 12 reasons why here, but besides those health reasons in that post you need them because when you soak them they form this magical pudding like consistency and it's better than pudding I promise!
The thing to remember when eating chia seeds and expecting them to taste like pudding, they need a rich component or a sweet one, today I chose the sweet one by adding the chocolate date sauce as well as fruit.  The other option is like my chocolate peanut butter chia pudding which has peanut butter added.  The reason is because chia seeds themselves are basically flavorless, but there are SO many health benefits to them (like omega's for vegan peeps like us) that you should totally be eating them.
Side note: Another thing to mention is chia seeds should really be soaked! (like this recipe calls for) if you eat them without soaking them you risk them actually dehydrating you I learned that from Kimberly Snyder's beauty detox book.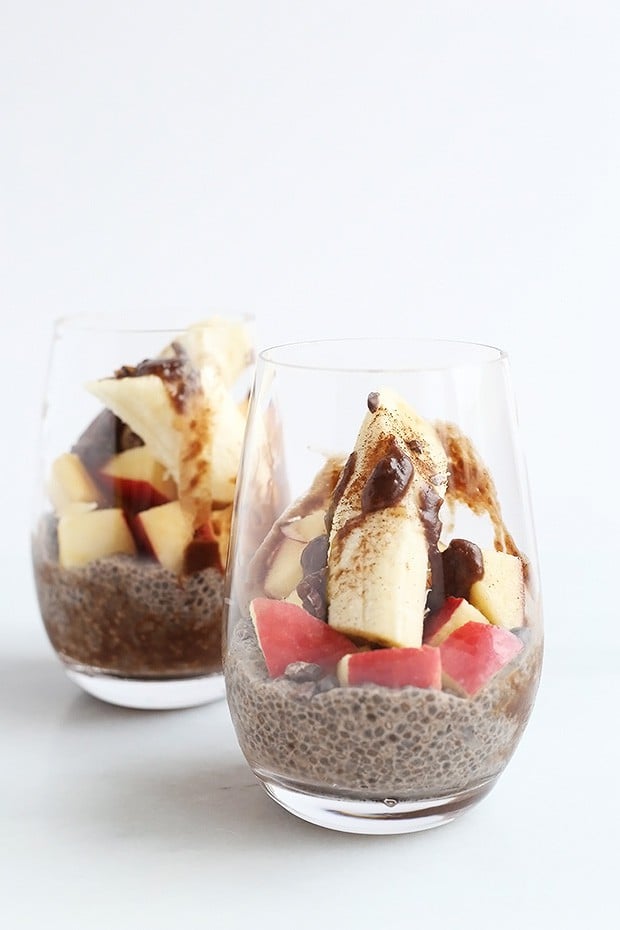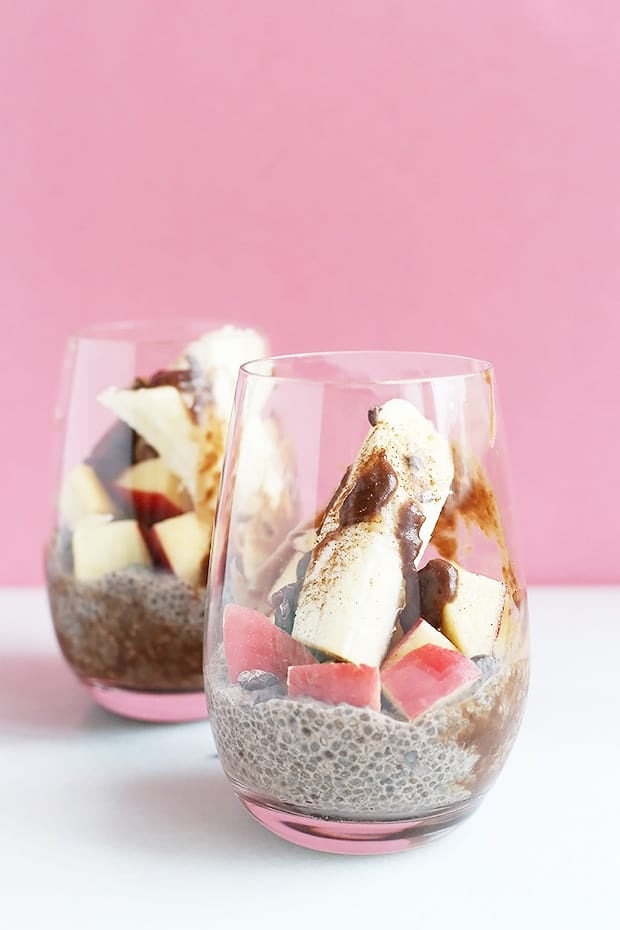 Whatever your flavor preference is, I got ya covered from chocolate, to choc pb, to blueberry chocolate, chocolate raspberry chia oat or cinnamon right here today!  😉 January is coming and so are all the New Year's resolution to get eat more healthy so book mark those babies so you got all your chia recipes covered!
Summing up this Chocolate Sauce Cinnamon Chia Pudding in a few simple words would go like this:
Creamy
Cinnamon'y warm
Sweet chocolate and fruit
Healthy + nutritious
Superfood packed
Easy
Fast
Delicious
Filling
Ok! Try it and leave me a comment and rating below! Also be sure to snap a pic and tag me on social media, I love seeing what ya make! 😉 
Print
Chocolate Sauce Cinnamon Chia Pudding
Chocolate Sauce Cinnamon Chia Pudding
Author: TwoRaspberries
Prep Time:

30 mins

Total Time:

30 mins

Yield:

2

1

x
Category:

breakfast/snack
3 TBSP

chia seeds

1 cup

unsweetened vanilla Almond Milk (I use SILK brand)

1 tsp

cinnamon

½ tsp

pure maple syrup (optional)
TOPPINGS:
Apples
Bananas
Cinnamon
Raw cacao nibs
Instructions
Add the chia seeds, almond milk, cinnamon and maple syrup to a container and stir really well. Place in the fridge for 15 minutes and then give it another stir to avoid clumping and then place it back in the fridge overnight. If you can give it another stir in 15 more minutes that is ideal, but it will be ok if you don't.
prepare the Healthy Chocolate Date Sauce. Store in the fridge up to 1 week.
Once ready to enjoy, prepare the toppings you would like and then assemble in a bowl, cup or jar!
Serves 1-2
Notes
For a less thick chia pudding please add ¼ - ⅓ cup more almond milk to the pudding mixture.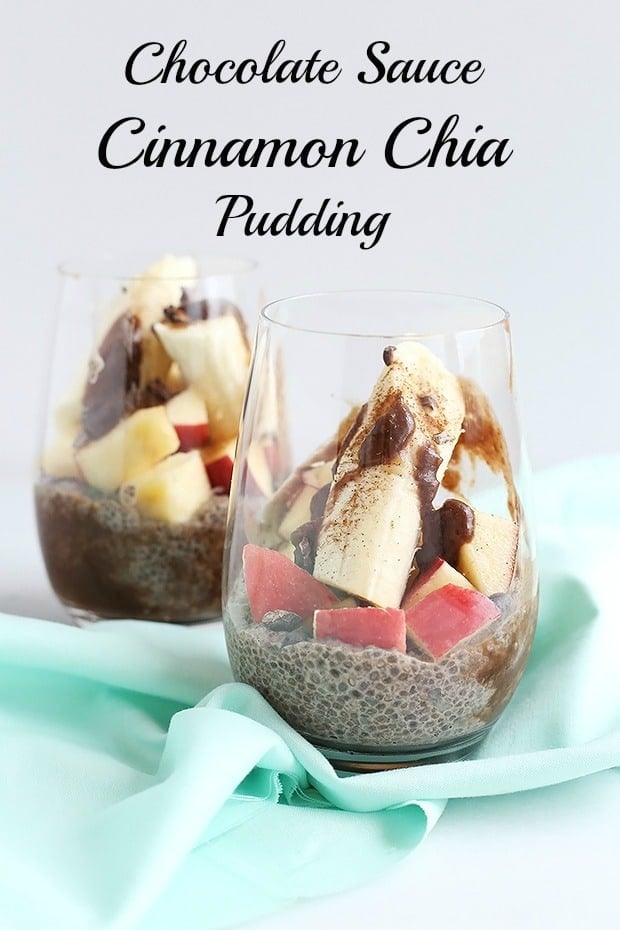 you  might also like these!