Chocolate Spider Web Cookies perfect for Halloween and great for decorating with kids! these are Vegan and Gluten Free!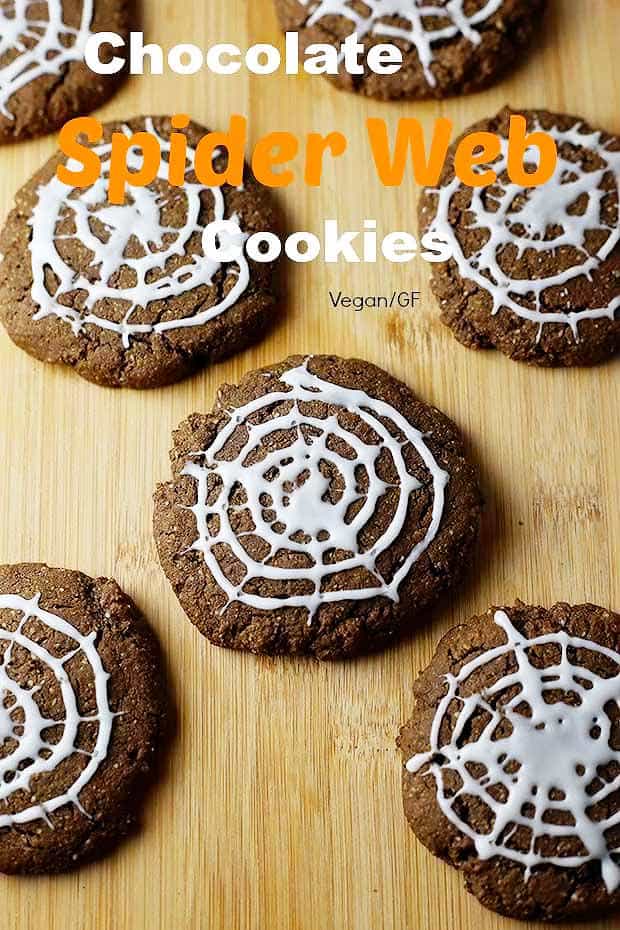 Halloween in literally around the corner! and for those of you who want to keep things a wee bit healthier but still have fun 😉 then these cookies are for you!
These Chocolate Spider Web Cookies are super simple and I gotta admit I kinda have a thing for spider web treats see this example from last year!
anyways I just think they are so fun and even better because they are easy!
all you do is form round circles around your cookie like above
and then drag your tooth pick through them like the picture below it! THAT EASY!
couple quick notes though: the icing sets really fast so only do 1 at a time and make sure you have a paper towel in your other hand to clean the tooth pick off between each line you drag through because it works better, otherwise it kinda gets stuck because of the hardened icing left on the tooth pick! 😉
if you have a piping/icing bag like the one in the picture below great! if not don't worry a zip lock bag works well too, I find that the one gallon ones have a thicker plastic and work better though.
and only cut the tip a TINY bit you can always cut more but you cant cut less so start small!
if you want piping/icing bags I got mine in the Wilton baking supplies at Michael's 😉
anyways, these Chocolate Spider Web Cookies are a must! they are chocolaty and nutty (I used almond flour) and the perfect amount of sweet-ness added with the icing! your going to love them!!!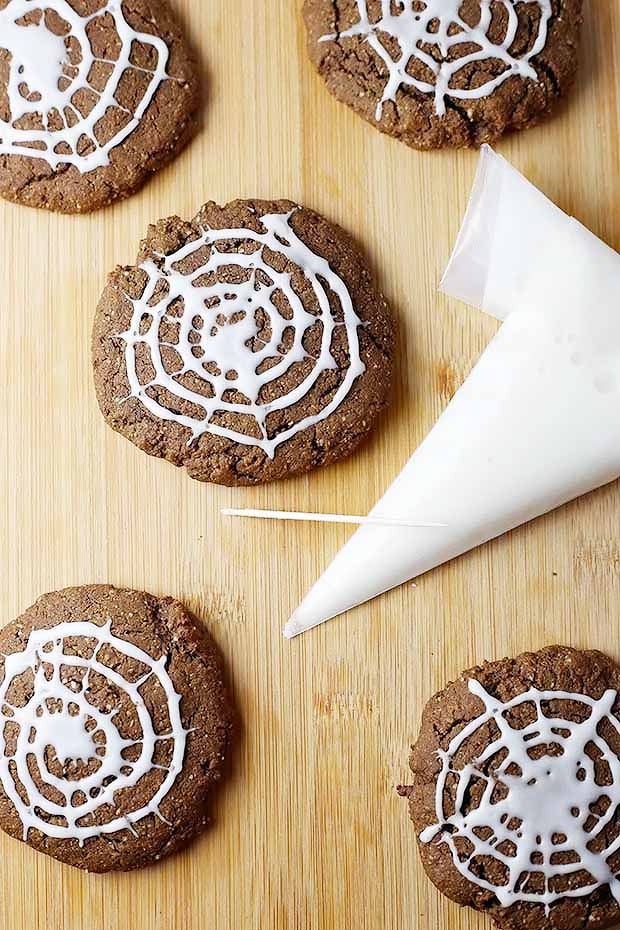 I hope you try this and if you do be sure to take a pic and tag me on IG! @TwoRaspberries #TwoRaspberries
And make sure to subscribe to the email list, so you can get all the goodies sent to you right away! XO
Print
Chocolate Spider Web Cookies
Chocolate Spider Web Cookies
Author: TwoRaspberries
Prep Time:

10 mins

Cook Time:

11 mins

Total Time:

21 mins

Yield:

9

1

x
Category:

Cookie
DRY:

¾ cup

of Almond meal/flour (I used Bob's Red Mill brand)

¾ cup

of all purpose GF flour mix (Also used Bob's Red Mill brand with the red label NOT the light blue

one

that says baking on it)

1 tsp

baking soda

3 TBSP

cocoa powder (I used 100% dark)
pinch of salt
WET:

3 TBSP

packed brown sugar (coocnut sugar would probably work also if you don't want to use brown sugar, I have not tried it but usually it swaps out good)

¼

pumpkin puree (NOT pie filling)

3 TBSP

melted vegan butter (I used Earth Balance in the red tub)

1 tsp

vanilla

2 TBSP

maple syrup
Icing:

1 cup

confectioners sugar

1 TBSP

unsweetened vanilla Almond milk (I use SILK brand)
Instructions
pre-heat the oven at 375 and get a cookie sheet, either spray it with non-stick spray or use a cookie sil-pat or line with parchment paper
in a large mixing bowl add all you dry ingredients and mix them together
next melt your butter in the micriwave, then add the rest of the wet ingredients to the butter and mix well
add wet ingredients to your dry ingredients and mix well!
place in the fridge for abut 15 miinutes
form cookie shapes (not balls actual cookie shapes) and place on the cookie sheet and bake for 11 minutes (should make 9 cookies)
once done remove and let them cool while you make the icing
in a bowl mix your confectioners sugar and almond milk. it should be thick and white not runny and clear adjust if you need to (more almond milk equals runnier and more confectioners sugar means whiter and thicker)
pour mixture into your bag and start making WEBS!!!