Easy naturally sweet Date Caramel Sauce. Vegan, gluten free and refined sugar free.  Great for dipping fruit in or adding to desserts.
This could not be any easier of any healthier!
You can do so many things with dates, even as simple as stuffing them with some nut butter for a quick healthy snack or even for breakfast with some fruit!
Today I wanted to show you how to make Date Caramel Sauce!
Yes it's a healthy naturally sweet version of caramel!   
This "caramel" is great for using as a dip for fruit, baking with to add extra moisture and texture (which I am currently experimenting with so stay tuned!) 😉  I have a couple desserts in the works!
Basically you just take the pitted dates and add them into a food processor with liquid and pulse/blend until it's smooth and creamy!
The recipe I have listed below is for about 8 oz. but you can easily adjust and double this recipe for more.  It's pretty much fool proof as long as you have a good blender or food processor! (I used a mini Ninja food processor)
NOTE: for picture of apple sliced below I used LESS water than the recipe calls for so it would be a thick consistency! you could also do apple sliced to dip in the sauce!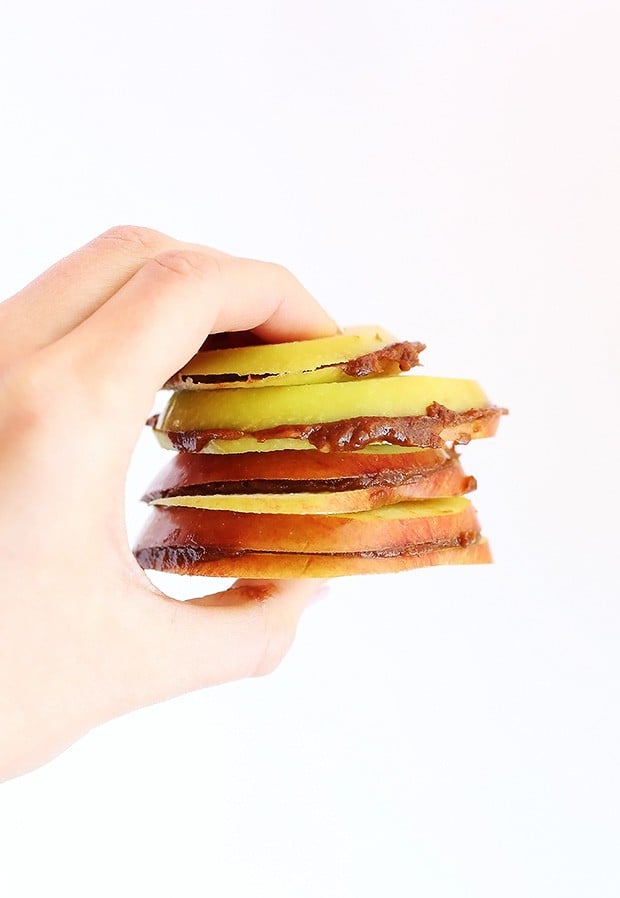 I also included a couple optional add in's for more flavor, natural sweeteners and nut butter! You totally want to try adding the nut butter…specifically the peanut butter! Especially over some vanilla nice cream (blended frozen bananas) Omgeeee YUM! 😉 you want to try it TRUST me!!!
This "caramel" is:
Creamy, drizzly or sticky depending on how much water you decide to add!
Can be naturally sweetened even more.
Can be a great ice cream or nice cream topper.
Great in baking.
Great to dip fruit in.
Healthy!!! (just goggle "health benefits of medjool dates", they have lots of benefits)
EASY!
don't forget to check out the CHOCOLATE version of this date sauce also! 😉
Ok! I really hope you give this a try and let me know what you think! Also tell me how you used it!!! Snap a pic and tag me on social media too! I love seeing what you make! 
I hope you give this a try and let me know what you think! let's keep in touch too on TwoRaspberries, Facebook, Twitter, and Pinterest! 
want to PIN this for later? click here
and don't forget to sign up for email updates (drop your email in the box below!) 
**********************************
********************************
Print
Date Caramel Sauce
Author: TwoRaspberries
Prep Time:

5 mins

Cook Time:

5 mins

Total Time:

10 mins

Yield:

8 oz

Category:

snack/breakfast
- 12 pitted medjool dates
- 1 teaspoon vanilla (optional)
- ½ - 1 cup water (depending on desired consistency)
OPTIONAL add in's:
- 1 tablespoon maple syrup
- 1 tablespoon peanut butter, nut butter or seed butter
- - 1 tablespoon coconut sugar
Instructions
In a food processor add in your pitted medjool dates, vanilla and water.
Start slowly with the water and add more as needed to get desired consistency (thick or creamy)... I have ¾ cup water in the one pictured, more water would result in a drizzle/runny consistency and less water would result in a thick sticky consistency!
Blend until smooth, pushing sides down as needed!
Makes about 8 oz. of "caramel"
sweet. sticky. and delish!