These Double Chocolate Breakfast Cookies are -Vegan -GF -Soy Free and completely breakfast approved! who wouldn't want a chocolate breakfast!?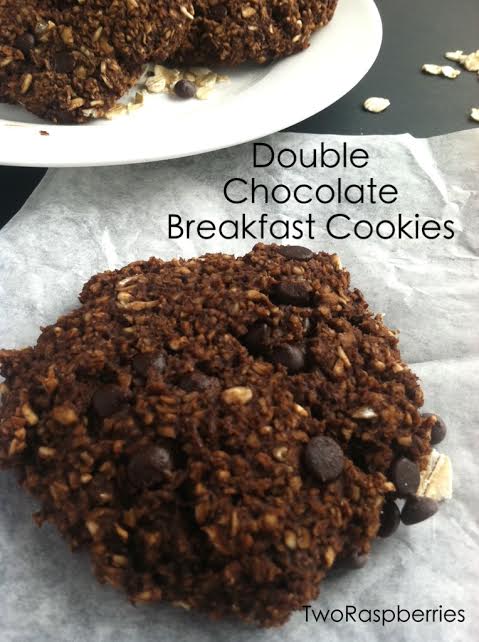 I can't believe it's already July 1st summer is flying by SO fast! ....  well whats better than a cookie for breakfast? especially when it's CHOCOLATE!!!! ... ummmm Nothing!
These Double Chocolate Breakfast Cookies are perfect for a grab and go breakfast, pair it with a banana and you will be satisfied for a couple hours!
funny thing, my mom had one of these cookies and she was totally impressed! she couldn't believe it was Healthy she kinda has a chocolate addiction like me... hmmm wonder where I got it from? LOL 😉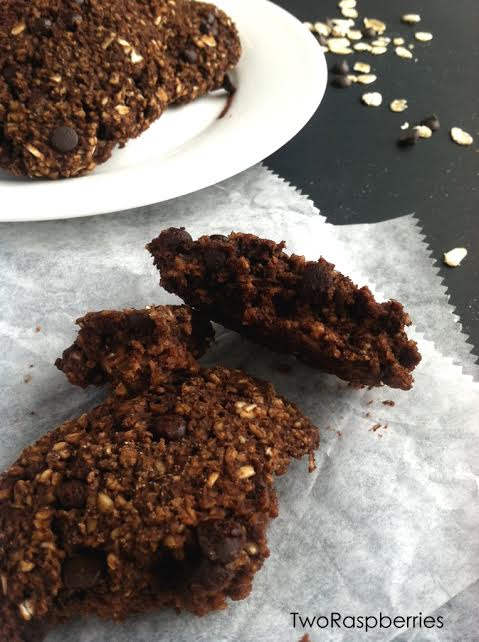 so seriously ya'll what have you been doing with your summer? we have been enjoying SO much time outside 😉 with Nick working second shift it's actually pretty nice because we get to sleep in, wake up relax and take the dogs for a walk before he goes to work, and in the summer that's SO nice because we get to spend non-mosquito time together lol (last summer he would get home late and in MN there's SO many mosquito's outside it just made late walks miserable)
anyways, what are you doing for the 4th? are you going to see fireworks? cabin trips?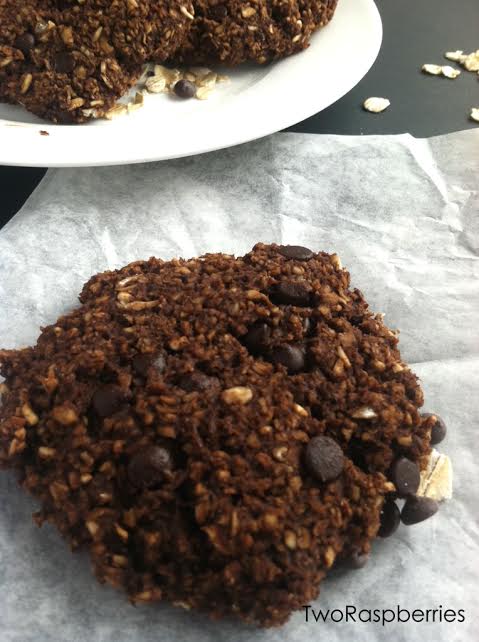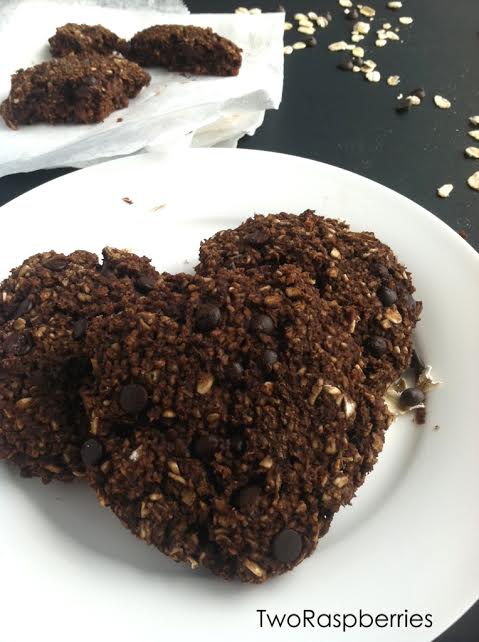 so in these cookies I didn't only put chocolate chips but I added cocoa powder too! I don't know about you, but I'm such a choc-a-holic that I wake up craving chocolate so this cookie is perfect!
and then of course Oat flour made from using rolled oats because hey, it's easy AND healthy AND oats keep you feeling full and satisfied!
and to give it a little sweetness so it's not bland because who wants a bland breakfast cookie? not me! so I added coconut sugar, maple syrup and applesauce! sweetened naturally and completely YUM!
the texture of these cookies?... a little bit chunky  a little chewy and a lot soft! 😉 totally perfect!
I hope you try these and love them!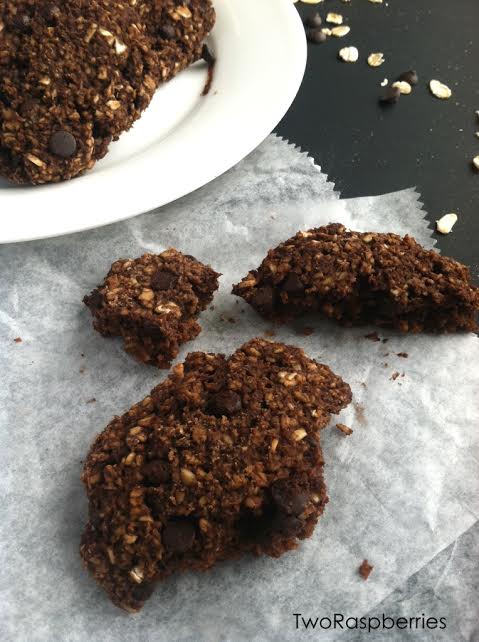 Print
Double Chocolate Breakfast Cookies -Vegan -GF -Soy Free
Double Chocolate Breakfast Cookies are -Vegan -GF -Soy Free
Author: TwoRaspberries
Prep Time:

5 mins

Cook Time:

14 mins

Total Time:

19 mins

Yield:

5

1

x
Category:

Breakfast Cookie
Dry Ingredients:

1 ½ cups

Oat Flour (old fashioned rolled oats pulsed in food processor)

¼ tsp

baking soda
pinch salt

1 ½ Tbsp

mini chocolate chips (I used enjoy life brand)

1 Tbsp

coconut sugar

2 Tbsp

100% cocoa powder (or raw cacao powder which ever taste you prefer)
Wet Ingredients:

1 Tbsp

pure maple syrup

2 oz

. plain unsweetened applesauce

1 tsp

vanilla

¼ cup

vanilla unsweetened almond milk
Instructions
pre-heat the oven at 350
add oats into food processor and pulse until broken up, you want a chunky flour consistency
add ALL the dry ingredients into a large bowl and mix together
add all the wen ingredients directly into the dry ingredients and mix well
OPTIONAL
I placed mine in the fridge for about 2 hours to firm up BUT if you don't want to it's not required but it will be a little harder to form cookie shapes
form cookie shapes and place in the oven and bake for 14 minutes
they will feel soft but let sit atleast 10-20 minutes and will firm up!