This Easy One Pot Pasta Veggie Dish is a super quick no fuss lunch or dinner!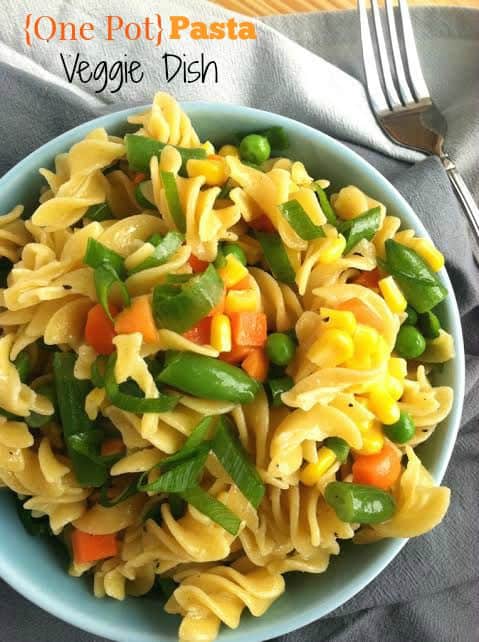 I eat pasta dishes several times a week because they are so simple and filling! I like to switch it up between different kinds of pasta to keep it interesting!
Summer is nearing end 🙁 boo!
But ya know what that means... Fall baking is coming up! I'm always really sad to see summer go and it will forever be my favorite season I'll choose it over any other! but the colder months have their perks too 😉 like hot chocolate, pumpkin spice everythangggg! Baked goods and comfort dishes!  And the smell of your house when your baking!!!
Oh and those cinnamon scented pine cones that you can get from bed bath and beyond! Does anyone know what I'm talking about?!
Anyways, about this super quick AND healthy Easy One Pot Pasta Dish ...
I kept it realllyyy simple I mean no-brainer simple because ultimately that's how I like my food 😉 simple!
I used a simple sauce of olive oil, salt, pepper and lemon juice to give a little sweetness to it!
Frozen veggies make life easyyyy but feel free to add fresh if you have the time 😉
And if you feel like getting a little more interesting with flavors like a little vegan mayonnaise instead of olive oil or maybe some onion or garlic powder! Pasta dishes are SO flexible! Pretty much anything goes! (In my opinion)
Oh another thing I love is adding something like slivered almonds!
So let me know if you like it!
Print
Easy One Pot Pasta Veggie Dish - Vegan - Gluten Free
Easy One Pot Pasta Veggie Dish - Vegan - Gluten Free
Author: TwoRaspberries
Prep Time:

2 mins

Cook Time:

10 mins

Total Time:

12 mins

Yield:

2

1

x
Category:

lunch/dinner
8 oz

pasta (I used GF pasta see picture, regular pasta works well too)

1

to

1 ½

cups mixed frozen veggies (mine had carrots, corn, peas, green beans)

2

-

3

tablespoon olive oil
Juice from

1

lemon
Salt/pepper to taste
Green onions or scallions (fresh onions chopped also work)
Instructions
Bring a pot of water to a boil to cook the pasta (if using GF be sure to cook the right amount of time your box says, as GF pasta can be fussy sometimes) ... 2 minutes before pasta is done add your frozen veggies to the water and cook the rest of the way!
Drain and rinse pasta/veggies
Add back to pot and add olive oil, lemon juice, salt, pepper, green onions and stir
Enjoy!
Serves 2
Notes
be sure to cook pasta according to your box if using GF pasta it's very picky and be sure to not over-cook it or it will be soggy!