These Easy Vegan Cinnamon Rolls are VEGAN, only require 10 ingredients, and no yeast!
Super easy and delicious.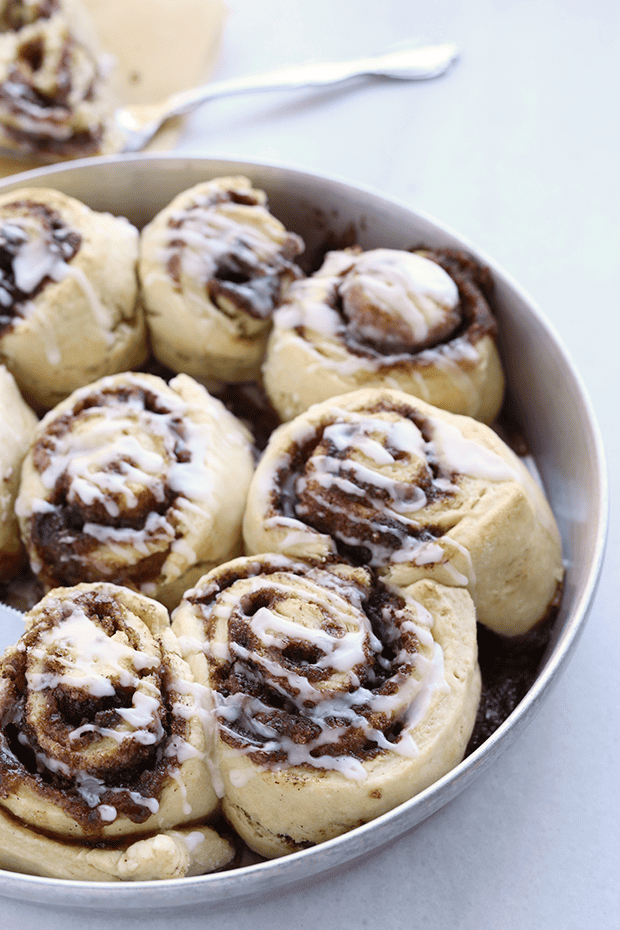 FINALLY! I am giving you a cinnamon roll recipe!
It's true I have been avoiding it for years because I'm not a fan of using the yeast and all that fussy stuff like that… SO here is my 10 ingredient, vegan easy no yeast cinnamon rolls that I think you are going to LOVE!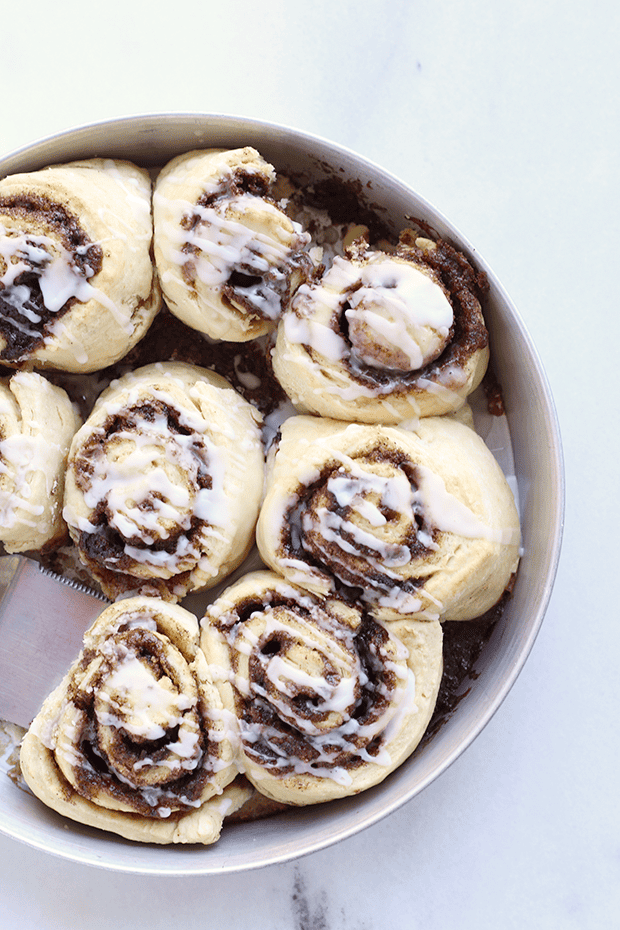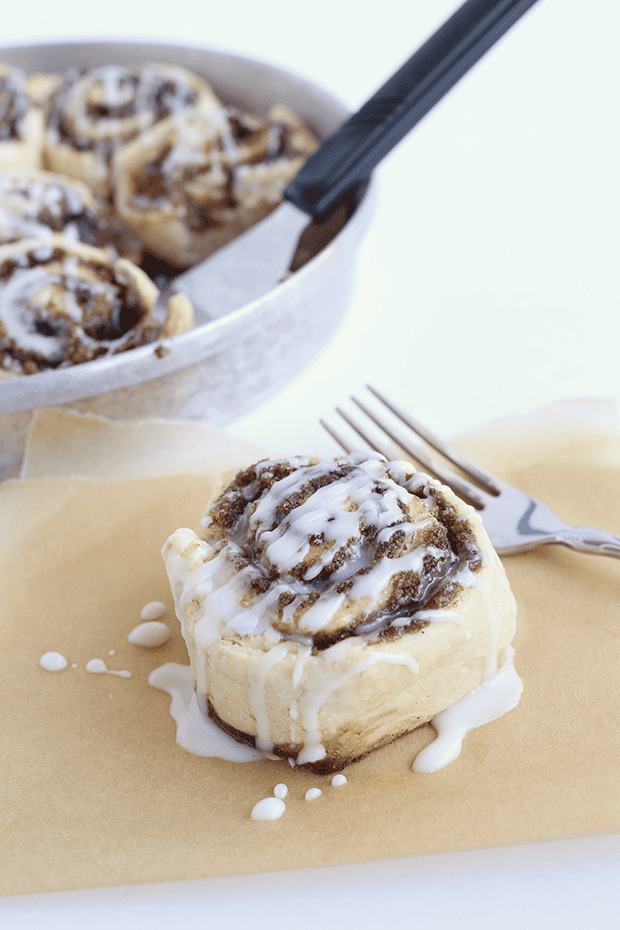 For the dough:
It could not be any easier, theres no waiting for yeast to poof the only thing to keep in mind is the butter must be cold and "cut in" with a fork, fingers, masher whatever you have on hand. Don't over mix it and keep it cold.
Also when rolling it out don't add too much flour only use as much as you need to roll it out without sticking to the counter or rolling pin.
For the filling:
Classic butter, brown sugar and cinnamon mix.
You can add more or less whatever you desire but I just like the texture and flavor of a brown sugar and cinnamon combo.
Feel free to add nuts or chocolate chips if you would like.
For the icing:
Super simple, kept the classic confectioners sugar with water cause' I like the tradition of that.
ok! I really think you are going to love these Easy Vegan Cinnamon Rolls so let me know what you think in the comments below or tag me on TwoRaspberries with a pic!
Print
Easy Vegan Cinnamon Rolls
These Easy Vegan Cinnamon Rolls are VEGAN, only require 10 ingredients, and no yeast!
Super easy and delicious.
Author: tworaspberries
Cook Time:

34-40

Total Time:

0 hours

Yield:

8

-

1

0

1

x
Dough:
2 ½ cup unbleached all purpose flour
2 tsp baking powder
1 ½ TBSP vegan cane sugar
Pinch of sea salt
4 ½ TBSP vegan butter (cut into cubes or chunks)
1 cup non-dairy milk (I used unsweetened vanilla almond milk)
Filling:
¾ cup packed brown sugar
2 TBSP cinnamon
¼ tsp vanilla
1 ½ TBSP melted vegan butter
Icing:
1 cup confectioners sugar
1-2 tablespoon water depending on desired consistency
Instructions
Pre-heat the oven to 375˚ F and  grease/butter a baking dish about 8x8 or a round one like I used
First make the filling, melt the butter and add in the rest of the ingredients and mix.
Next mix up all the ingredients for the dough EXCEPT the butter.
Cut butter into cubes or chunks and add it to the dry mixed and use a fork mash the butter into the dough and then use your hands to get it to combine into a dough like consistency, be careful not to over mix it, it should be a little sticky and slightly crumbly in texture.
Place the dough in the fridge for about 15 minutes will you get the filling mixture ready as well as a clean surface sprinkled with flour and a rolling pin also floured.
Remove dough from the fridge, place on floured surface and use rolling pin to roll it out into a rectangle shape.
Pour filing onto the rolled out dough and spread evenly leaving about ½-1 inch space border around edges.
Carefully start at one side and roll, slice into equal rolls, and place in baking dish.
Place in oven and bake, while baking make the glaze by mixing bot ingredients in a bowl.
Once the rolls are done, remove from the oven and either let them cool if you like the glaze to stay on top or add the glaze right away if you like it to melt into the rolls!