These Flourless Chocolate Almond Butter Protein Cookies are supple simple, only require 4 ingredients and no baking required! Vegan plus gluten free.
"you only get ONE chance with this body you have, either you nourish it or you destroy it, the choice it yours" 
Yessss! No baking and only 4 ingredients in these cookies!
Now I know the title says flourless, and it is…technically.
Everyone always says "flourless" when they use oats for the flour, which to me is a little bit deceiving so I want to be upfront right at the top here, these cookies are technically flourless but you make the oats into flour… so it's oat flour…get what I'm sayin'???
Ok now that that's out of the way, let me tell you, you're going to LOVE these Flourless Chocolate Almond Butter Protein Cookies because you get protein, probiotics and prebiotics in this lil cookie!
The protein powder I used is from Garden of Life and the kind I am using (linked in recipe) has probiotics in it, but you know with all probiotics you need prebiotics…you know, the food for the probiotics to eat, that's what keeps a healthy gut!
Well after doing some research I guess oats are a natural prebiotic food! So this cookie is basically a WINNER!  When you have probiotics with prebiotics you are totally winning at life! 😉  I should have called this a SUPERFOOD protein cookie HA!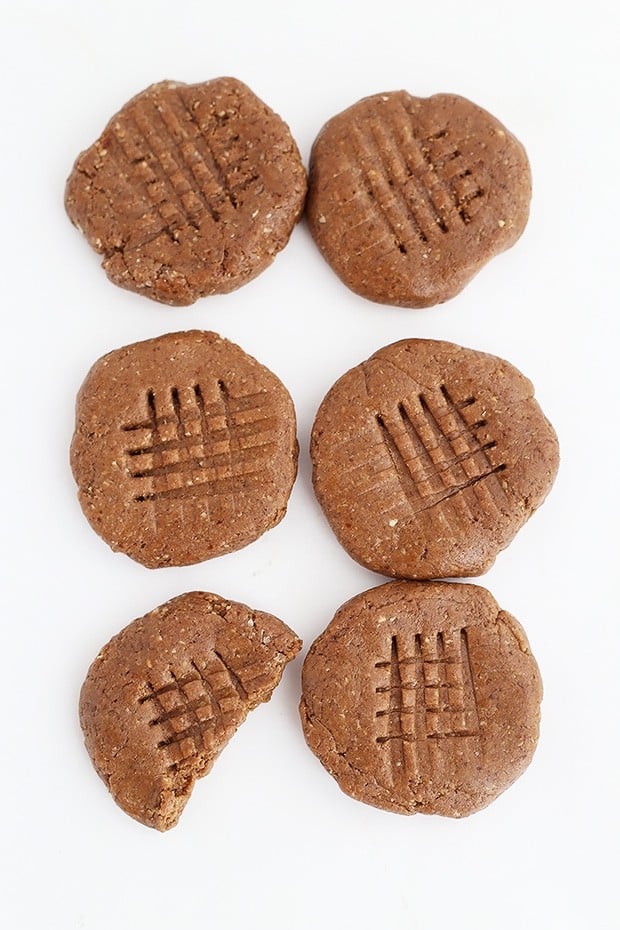 The 4 ingredients in here are simple... oats, pitted medjool dates, natural almond butter and chocolate protein powder! I mean could it get any more simple?
You just put all 4 ingredients into a mini food processor and pulse until broken up (loose and flour looking)and then continue blending for another 3-5 minutes pushing the sides down as needed! Eventually the mixture will clump and start to pile up on one side of the food processor…that when you know you are done.  So keep going until it's a nice sticky mixture and not just a loose crumbly mess! … but that would be delicious as a topping on some nice cream too…. 😉
Ok here's the low down on these Flourless Chocolate Almond Butter Protein Cookies:
Sticky
Chewy
Dense
Delicious
Easy
HEALTHY
Superfoods
Chocolaty
Nutty
Flavorful
Easy to grab n' go
Great snack
Energy food cookie!
Ok I really hope you love these, snap a pic and tag me on social media if you make them! Also leave me a comment and rating below I really appreciate it! Xoxoxo
Print
Flourless Chocolate Almond Butter Protein Cookies
Flourless Chocolate Almond Butter Protein Cookies
Author: TwoRaspberries
Prep Time:

10 mins

Total Time:

10 mins

Yield:

6

1

x
Category:

snack/dessert/cookie/breakfast
Instructions
Put everything into a food processor and pulse until broken up and flour looking.
Then blend another 3-5 minutes pushing sides down as needed until it start to clump into a sticky ball! This will take a while…if you don't notice the mixture getting moist at all then add another 1-2 dates but please give it time before adding this because it DOES take a while for it to turn sticky so blend at least 3 minutes before considering adding more dates because too many will result in a very oily cookie.
Once blended remove and shape into cookies, use a fork to make the classic fork marks or choose to skip them.
Enjoy like this or place in the fridge overnight for a more firm texture.
Makes about 6 cookies
store in the fridge up to 1 week