Fresh Salad with Sauteed Potatoes Vegan Gluten Free and Soy Free ... Healthy easy and delicious!
Happy Friday!!! woo hoo I love the weekends!
so do you love tomatoes? me too! but did you know that they have a lot more lycopene if they are cooked? and that lycopene is great at devouring free radicals! although when cooking them they loose some vitamin C so eating a variety of cooked and un-cooked is the way to go in my opinion... I read this article and I wanted to share it with you since it's like a good-to-know fact! 😉
don't worry I'm not gettin all nutritional facts on ya but I just wanted to share what I learned!
so for this recipe we cooked our tomatoes before putting them on top our salad! why not, right?! and on top that salad I squeezed fresh lemon because... it's like my favorite on top salads, potatoes, and rice! I don't know but it just gives it an un-expected kick of unique flavor!
these sauteed potatoes are  super healthy, they aren't loaded with oils or any un-necessary ingredients just a little cooking spray so it doesn't stick to the pan, some lemon and seasoning! simply de-lish! (note, the first time around I had the heat too high and they ended up tasting burned because of not adding any oil to prevent it, so the key to these lil potato chunks is cooking them slow on medium heat so you don't have a burned flavor! ... resist the temptation to speeding the process up on high heat! )  😉
have a beautiful weekend!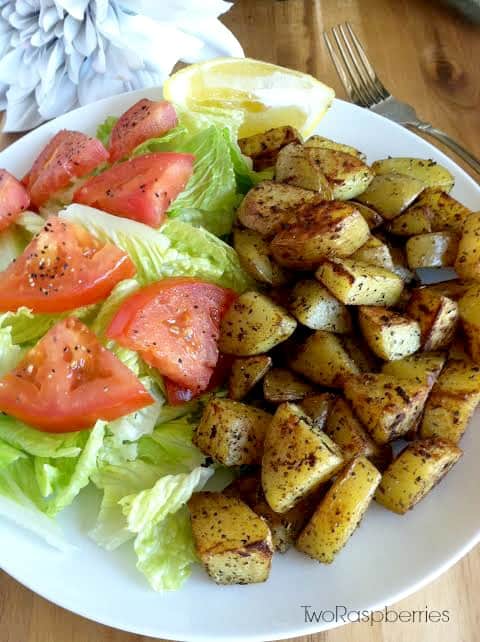 Print
Fresh Salad with Sauteed Potatoes
Fresh Salad with Sauteed Potatoes
Author: TwoRaspberries
Prep Time:

10 mins

Cook Time:

40 mins

Total Time:

50 mins

Yield:

2

1

x
Category:

lunch/dinner
for the Salad:

3 cups

of lettuce (I used romain)

½

lemon

½

large tomato
pepper if desiged
for the Potatoes:

3

-

4

yellow potatoes

½

lemon
thyme
oregano
OR Italian seasoning
pepper if desired
Instructions
spray a large skillet pan with non-stick cooking spray (I used coconut oil spray but olive oil works too)
chop your potatoes into small chunks and put them in the pan and stir frequently will take about 40-50 minutes depending on how big your chunks are, the bigger they are the longer they take)
after about 35 minutes add you seasoning and pepper if desired
while potatoes are cooking prepare you salad and sliced tomatoes place in the pan with to potatoes for the last couple minutes (2-3 min) to warm them and pepper them to tast and remove them and place on top the lettuce
top your salad with fresh squeezed lemon
remove potatoes and top with fresh squeezed lemon!
Notes
to avoid a burned flavor of the potatoes, the key is cooking them slow on medium heat NOT high heat even though it's tempting to speed up the process!