Yummy in my tummy! if you're a Gluten Free person your gonna love these super soft lemon poppy seed muffins!
I'm not a 100% gluten free person but I do like to try and do GF on occasion…. I would love to at some point in time go completely GF but it's just not all that easy unless you actually have too, I don't think that's in my future anytime soon.
These muffins are made with rice flour which is what makes the gluten free, if you've never tried rice flour now might be the time! Especially if you like poppy seed muffins.
I used a vanilla for the glaze (I didn't want to much lemon goin on) the vanilla goes so very well with the lemon I mean doesn't vanilla compliment almost everything? Anyways it balances the taste between sweet/sour and savory.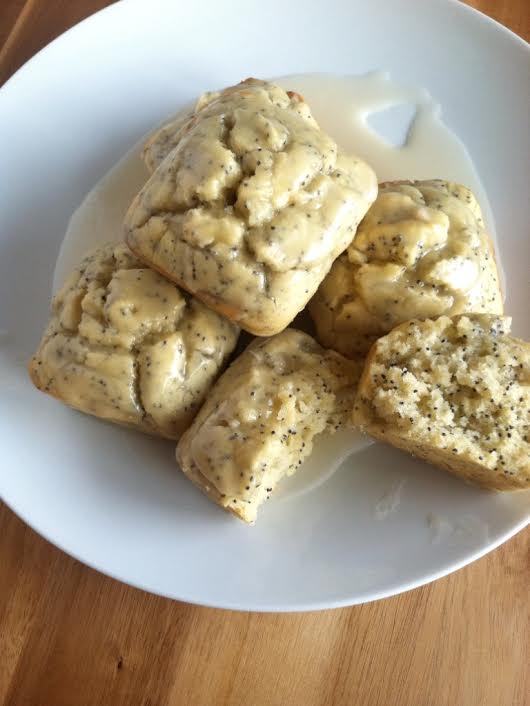 Anyways… lets be real, these are really good the first day but, they are sooo amazing the next day after the glaze has absorbed into the whole muffin making them soft and moist and melt in your mouth delectable!
Try these and let me know what you think! And if you agree how much better they are the next day!
Print
Gluten Free Lemon Poppy Seed Muffins
Gluten Free Lemon Poppy Seed Muffins
Author: Michele
Prep Time:

15 mins

Cook Time:

16 mins

Total Time:

31 mins

Category:

Gluten Free Muffin
Gluten Free Lemon Poppy Seed Muffins
- 2 cups flour (1 cup white rice and 1 cup brown rice flour)
- ¼ cup granulated sugar
- 2 tablespoon Poppy seeds
- 2 teaspoon baking powder
- ¼ teaspoon baking soda
- ½ teaspoon salt
- ½ cup Vegan Butter melted (I use earth balance brand)
- Juice of 2 lemons
- 1 tablespoon lemon juice (the kind from a bottle)
- 2 LG eggs
- ½ cup applesauce
Glaze:
- 2 cups confectioners' sugar
- ¼ cup almond milk
- 1 teaspoon vanilla extract
Instructions
Pre heat the oven at 400 and bake for 7 minutes then leaving the muffin in the oven reduce temperature to 365 and bake another 9-10 minutes until lightly golden
In a large bowl combine flour, sugar, brown sugar, poppy seeds, baking powder, baking soda, salt and mix
Add melted butter, lemon juice, eggs, and applesauce and mix well
Spray muffin tins with non-stick cooking spray
Fill the batter up to the top of the muffin or square muffin tins so that you get the extra round top on the muffin
Makes about 7 square muffin or about 5 regular muffins