Healthy Blueberry Banana Buckwheat Pancakes are super easy, tastes like blueberry and banana's, only requires 8 ingredients and they're vegan plus GF!
Mid-week means breakfast for dinner amiright?! Warm comforting comfort food isn't only for the weekends my friends, especially when it's so easy!
These pancakes only require 8 simple ingredients and if you are a GF eater then you probably already have all this in your kitchen!
Ok so here's how it goes, blend up the wet ingredients, add the dry to the wet ingredients and then you start makin pancakes!
These pancakes are made with buckwheat and tapioca flour, I have tried using rice flour before but trust me friends, buckwheat may look dark like cement but it doesn't give you the sandy texture like rice flour does! So if you haven't tried it yet you are totally missing out.
Also for the blueberries in here, I used frozen… I'm sure fresh would be fine also (I have not tried it) but I usually like the flavor of frozen more than fresh, it seems to be sweeter.
The banana in here! Measure it please… I used 1 small-medium ripe banana (make sure it's spotty and ripe or it will give a funky taste) I measured it to be about ½ cup when you smash it into a measuring cup… since it will be blended you don't need to mash it first but at least give it a smush into a measuring cup to ensure it's about ½ cup! 😉
Also unlike pancakes made with white flour, these are dense pancakes the kind that make you feel full like you had a meal instead of feel hungry because you ate air! HA! Things are usually just denser when using GF flour, so if you're not used to GF then this may be a bit different to you but I'm still sure you will love them!
One more thing! The butter, you can make these low fat by using a true non-stick pan (a good one, because the batter is pretty sticky) and omitting the butter, it will taste different OBVS. because butter makes everything taste delicious 😉 but they are still very very good without it! I do like the butter but I honestly don't always use it, if I'm feelin like I want to be a little lighter on the fats then I just don't use it! So try it both ways and decide how you like it!
Let's get a little more description on these Healthy Blueberry Banana Buckwheat Pancakes:
They pancakes are dense and moist
Delilcious
Soft
Filling!
Flavorful
Easy + fast
Healthy
Low fat option by not using the butter in a non-stick pan!
gluten free because of buckwheat and tapioca flour!
Try em' – snap a pic- tag me on social media! Also leave a comment and a rating below! It's SUPER helpful! 😉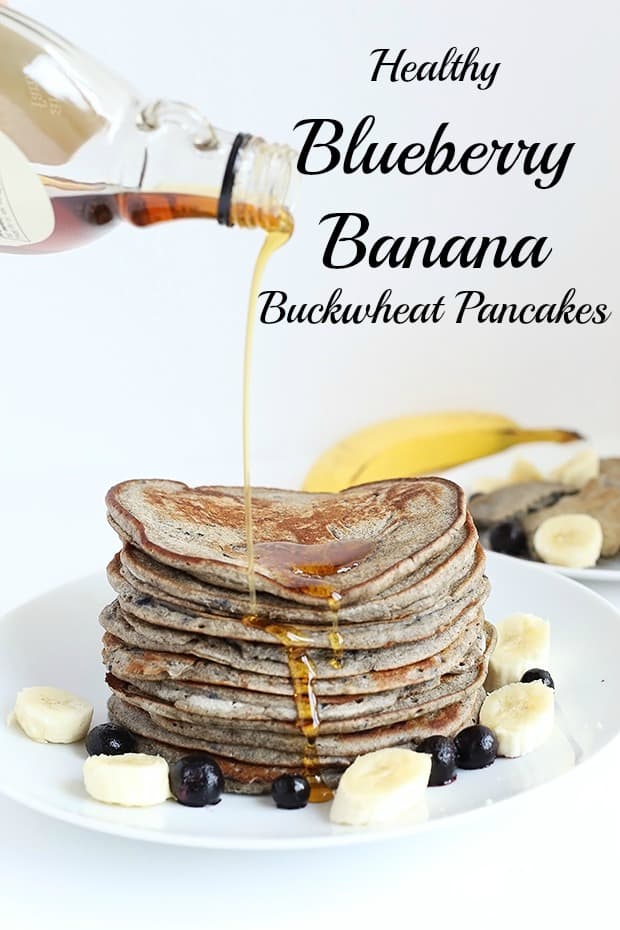 Print
Healthy Blueberry Banana Buckwheat Pancakes
Healthy Blueberry Banana Buckwheat Pancakes
Author: TwoRaspberries
Prep Time:

5 mins

Cook Time:

15 mins

Total Time:

20 mins

Yield:

6

1

x
Category:

breakfast/pancakes
WET INGREDIENTS:

1

medium ripe banana (about

½

when smashed into a measuring cup)

2 TBSP

maple syrup (plus more for topping)

¾ cup

unsweetened vanilla Almond milk (I use SILK brand)

⅓ cup

frozen blueberries (fresh are probably ok also)
DRY INGREDIENTS:

1 cup

buckwheat flour

¼ cup

tapioca flour

1 tsp

baking powder
· Optional: Vegan Butter for frying them in the skillet (see notes)*
Instructions
Get a large skillet pan.
In a food processor add the wet ingredients and pulse until mostly smooth.
Pour the wet ingredients into a large bowl, add the dry ingredients and stir until well combined!
Put a little bit of butter in the pan *see notes* (about 1 tsp) and pour the pancakes onto the skillet using the back of a spoon to even it out quickly to form a round shape.
Notes
*This recipe makes about 6 large pancakes using a ⅓ cup measuring cup for each one.
**But you can really make any size you want.
***If you are using a true non-stick pan you can omit the butter and it cooks just fine, it does taste a little more bland without the butter but still tastes delicious, try it both ways and decide for yourself. 😉
best breakky eva!