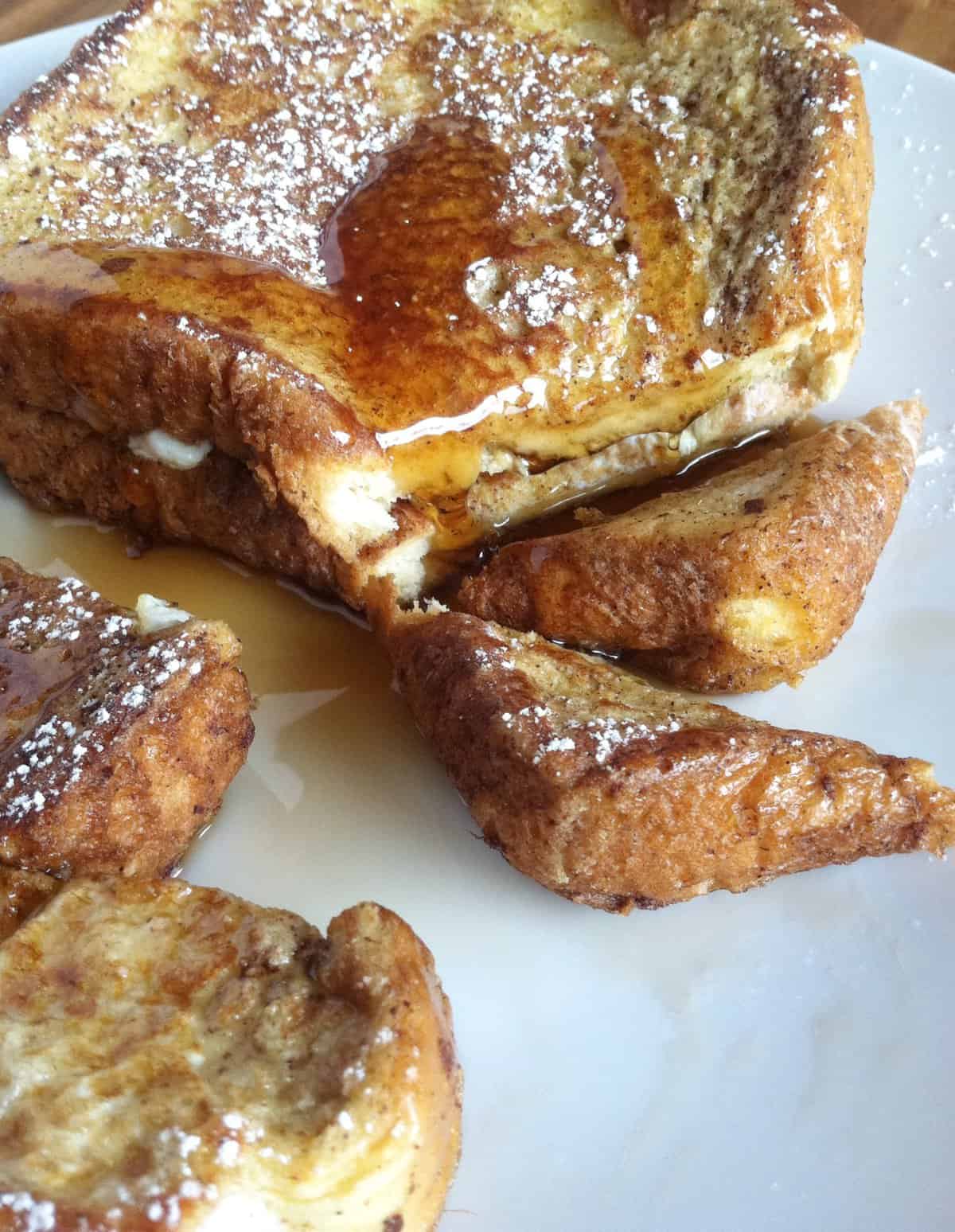 This was an 11 p.m. breakfast food craving! Is it just me? or does anyone else like to eat breakfast for dinner?
So it was late at night and Nick and I were just relaxing watching t.v.  and we were both like ... What are we gonna eat for dinner?
Neither of us wanted our regular go-to dinners (pasta, rice stir fry, pizza, veggies)
We wanted something filling and yummy and... I started looking and dinners on Pinterest and wa-la!
We decided we were going to the store to get some Texas toast! French toast it is!
So this Healthy Cinnamon Vanilla French Toast  is:
Savory
Sweet
Soft
Totally delicious!
very filling and totally a breakfast for dinner food 🙂
and Vegetarian
if you try this recipe comment below! and take a picture and #TwoRaspberries so I can see it, or tag me through instagram
Print
Healthy Cinnamon Vanilla French Toast -Vegetarian
Healthy Cinnamon Vanilla French Toast- Vegetarian
Author: Michele/Nick
Prep Time:

10 mins

Cook Time:

10 mins

Total Time:

20 mins

Category:

Breakfast
Healthy Vanilla Cinnamon French Toast
- Texas Toast (3-6 slices see notes below)
- eggs (2-4 see notes below)
- 1 teaspoon vanilla extract (per 2 eggs, 2 teaspoon for 4 eggs)
- 1 teaspoon cinnamon (per 2 eggs, 2 teaspoon for 4 eggs)
Instructions
In a wide bowl (something big enough to dip the toast in) crack eggs into bowl 2 eggs will make about 3 slices of toast - 4 eggs make about 5-6 slices of toast... (It's almost 1 egg per slice of toast)
Stir/beat the eggs with a fork or whisk, add vanilla extract (1 teaspoon per 2 eggs)
Add cinnamon 1tsp per 2 eggs depending on how much you like cinnamon
Whisk all together and set aside.
Use a frying pan sprayed with non stick cooking spray
Now you can either start dipping the toast into the mixture and placing in pan OR you can slice the bread to make French toast sticks before dipping in the egg mixture and placing in pan
Wait until golden brown and then flip the bread to the other side, once cooked and golden brown on both sides place on a serving plate and top with powdered sugar (confectioners sugar) and maple syrup or syrup of choice