This Healthy Curry Burger Salad Bowl is super filling and FULL of flavor! Spicy, sweet and fresh! Vegan and Gluten Free.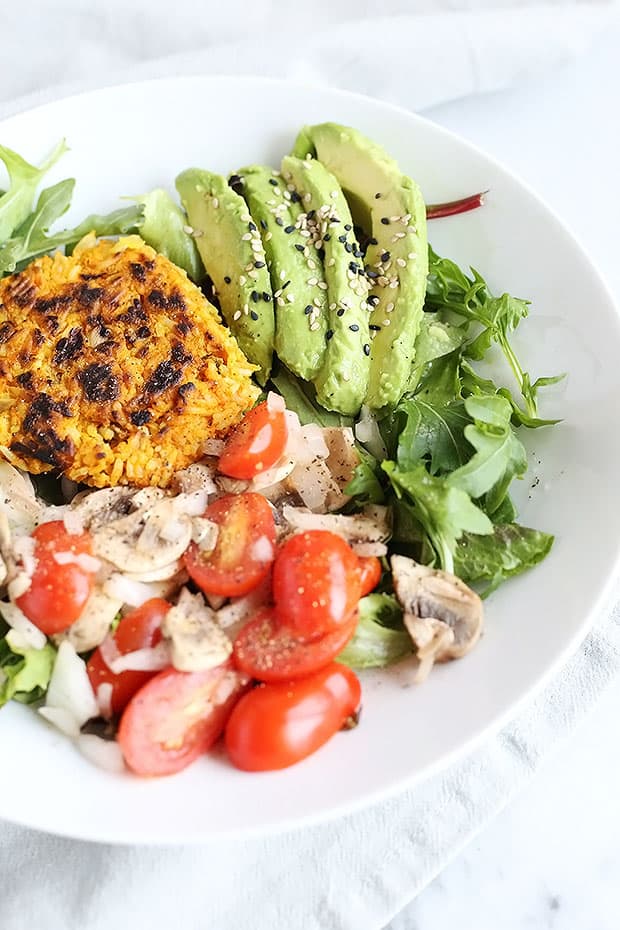 Today friends, we are taking our salad to the next level! How about a filling curry burger on top of your salad adding spice, flavor and texture! Sounds pretty darn good to me! 😉
So, these curry burgers… you need to make them because they make the best EASY burger or salad topper which is what we are doing today.  I make these burgers and freeze them so they are ready when I want them.
They have taken my salads from boring to totally satisfying.  It's perfect for lunch or dinner.
The other stuff on here, tomato, onion and mushrooms, you can add them on here raw which is good but I like to sauté them a little bit (like 3-5 minutes) so they are warmed up and it feels less like a salad and more like a meal!
Avocado, do I need to say anything else? I mean avocado makes everything better am I right? 😉
Sesame seeds, I like to sprinkle some on top just for added vitamins and minerals.  If you are interested you can read more in the links I provide below about them but basically they add copper, manganese, phosphorus, calcium, zinc, iron, magnesium, molybdenum, B1, selenium and fiber as well as a good source of folic acid!
So why not just add them! 😉
I really recommend reading these links:
number 1, number 2 and number 3
A few more things about this Healthy Curry Burger Salad:
Filling + satisfying
Spicy + flavorful
Lots of textures going on!
Easy to prep and have ready!
Totally NOT boring! 😉
So that's the basics going on in this salad! I really hope you try it because I know you will love it!
Take a pic and tag me on social media if you do I would love to see it! 😉
I hope you give this a try and let me know what you think! let's keep in touch too on TwoRaspberries, Facebook, Twitter, and Pinterest! 
want to PIN this for later? click here
and don't forget to sign up for email updates (drop your email in the box below!) 
**************************************
*************************************
Print
Healthy Curry Burger Salad Bowl
This Healthy Curry Burger Salad Bowl is super filling and FULL of flavor! Spicy, sweet and fresh! Vegan and Gluten Free.
Author: TwoRaspberries
Prep Time:

45 mins

Cook Time:

15 mins

Total Time:

1 hour

Yield:

1

Category:

lunch/dinner bowl
- 2 cups lettuce
- ⅓ cup chopped mushrooms
- Chopped onion about ¼ cup or less
- 6 sliced cherry tomatoes
- ½ avocado
- Optional: sprinkle of sesame seeds! (for added nutrition)
Instructions
Make the curry burgers (the whole batch because they are great for freezing)
Chop the mushrooms, onion and tomatoes. (raw is great OR you can sauté them in a skillet for a few minutes to lightly cook them, this is my preference.)
Assemble salad bowl, lettuce on the bottom, then add your mushrooms, tomatoes and onion.
Top with curry burger and avocado!
Optional a sprinkle of sesame seeds!
Happy Taste Buds!!! 😉