This Healthy Fajita Bowl is SUPER easy to make and perfect for lunch or dinner! A blend of natural flavors come together beautifully! Rice, lime avocado, soft tortilla chips and sauteed mushrooms and tomatoes!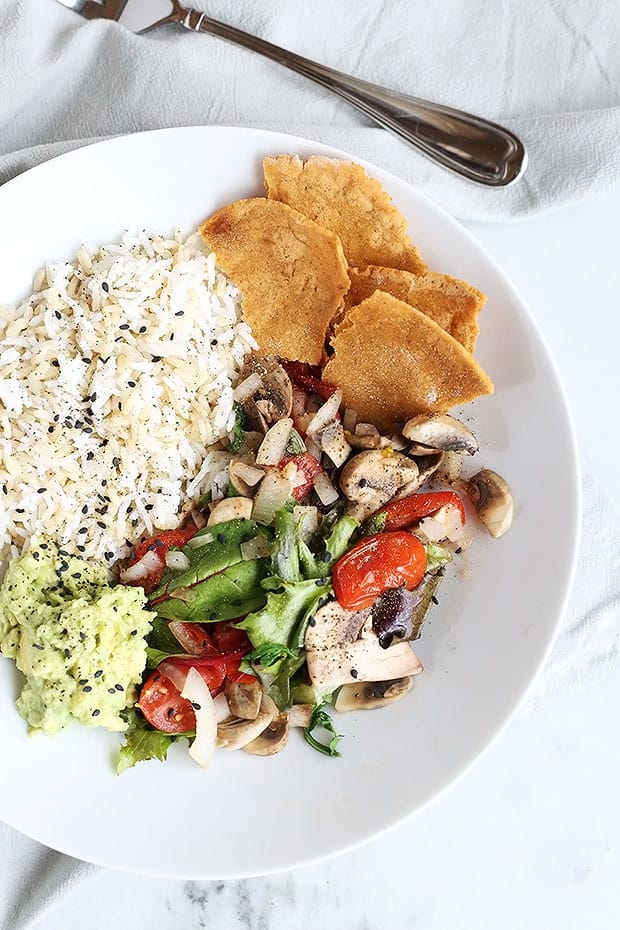 Bowls! They are the best right? You can put anything in a bowl and make a delicious + healthy meal that is totally not boring!
This Healthy Fajita Bowl has ALL the good things your happy little taste buds could ever want! 😉
A few tips I have for making bowls like this, before the week starts make a big bowl of rice or quiona so you have a base.
Next, when you do your weekly grocery shopping pick up a container of lettuce and whatever fresh produce looks good!
When you think of it like this, you will always have different and interesting meals you can make with things you already have on hand!!! 😉
Start with your base rice or quiona.
Take the veggies you have on hand and chop them up! Saute them a little if you like, and toss them over your base!
Lettuce: sometimes I leave it raw and sometimes I turn the heat off of my veggies being sautéed and toss them in the pan and let them soften, both are great!
Make a quick avocado dip like this one OR add your favorite store bought low sodium organic salsa!
Add your favorite tortilla chips or pita chips (currently I am obsessed with my Soft Chili Tortilla Chips)
And you have a delicious + filling + completely not boring meal!
So for this Healthy Fajita Bowl in particular, I choose rice for my base.
I Sautéed up some mushrooms, cherry tomatoes, and onion which are one of my favorite combinations because the flavors complement each other really well.
I made a lime avocado dip for the creamy texture and fresh lime tastes! But salsa would have been delicious also.
The lettuce, I sautéed it slightly because I wanted a warm meal. 😉
And the Soft Chili Tortilla Chips were leftovers from when I made them yesterday so I re-heated them because they were in the fridge and they were perfect with this Fajita bowl!
I really hope you give this a try I know you will love it! Take a pic and tag me on social media so I can see it!
I hope you give this a try and let me know what you think! let's keep in touch too on TwoRaspberries, Facebook, Twitter, and Pinterest! 
want to PIN this for later? click here
and don't forget to sign up for email updates (drop your email in the box below!) 
********************************
*********************************
Print
Healthy Fajita Bowl
Author: TwoRaspberries
Prep Time:

45 mins

Cook Time:

10 mins

Total Time:

55 mins

Yield:

1

Category:

lunch/dinner bowl
- ⅔ cups cooked rice (I used leftover basmati and brown rice mixed together, you can use any rice you like)
- ¼ cup chopped mushrooms
- About ¼ of a white onion chopped (about ¼ cup)
- 6-10 sliced cherry tomatoes
- 1 cup lettuce
Avocado Lime Dip:
- ½ a ripe avocado
- ¼ of a lemon squeezed
- ¼ teaspoon onion powder
- Cracked black pepper
Optional: These Soft Chili Tortilla Chips or any tortilla chip you like
Optional: store bought organic low sodium salsa
Optional: sesame seeds to sprinkle over the top for added nutrition!
Instructions
prepare your rice if it is not already prepped and in the fridge ready to go. If it is already prepared then add it to a bowl. prepare Soft Chili Tortilla Chips (linked above) if you are using them.
chop the mushrooms, onion and tomatoes and place in a skillet for 5-10 minutes until cooked, add lettuce in for 1-2 minutes on low heat or after you already turn the heat off just to soften and slightly cook it.
prepare avocado lime dip by adding all ingredients to a bowl and using a fork to smash it all together until it looks like a dip.
add veggies and avocado dip with tortillas to the bowl and enjoy!
my favorite kind of bowl! 
check out my Healthy Curry Burger Salad Bowl also!