Health Easy Mixed Veggie Quinoa! Prepare extra in advance and save for an easy lunch or super fast dinner!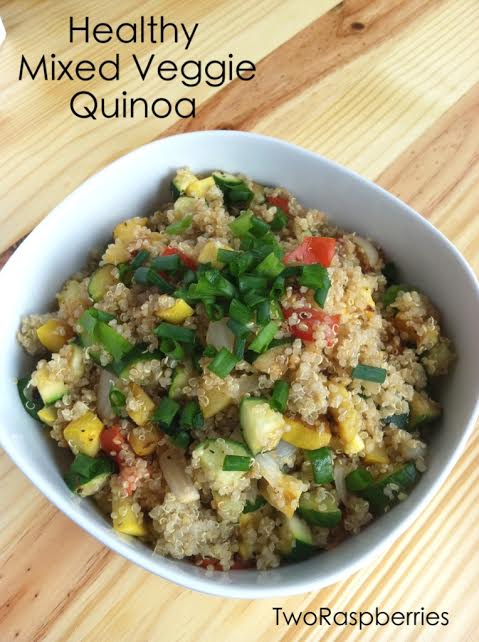 I'm all about the healthy! And quinoa is my new rice! (Obviously I still eat rice, just sayin quinoa is my new thang!)
So I make a big batch of this stuff and I keep it in the fridge for up to 3 days and have it as a super fast lunch for days!
Nick likes to heat it up an add chicken, obviously I don't eat chicken ha! But it's a great dish that we can both enjoy and SO healthy!
I know how many times can I say the "H" word lol

Anyways, funny story, when I first made Quinoa, Nick looked at it and was like ... "It looks like saw dust" pauseee... Me: "saw dust? Really! Thanks for being so honest! (Being sarcastic)... No you have to try it, it's got so many health benefits" ...
He tries it and smirks, me waiting... Welllll? He keeps eating... Me, Good or bad? ... Keeps eating... He likes to make me wait because I have ZERO patience!
It was good!  He says.
Really! Like good? Or just eh ok?
Nick: "it was actually really good I would totally eat it again! "
Big smile from me! Woohooo WIN for the new healthy swap! (Yeah quinoa isn't new but it's new to me, I never wanted to bother figured out how to cook it before!)
So in this dish I added zucchini and yellow summer squash! I love those they add such a filling hearty texture to this dish and flavored it with onion and spices because I don't seem to ever be able to leave onion out of any recipe lol
So please try it! Make extra and bring it to work so you can feel full longer and not go for the junk food!
Print
Healthy Mixed Veggie Quinoa
Healthy Mixed Veggie Quinoa
Author: TwoRaspberries
Prep Time:

15 mins

Cook Time:

30 mins

Total Time:

45 mins

Yield:

2

1

x
Category:

Lunch/Dinner
1 cup

dry quinoa plus 2 cups water (but follow instructions on your package)

⅓

of a large onion

1

small zucchini

1

small yellow summer squash

1

small tomato

1

small or mini cucumber
Scallions

5

-

10

long stems depending on size and personal taste)
Pepper to taste
Italian seasoning to taste
Garlic powder (optional)

2 Tbsp

coconut oil
optional:
lemon or lime juice sqeezed on top is DELICIOUS!
Instructions
Make you quinoa according to your package
In a large skillet pan add 1 tablespoon coconut oil and chop and add your zucchini, squash, and onion (I chopped mine very small) let simmer for 10 minutes on med-high heat
Next chop and add your cucumber and tomato and let cook another 5 minutes
Add your quinoa and scallions (save some for topping if like) and 1 tablespoon coconut oil and cook another 5 minutes
Serve up and enjoy!
Serves 2 main meals or 3-4 small sides with a salad!
you  might also like this: Healthy Summer Toasted Quinoa