these Healthy Oil Free Sweet Potato Frys are Vegan-Oil Free- Salt Free- Guilt Free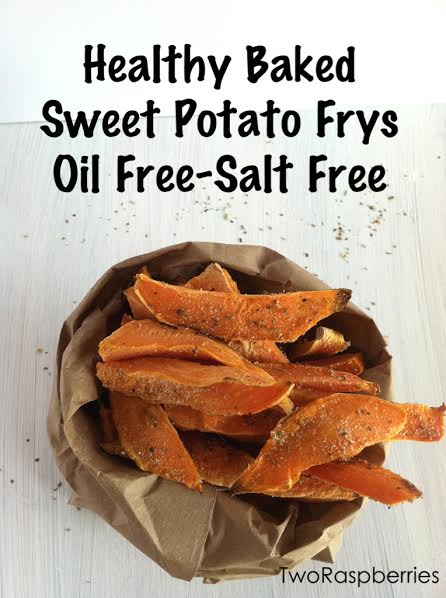 these HEALTHY sweet potato fry's are the perfect mid-week pick me up! they taste like a complete comfort ...side/snack/meal 😉 but there is litereally no-guilt in these bad boyz!
this is straight up good-for-you carbs with a super tasty taste!
So I'm going to be honest, I'm not a fan of fried french fry's! why? because they always leave you with a greasy film on your tongue, and a oil pit in your stomach! ...but that sure wasn't going to stop me from eating french fry's ever again! so in this recipe we healthy-ed them up!
lately I've been taking all my favorites and making them as healthy as possible, not that I didn't eat healthy before because I totally did... but it seems like the more healthy food you eat, the more sensitive you get to the less healthy ones? is it just me or have you experienced the same thing?
although I still love to stare at all the super decadent foods with not-so-nice to my tummy ingredients cause they are so dang tasty looking 😉 but I resist the temptation cause I know how I'll feel after :-/
I've been reading those Kimberly Snyder books and I've been loving them, incorporating what I learn from the book has been making me feel even more healthy!
have you ever read any of her books??? did you like them??? if not, what books have you read about food that were really great? fill me in!
anywaysss these are full of flavor... onion powder gives them a nice tang and the pepper and Italian seasoning gives it a little bit of spice to them! I love fry's with flavor!
try em' love em' share em' with friends! 😉
Print
Healthy Oil Free Sweet Potato Frys Vegan
Healthy Oil Free Sweet Potato Frys
Author: TwoRaspberries
Prep Time:

10 mins

Cook Time:

40 mins

Total Time:

50 mins

Yield:

2

1

x
Category:

side
3

Sweet Potatoes

1 tsp

pepper

½

-

1

teaspoon onion powder

½ TBSP

Italian seasoning
Instructions
preheat your oven at 375
peal your sweet potatoes with a hand pealer
slice them into fry shapes (no need to be perfect just try and make them all about the same size)
sprinkle your seasonings over them and place in the oven
line a cookie sheet with foil OR spray the sheet with cooking spray but them it won't be oil free!
cook for 30-40 minutes
Notes
because there is no oil in this recipe (you can spray the sheet if you would like to but then it's not oil free) you want to make sure they aren't super thin slices... I have found that the thinner they are the more they stick to the sheet so thicker is better even though it takes longer to bake!