This Healthy Pineapple Mango Burger Salad is fresh, fruity and sweet! Very satisfying and filling! Lots of flavor and full of healthy all natural clean ingredients! Vegan and Gluten Free!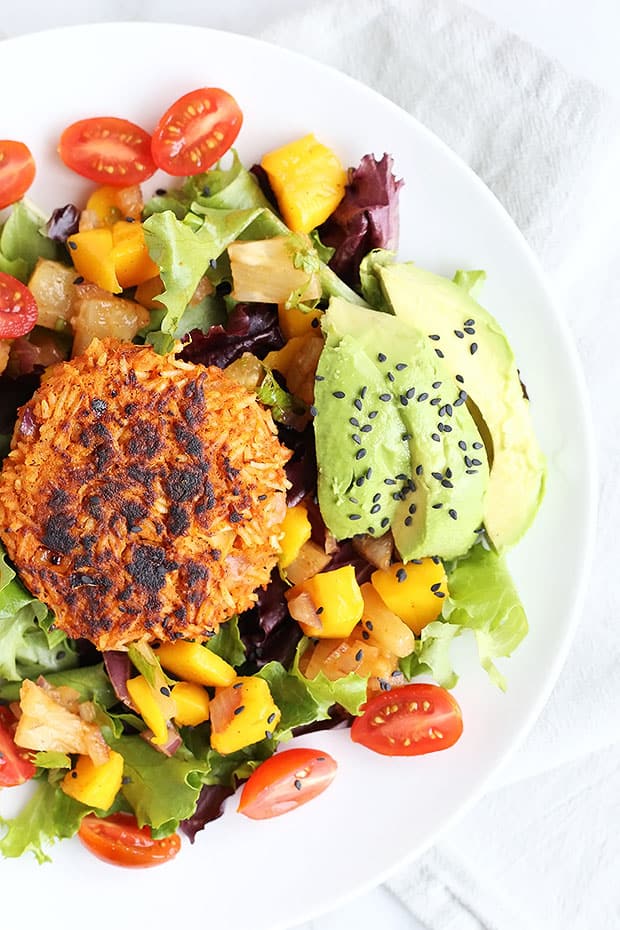 I know I have done this whole burger salad thing before (see here) but I like to re-purpose my food in different ways! Especially with burgers because I don't always want a huge burger bun! Sometimes I want a lighter salad but I still want it to be satisfying with flavor and filling in my tummy! 😉 right? Don't you agree?!
So I loved the Chili Pineapple Mango Salsa on the Caribbean tacos SO much that I had to top it on my burger and salad! I always love to add fruit to my salads I mean this reallllly old one I posted a long time ago is one of my favorites! Fruit makes your salad SO much more interesting especially if you're like me and don't really like to add lettuce in your smoothies very often but still want to get that leafy good-ness in ya! THIS Healthy Pineapple Mango Burger Salad is the perfect way!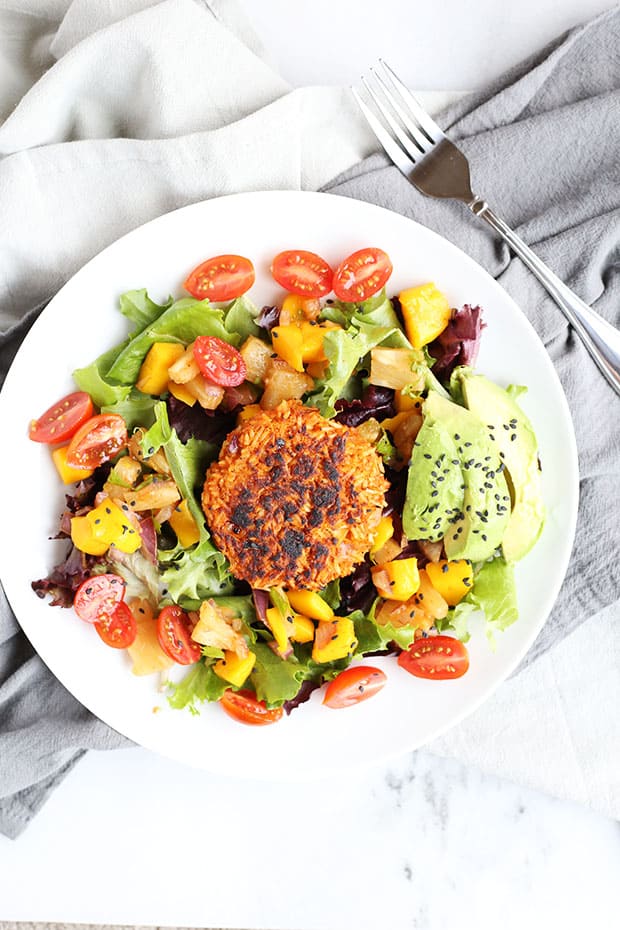 So really there isn't much to this salad just a couple tips!
First make a double batch (if you have a family but if it's just you, a single batch will do) of the Vegan Chili Pineapple Sweet Potato Burgers because you can have them for dinner one night and freeze the other half for the next week or even 2-3 weeks later (they freeze well for up to a month) to top on a salad like this Healthy Pineapple Mango Burger Salad right here! 😉
Next tip, if you don't like soggy lettuce and you are prepping this salad for lunch the next day, put the salsa in a separate container to add right before you eat it, otherwise the pineapple and mango will get the lettuce all juicy and take away it's crispy-ness! Personally I usually just toss it on top because a little wilted lettuce doesn't bother me, but for those of you who can't stand it, get little containers to put the salsa portion in! 😉
That's pretty much it! I really hope you try this Healthy Pineapple Mango Burger Salad AND if you try it take a pic and tag me on social media so I can see it!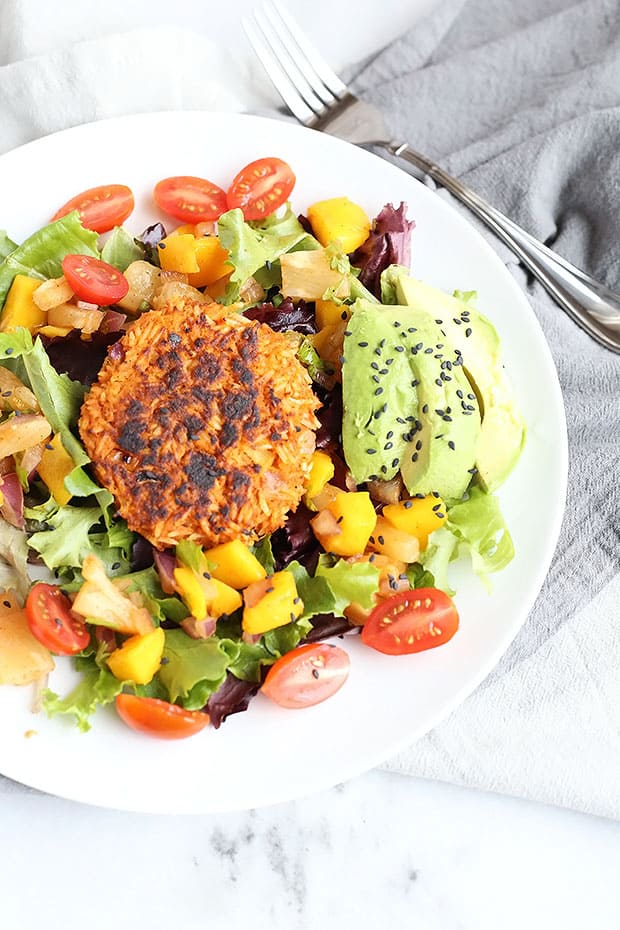 I hope you give this a try and let me know what you think! let's keep in touch too on TwoRaspberries, Facebook, Twitter, and Pinterest! 
want to PIN this for later? click here
and don't forget to sign up for email updates (drop your email in the box below!) 
**************************************
**************************************
Print
Healthy Pineapple Mango Burger Salad
Healthy Pineapple Mango Burger Salad is so fresh, fruity and sweet!
Author: TwoRaspberries
Prep Time:

60 mins

Cook Time:

5 mins

Total Time:

1 hour 5 mins

Yield:

1
Instructions
Make the burgers and the salsa.
Assemble salad by putting a bed of lettuce down first, then the burger and salsa, then top with the cherry tomatoes and avocado!
The Burger recipe is for 5 burgers so you could make 5 salads with this recipe!
Fresh + Fruity + Sweet 
you might also like this burger salad!