Healthy Quinoa Veggie Bowl is super easy to make. Only takes about 30 minutes and is packed full of healthy vitamins, minerals, fiber, and protein! Vegan!
Did you know that quiona is a complete protein and has essential amino acids as well as tons of other health benefits?!  it also has iron, magnesium, phosphorus, potassium, B vitamins, calcium, fiber and vitamin E! you can read more about it here, but basically it's a superfood!!!
now that you are totally all schooled up with my short little intro of why quinoa is such a superfood let's talk about this Healthy Quinoa Veggie Bowl a little bit!
It has two options for cooking the quinoa… basically if you are used to eating clean natural foods with little seasoning (simple foods) then you can totally cook your quinoa in water and the dressing will be enough flavoring for you.
If you are not used to eating super simple foods then cook it in option two the veggie broth because this will provide much more flavor for you!
Or you can even cook it in half water and half veggie broth! I have tried it both ways above and love them both, I guess for me personally when I eat this for lunch I choose the water but if it's for dinner usually I choose the veggie broth because for some reason I crave more flavors around dinner time… it's totally up to you, both are delicious just one has more flavor than the other!
p.s. I am not trying to be confusing I just like to provide options because everyone's taste buds are SO different! And there really are no rules when cooking!
One more thing about flavor, I add a sliced jalepeno to the cooking liquid just for some more flavor, now the funny thing about that is sometimes it enhances the quinoa a lot and other times you can barely tell?! I think it has to do with the amount of spicy-ness which varies from pepper to pepper… I'm not sure, so I just do it anyways because I love adding the natural flavor when the jalepeno decides to give the flavor up! … do you know why this may be? Is it not ripe or something? Comment below if you have a clue as to why???
Also I like to remove the  jalepeno when it is done cooking, but if you prefer to eat it be sure to finely chop it up and not just slice it!
Another thing about this Healthy Quinoa Veggie Bowl is that it is amazinggg on a wrap! Like a burrito! This recipe will make like 4-8 wraps (depending on how much you stuff them! 😉
Ok! That's it, I hope you like this recipe and if you make it take a pic and tag me on social media!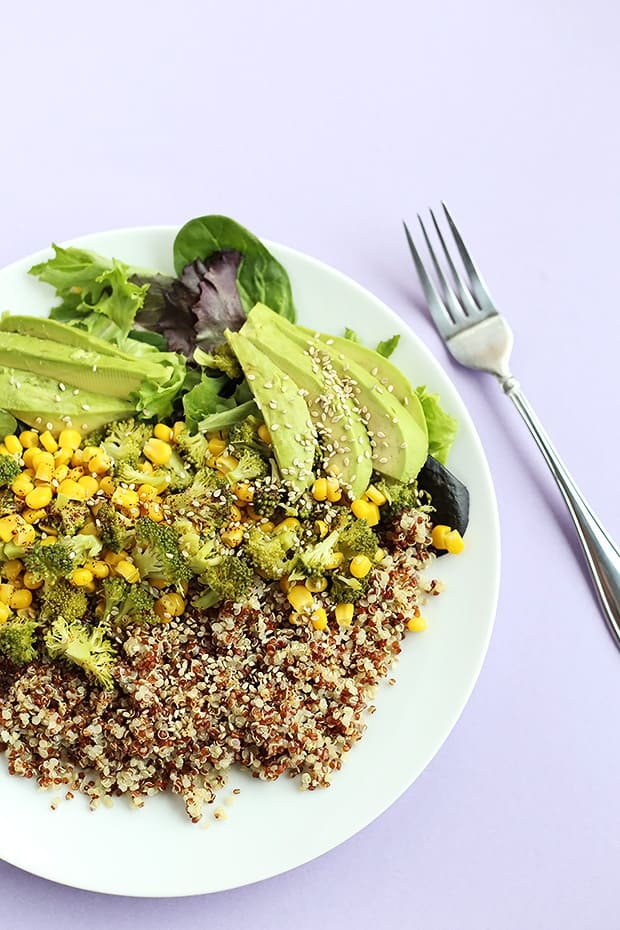 I hope you give this a try and let me know what you think! let's keep in touch too on TwoRaspberries, Facebook, Twitter, and Pinterest! 
want to PIN this for later? click here
and don't forget to sign up for email updates (drop your email in the box below!) 
*******************************
*******************************
Print
Healthy Quinoa Veggie Bowl
Healthy Quinoa Veggie Bowl Recipe Type : lunch/dinner Author: TwoRaspberries Prep time: 10 mins Cook time: 20 mins Total time: 30 mins Serves: 3-4 Healthy Quinoa Veggie Bowl
- 1 cup dry mixed color quinoa
- 2 cups liquid for cooking the quinoa (water or vegetable broth, see notes)
- 1 15 oz. can of corn (low sodium)
- 2 ½ cup chopped broccoli (chopped small)
- 1 jalepeno
DRESSING:
- 3 tablespoon olive oil
- 1 teaspoon onion powder
- 1 ½ teaspoon chili powder
- Pinch of fresh cracked pepper
- 4 tablespoon fresh squeezed lemon juice
SERVE WITH:
- Lettuce
- Avocado
- Sesame seeds
- Extra lemon slices
- Tomato or cherry tomatoes
Instructions
First rinse, drain and add quinoa to a pot with liquid for cooking (see notes for liquid) WITH the jalepeno (de-seeded and sliced for flavor, I usually take it out after cooking but if you want to leave it in there chop the jalepeno into tiny pieces)
While the quiona is cooking rinse and chop the broccoli really small. Drain the corn and set both the broccoli and corn aside.
Prepare the dressing my mixing all the dressing ingredients into a small bowl.
Once the quinoa is almost done add the broccoli and corn on top the quinoa and cover it letting it cook/steam for 5-10 minutes. (you can also steam the broccoli and corn in a separate pot if your pot is not large enough)
Once everything is done, get place add the mixture with the "serve with' options and drizzle the dressing over the top. Another option is to pour the dressing in the quinoa/veggie mixture and stir it all up and then plate the mixture!
serves 3-4
Notes
*If you like heavy dressing feel free to double the recipe for the dressing!
**Be sure to rinse and drain your quinoa before adding it to the pot for cooking!
***If you are not used to eating natural and lightly flavored foods then choose to add the 2 cups vegetable broth to cook the quinoa in as it will add more flavor. if you are already accustomed or want to become accustomed to eating lightly seasoned natraul foods then cook the quinoa in the water!
I personally eat it both ways depending on what I am craving!
IF you choose to cook in in the vegetable broth then you can go a little lighter on the dressing if you would like to, dressing is such a personal preference thing but you may only need half of what is listed!
This mixture is also very delicious when wrapped up in tortillas for a burrito!
3.4.3177
healthy. easy. nourishing!