These Healthy Tahini Maple Protein Oats are packed with protein, healthy fats, vitamins, minerals, antioxidants and is super quick and easy to make! Vegan 
Brekky Obsession right here! I've loved overnight oats for quite some time now but recently I made my oats the traditional cooked way and I can't get enough! I haven't had my oats cooked since making my eBook (which has another of my favorite cooked version with almond milk on top!) 😉
These Tahini Maple Protein Oats are insane and I think you will love them!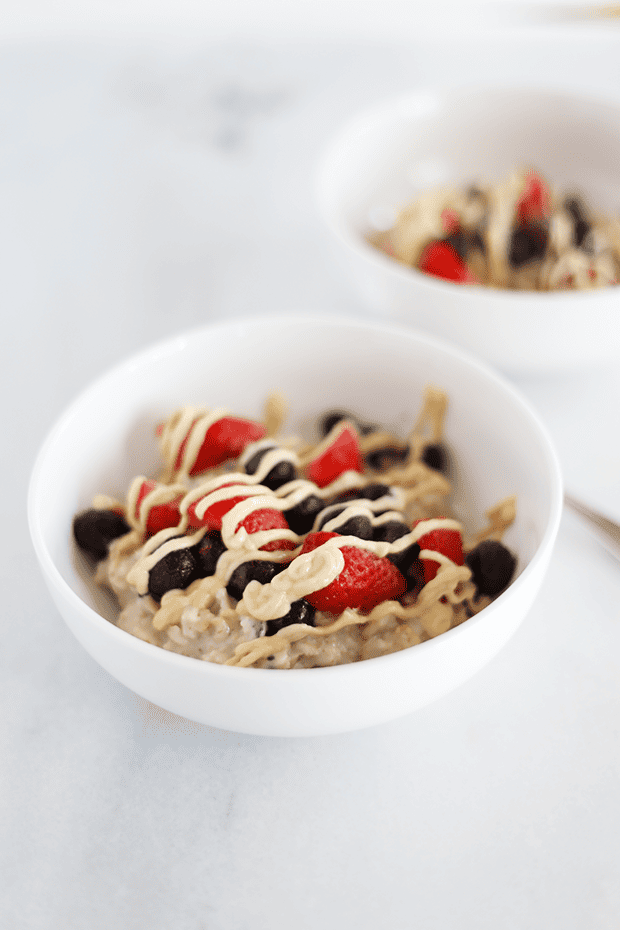 I know Tahini is definitely one of those seed butter that really require an acquired taste but when you pair it with the maple syrup, oats and berries it really does fancy up the taste of a quite a but!
The thing about tahini is that you need to pair it with something sweet like maple syrup or sweet potatoes because the sweetness breaks through the strong flavor of the tahini.
For those who don't know what Tahini is, it's ground up sesame seeds.
Tahini is a great source of minerals such as phosphorus, magnesium, iron, potassium, and lecithin. It's aIso a great source of vitamins such as E, B1, B2, B3, B5 and B15! There is SO much more but that's just a couple of the amazing things about tahini so get yo' self some and get those taste buds acquired to this superfood! 😉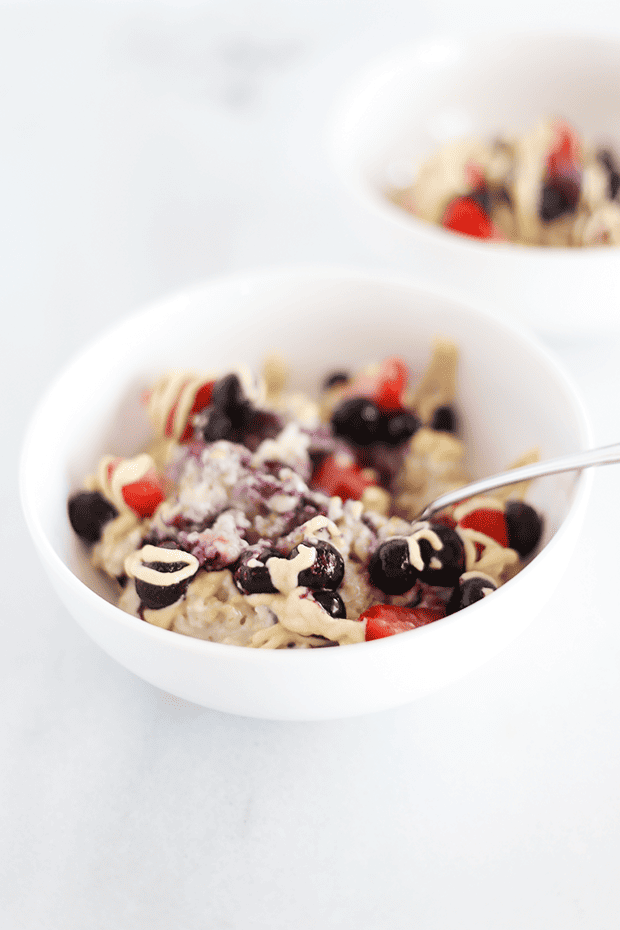 Let's talk protein for one second… oats and tahini, they aren't usually highlighted for being "protein" foods but they do actually contain a pretty great amount. A half cup oats has about 3 grams and 1 tablespoon tahini has about 3 grams protein so this oat bowl has about 6 grams of protein which isn't so bad for an oat breakfast! 😉 if you choose to add the tablespoon of hemp seeds sprinkled on top then you just added another 3-4 grams of protein! so you are looking about a breakfast/lunch  of about 10 grams protein!
So for the oats, cook them however you like… stove or microwave it really doesn't matter to me.
Blueberries and Strawberries were my choice toppings because of all the antioxidants and vitamins in them but you can 100% feel free to top this with any kind of sweet berry fruit you would like…I would stick with something in the berry family though because I mean if I said anyyyy fruit and you put mango on here I'm pretty sure you would be letting me know it was not very tasty! So get any berries you like and put them on top!
I really hope you give these Tahini Maple Protein Oats a try! I would love to hear from you in the comments and ratings section below! also snap a pic and connect with me on social media! 😉
Print
Healthy Tahini Maple Protein Oats
These Healthy Tahini Maple Protein Oats are packed with protein, healthy fats, vitamins, minerals, antioxidants and is super quick and easy to make! Vegan
Author: TwoRaspberries
Prep Time:

5 mins

Cook Time:

6 mins

Total Time:

11 mins

Yield:

2

1

x
Category:

Oats
1 cup

old fashioned rolled oats (GF certified if necessary)

1 cup

vanilla unsweetened Almond Milk (I use SILK brand)

1 cup

water
blueberries and strawberries for topping
Drizzle:

2 TBSP

tahini

½ tbsp

pure maple syrup

2 TBSP

water
Optional: sprinkle of hemp seeds on top (about 1 tablespoon each)
Instructions
Oats can be made stove top or microwave whichever you prefer. For microwave simple add oats, almond milk and water to a bowl and microwave 3-5 minutes until cooked. For stove top add oats, almond milk and water to a pot and let cook on low heat with a lid until oats are cooked. Either way of cooking let cool for 5 minutes and the mixture will thicken up.
Add fruit toppings of choice.
For the drizzle add ingredients to a small bowl and mix until well combined.
makes 2 servings
Notes
for making the dressing add everything into a small bowl and mix really well with a form or small wish, at first it will separate and look really funky but keep stirring and it should all come together and form a creamy dressing