These Healthy Vegan Curry Burgers are full of spicy flavor! Made with sweet potatoes, rice, mushrooms and onion along with spices make this a delicious flavorful burger! Vegan and Gluten Free!
Curry Burgers, my friends! It's spicy and full of flavor and you TOTALLY want it on a plate near you ASAP! 😉
You may have already seen my other Healthy Black Bean Sweet Potato Burgers and these are pretty similar in terms of the rice and sweet potatoes but the spices and added ingredients is what makes this Healthy Vegan Curry Burger stand out!
I added mushrooms and onions in here and let me tell you,  mmmmm Y-U-M it is the perfect addiction to the spices!
It's a fragile burger just like the other one, it gets cooked in a skillet pan but don't let this "fragile" burger fool you, it's got flavor and texture! No it's not a meat flavor burger; it's a curry spicy burger flavor.  I mean, I don't know who would really think that sweet potatoes and rice would taste like meat anyways but I felt like I needed to add that in there just cause' I used the word burger! HA!
Sooo... about it being  "fragile", basically don't think you are going to throw this on a grill! It won't live! Also, I didn't try this, but I suppose you could probably bake these?... That's not what I did though, I used a skillet/fry pan and it worked great!  😉
They also have a freezer option so be sure to read the recipe notes carefully!
Let's talk about the sweet potatoes, they are are a pain in the behind  to peel and chop if you ask me, so like I mention in the recipe notes I used frozen sweet potatoes that I got from Whole Foods they make life SO much easier! They are already peeled and cubed so if you want a REAL time saver then see if you can find them, I'm sure other stores have frozen sweet potatoes too but that's just where I got mine! 😉
Also I used EZEKIEL burger buns this time and it was really delicious! Again found in the frozen section at Whole Foods (no I'm not paid to say any of this it just happens to be the only store around here that has good healthier frozen burger buns) anyways the burger itself is Gluten Free but the bun is not so feel free to use any burger bun you want!
I think that's all for now, if you try these Healthy Vegan Curry Burgers be sure to let me know what you think and take a pic so I can see! Tag me on social media!
And check out the Healthy Black Bean Sweet Potato Burgers also!
I hope you give this a try and let me know what you think! let's keep in touch too on TwoRaspberries, Facebook, Twitter, and Pinterest! 
want to PIN this for later? click here
and don't forget to sign up for email updates (drop your email in the box below!) 
**********************************
***********************************
Print
Healthy Vegan Curry Burgers
These Healthy Vegan Curry Burgers full of spicy flavor! Made with sweet potatoes, rice, mushrooms and onion along spices make this a delicious flavorful burger! Vegan and Gluten Free!
Author: TwoRaspberries
Prep Time:

40 mins

Cook Time:

15 mins

Total Time:

55 mins

Yield:

5

1

x
Category:

Burger
10 oz

. of sweet potatoes (about

1 ⅓ cups

smashed after steaming, or approx. 2 smaller sweet potatoes peeled and chopped) *see notes**

2 cups

cooked rice (I used basmati) about ¾ cups dry maybe a little more read package instructions.

½ cup

chopped mushrooms (chopped very small)

⅓

of a white onion (about

½ cup

chopped)

½ TBSP

olive oil (*optional see notes)
FLAX egg optional see notes! (1 tablespoon flax seeds ground up which will make 1½ tablespoon plus 3 tablespoon water)
SPICES ½ teaspoon of each:
Curry
Cumin
Tumeric
Garlic
Paprika
Sprinkle of cracked black pepper
Avocado Lime Spread:

1

whole avocado
Juice from

½

a lime
Black cracked pepper

½ tsp

onion powder
SERVE WITH:
Bun of your choice I used EZEKIEL buns
Tomato
Lettuce
Onion slices
Instructions
Prepare rice first cooking according to directions on your package.
While rice is cooking place your sweet potatoes in a pot with about 2 oz. of water in the bottom and place a cover on top, let steam on medium heat for about 15-20 minutes until the sweet potatoes are soft and smash-able! (if using fresh sweet potatoes you must peel and chop them first)
Once those are both cooked measure them to make sure you get 2 cups cooked rice and 1 ½ cups smashed sweet potato and place both ingredients into a large bowl for mixing!
Chop the mushrooms and onion and add those to the mixture as well, stir everything up!
Add in spices and mix well.
add in olive oil and flax egg IF you are choosing too.
Form tennis ball sized balls and place them in a non-stick skillet (or spray a skillet with spray but non-stick ones work best as they are fragile burgers) once you place them in the skillet press them down so they for a THICK burger shape, push sides together with spatula if needed!
Let them cook on medium to high heat for 6-8 minutes on each side being very careful when flipping so they do not break.
While they are cooking you can make the avocado lime spread, add all the ingredients for the spread into a bowl and mash really well.
Once burgers are done assembly and enjoy!
This makes about 5 large burgers.
These freeze really well up to 2 months! (see notes)
Notes
Notes: for the sweet potatoes I have used fresh ones and frozen ones, I like frozen better because it saves you from peeling and chopping them (a lot of time) but either will work. If you buy frozen I get mine from Whole Foods they have 10 oz. bags which will make about 1 ½ cups of smashed sweet potatoes after steaming/boiling them!
***my "sweet potatoes" were orange! not white. this is super confusing to people but sweet potatoes are actually white and yams are orange but my package says sweet potatoes and they were orange so if you are using fresh ones use the orange ones which are technically yams.
olive oil is OPTIONAL, I have made it without the oil and as long as you are using non-stick cooking spray it is ok to leave this out if you don't want to add it, the only thing it's doing for the burger is making it less sticky to the pan.
the Flax egg is 1 tablespoon of flax seeds ground up (which will be 1½ tablespoon after being ground) mixed with 3 tablespoon water and let it sit until it forms a gel consistency... I personally DO NOT use this but I have tested it and it will make it slightly more formed if you are having trouble keeping it formed... so my suggestion is to mix everything and leave this the very last thing, and then decide if you need it!
If freezing the burger you need to cook them per the instructions above first, then place them in a freezer safe container. When ready to eat, remove and you can microwave them which will result in a very soft patty or you can re-fry them in a skillet (I like this way) it will take longer than the 6-8 minutes listed above (about 10-15 minutes each side) to cook though because you want to cook on LOW heat so it can warm all through the burger without burning the outside.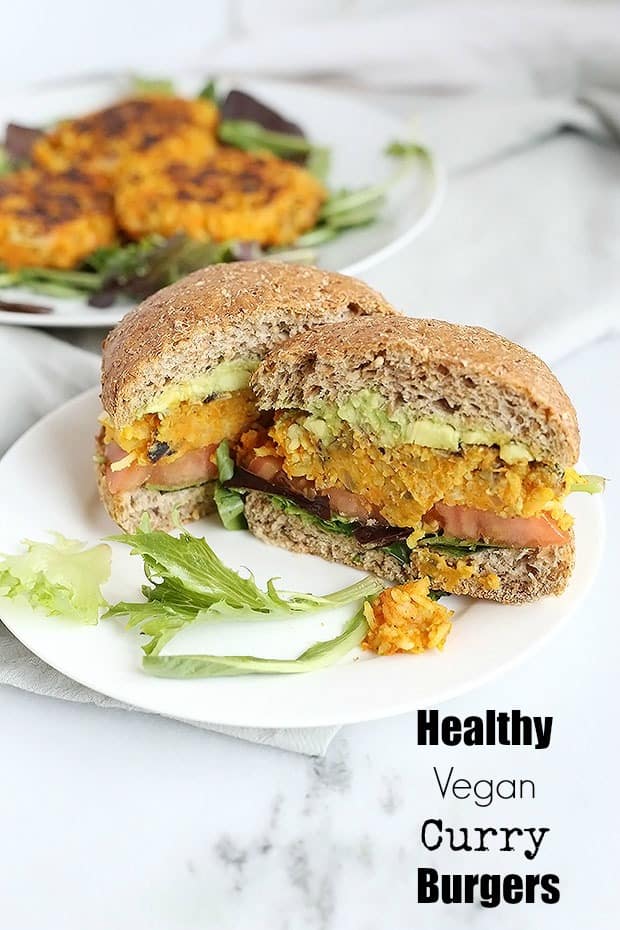 Bite into THAT!
check these out too!