Homemade Vegan Almond Butter Twix with a twist on the bottom cookie layer! Super easy to make, only 6 ingredients, vegan, gluten free and refined sugar free
Today we are putting a little twist on the twix bar and I think you are really going to love it!
It's October so we need to have some candy right?! This twix bar is going to be your new favorite candy because it's chocolaty, almond butter-y, caramel-y and chewy in all the right ways!
So the little twist we are putting on the twix today is… well actually TWO little twists on it I guess! 😉 almond butter and caramel flavored center omgeeee it's ooey and gooey and you will love it!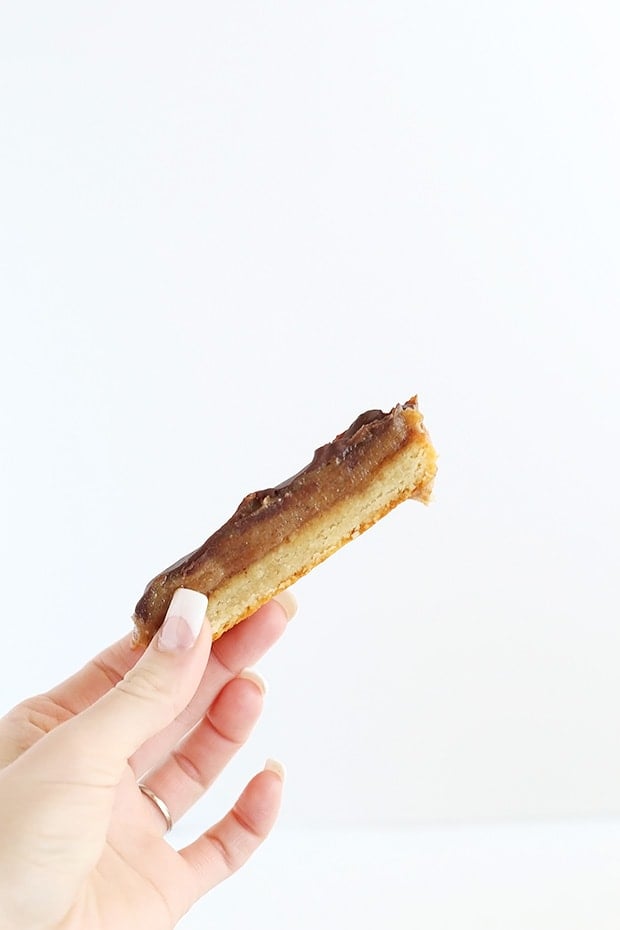 The second twist I put on this almond butter twix is the bottom layer! Now just wait before you get mad 😉 you need to try it before you can have an opinion. LOL
I made the bottom layer softer like a cookie! So it's not hard and crunchy like the regular twix bar, it's chewy and soft and oh-so-delish!
Another super exciting thing about these homemade bars is that they only require 6 ingredients my friends! Could that be any better?! (ok, 7 if you include water but gimme a break here!)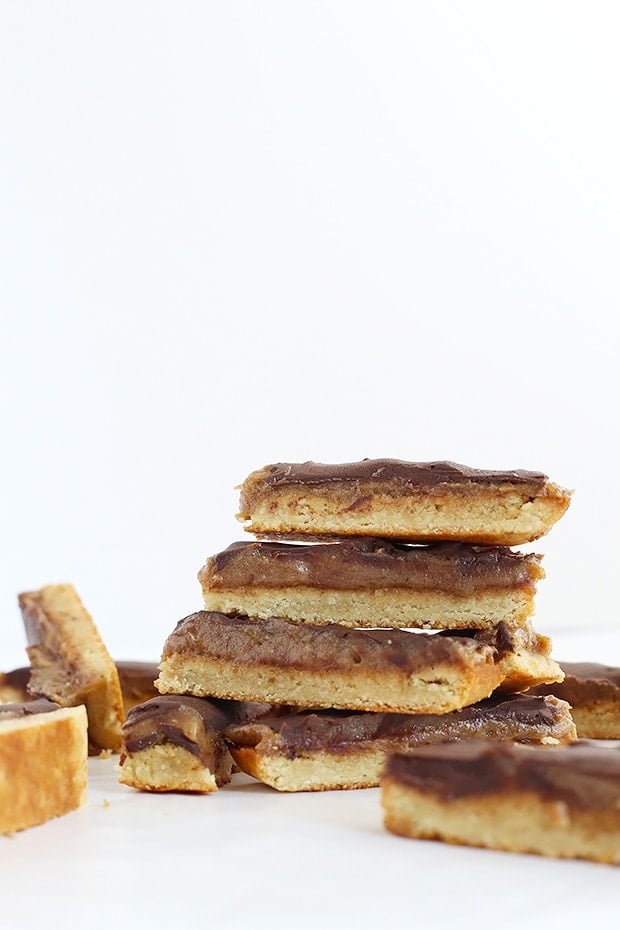 Let's talk about storing these for a second, you can store them in the fridge for about 1 week but in the freezer you can store em' for about 1 month so I recommend that you store them in the freezer and only take them out when you plan to eat them!
I know I know! I just love my freezer treats hu?! I mean seriouslyyyy have you tried these healthy PB cups or chocolate covered almonds yet?!
You love them too right? Comment below and tell me if you prefer baked goodies or freezer candy style goodies!
Fun extra idea: this would be super YUM to chop up and stir in with some nicecream (blended frozen bananas) for a movie night super special ice cream threat!
To sum up these Homemade Vegan Almond Butter Twix bars in a few simple words they are:
Easy!
Chewy
Sweet
Caramel-y, chocolate-y and caramel-y!
Perfect freezer treats!
Perfect movie night treat!
Ok, what are you waiting for?! It's the month of candy, I'm not tryin to be bossy or anything HA! But get to making these healthy twix bars you need them ASAP!!! 😉
 OK! Try these babies out and let me know what you think! Comment and rate it below I SUPER appreciate it!!! Also snap a pic and tag me on social media so I can see!!! 😉 
Print
Homemade Vegan Almond Butter Twix
Homemade Vegan Almond Butter Twix
Author: TwoRaspberries
Prep Time:

60 mins

Cook Time:

20 mins

Total Time:

1 hour 20 mins

Yield:

1

6

1

x
BOTTOM LAYER:

2 cups

almond meal/flour (I used Bob's Red Mill brand)

6 TBSP

pure maple syrup

3 TBSP

coconut oil
MIDDLE LAYER:

1 cup

pitted medjool dates (about

10

-

12

dates)

2 TBSP

all natural almond butter (only ingredients roasted almonds)

¼ cup

water
TOP LAYER:

½ cup

melted vegan chocolate chips (I used Enjoy Life brand)
Instructions
Line a small 8X8 baking pan with parchment paper and pre-heat the oven to 350 degrees F.
In a bowl mix up the bottom layer ingredients and spread it evenly in the baking pan. It is very sticky so I found that pouring the whole mixture in the pan and lightly wetting my hands with water worked best to evenly spread the bottom layer. Place in the oven and bake for 20 minutes. (SEE NOTES)*
In a mini food processor add all the ingredients for the center layer and blend until smooth which is about 3 minutes.
Once the baked bottom layer is done, let it cool completely (at least 30 minutes) then spread the center mixture evenly over the bottom layer and place it I the freezer for 30 minutes.
After 30 minutes, melt the chocolate chips first and then remove them from the freezer.
Then cut the squares down the center to create two large rectangle pieces, THEN…TWO OPTIONS: first option is to spread the chocolate over the top and then using a large knife slicing each side into 8 slices lifting the knife directly UP and whipping the knife between each cut OR option number TWO is to slice each side into 8 slices and the pour the melted chocolate into a plate and dip the top of each bar into the chocolate (NOTE: with this option you will need to melt more chocolate than what is listed because it will use up more when dipping)
Then place each bar on a wax or parchment paper lined baking sheet and place in the freezer for another 15 minutes until the chocolate is hardened!
Store in the freezer for up to 1 month or in the fridge up to 1 week!
Makes about 16 twix bar slices
Notes
when baking the bottom layer, peak at it when half way done, if it has puffed up in any spot use a heat safe spatula or large spoon to gently flatten it down but not smushing it! … when testing this recipe I found that if ANY air bubbles get left I the bottom layer when spreading it on the bottom of the pan it will cause these air bubbles… it's not a big deal like I said just gently pat it back down and continue baking!
gooey, soft and DELICIOUS!