Lately # 2! some thing I have been eating, a little bit of life and yoga videos I have been loving as well as a little inspo! 
Hey Everyone!
Today is another "Lately" post! some yummy things I have been eating as well as some of my favorite yoga videos that I have been doing 😉
you may already know this because I have mentioned it before but I LOVE Tara Stiles yoga and she has SO many videos on YouTube, linked below will be some of my recent favorites! Of course she has DVD's as well and those are great but I really like the 10 minutes ones because it's so easy to just commit to just 10 minutes and usually I'll end up doing it twice a day if I tell myself it's just 10 minutes! 😉
I also like to meditate daily just for 5 minutes to calm and relax myself, usually I'll put on some beach-y waves sounds from YouTube!
I really enjoy doing these kinds of posts so I hope you like them too, I feel like I have a lot more to say in these kinds of posts! Let me know what you think!  leave a comment below or message me on social media! 😉
ok on to all the good details!!!
SOOO for yoga I have been LOVING this 30 minute "let it go" video as well as this 11 minute "morning yoga for energy"
some things that I have been reminding myself a lot lately is to BE PRESENT! It's something that does not come naturally to me, I like to be prepared and always think ahead... BUT I don't like to plan things out, I like to have flexibility in my schedule LOL how crazy do I sound! anyone else like that???
anyways being present not only helps to eliminate stress and un-necessary worry from your life but it also helps you enjoy life more.  when you can truly appreciate what is here and now it's a whole different kind of freedom... freedom from your mind! ... anyways just something I have been trying to remind myself more often so I thought maybe you could use a reminder as well! 😉
below is currently my Eagle and Dancer pose... two of my favorites for balance and concentration, I like to hold them and do deep breathing! They are in need of some work HA... I have been trying to focus on spinal flexibility (needs work!) as well as balance and focus (kind in line with being present... FOCUS) 😉 progress not perfection! 
if you do yoga, tag me in one of your pics on social media so I can see! 😉
p.s. aren't these the cutest shorts ever??? they are by a really cool brand doing great things with recycling, these shorts are partly made from recycled water bottles and they are the softest things ever! Brand: Teeki check them out!
oh and I also picked up Tara's new book (no I'm not paid to say this, nor is it an affiliate link) I just love her easy style, she relaxes me... un-like other yoga I have tried in the past... if you have tried yoga in the past and didn't like it then please give those videos I mentioned above a try or YouTube search a shorter one from Tara, her style is totally different... 😉 anywassss I always get side tracked lol I bought her new book and although I'm only like 20 pages into it, it's amazingggg... I always like "self help" style books that remind me to breathe and be present... maybe it's the inner yoga/hippie in me trying to come out HA anyways check it out if you are looking for a new book it also has a bunch of yoga routines in it!
on to the---FOOD!!!
TIP: do you ever get uncomfortable when you eat melons??? ... WELL did you know that they digest really really fast? and that they don't like to get stuck or held up in your belly waiting for other food to be digested... SO it is BEST to eat them in the morning before you eat any other foods (after lemon water is fine if you do that in the morning) and give them a 30-60 minute head start in digesting before you eat any other foods!
Curry Sweet Potato Burger Salad! 
a bed of spring mix lettuce with avocado and garden fresh tomatoes topped with a
curry sweet potato burger
chopped up on top!
I love making a batches of
these burger
to put in the freezer, so I can make quick and easy meals like this!
Healthy Lettuce Hummus Mushroom Wraps
This wrap is SO super easy! On days I don't feel like have my greens as a salad I like to basically put a salad into a brown rice wrap! My favorite ones are from Food For Like I store them in the freezer and re-heat when I am ready to use them!
On this wrap I put:
-roasted red pepper hummus
- spring mix lettuce
-red and yellow cherry/grape tomatoes
-celery chopped really small
-mushrooms chopped up
That's it! I promise you, when you train your taste buds to LOVE the taste of REAL foods you will be so much more satisfied with eating simple foods that give you energy and provide your body with all kinds of vitamins and minerals! Love your body friends, you only get one! xo

Healthy Mango Banana Salad
I have been LOVINGGGG this Salad lately! it's light and FULL of things that will nourish your body and provide energy!
 to make:
simply make a bed of lettuce (I like spring mix or romaine)
top it with fresh raw ripe mango, banana and celery!
for a dressing you can mix ½ tablespoon pure maple syrup and a squeeze of lemon until the consistency isn't so thick and drizzle it over the top!
-if you have shredded coconut or hemp seeds that would also be delicious sprinkled on top!
Enjoy this nourishing, fiber and vitamin filled - totally loving and fueling your body salad!
R A S P B E R R Y BANANA Nice Cream Bowl! LOVEEEEE!!! 😉 
simply blend:
- 3-4 frozen bananas
- ⅓ cup frozen raspberries
TOP with: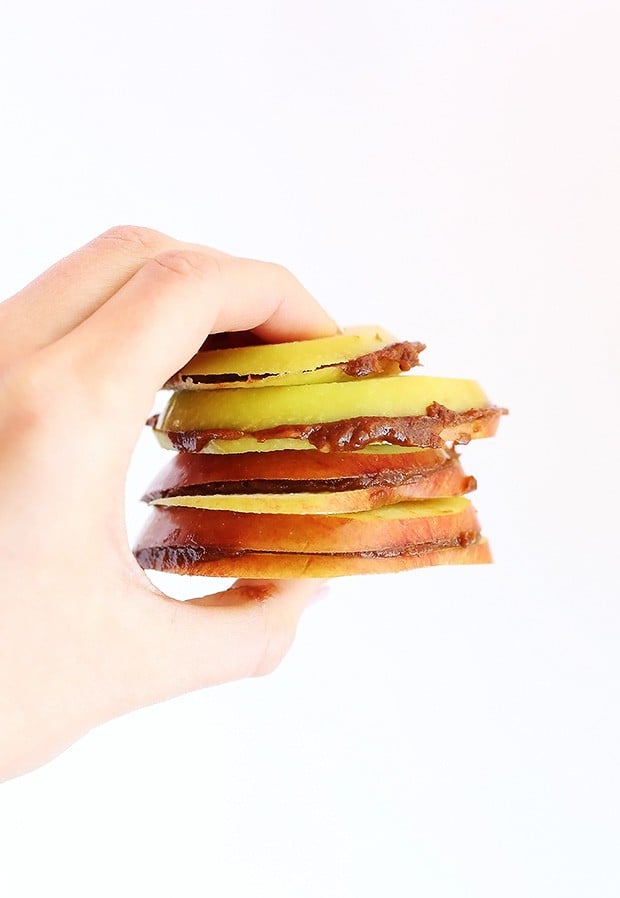 Chocolate C A R A M E L Apple Slices!!!
super fun + healthy + totally YUM snack!
- simply take your apple and slice it into disc shapes.
- make my Chocolate Date Sauce
NOTE: for the chocolate date sauce I used LESS water than the recipe calls for, simply start with just a little and add more as needed so you end up with a THICK consistency! also you may need to add more dates if you don't have a SMALL food processor because less liquid will be harder to get the mixture smooth unless you are using a small food processor!
I hope you enjoy these!!!
(the food mentioned in these "lately" or "what I ate" posts are not actual recipes, they are things that I have been eating and enjoying that I wanted to share with you all! you can certainly make them too but just keep in mind when I eat on day to day basis these are not exact measurements so use your best judgement!)  😉
I also created a separate "What I Ate" board on Pinterest if you want to save any of these as long images! 😉
if you want to see FULL recipes for any of them please let me know and I will make it happen, I have SO many things I want to share and there is only SO much time in a day so this will allow me to share MORE with you all!
 let's keep in touch too on TwoRaspberries, Facebook, Twitter, and Pinterest! 
want to PIN this for later? click here
and don't forget to sign up for email updates (drop your email in the box below!) 
*******************************
*********************************