Lately # 3 what I have been eating, inspiration, yoga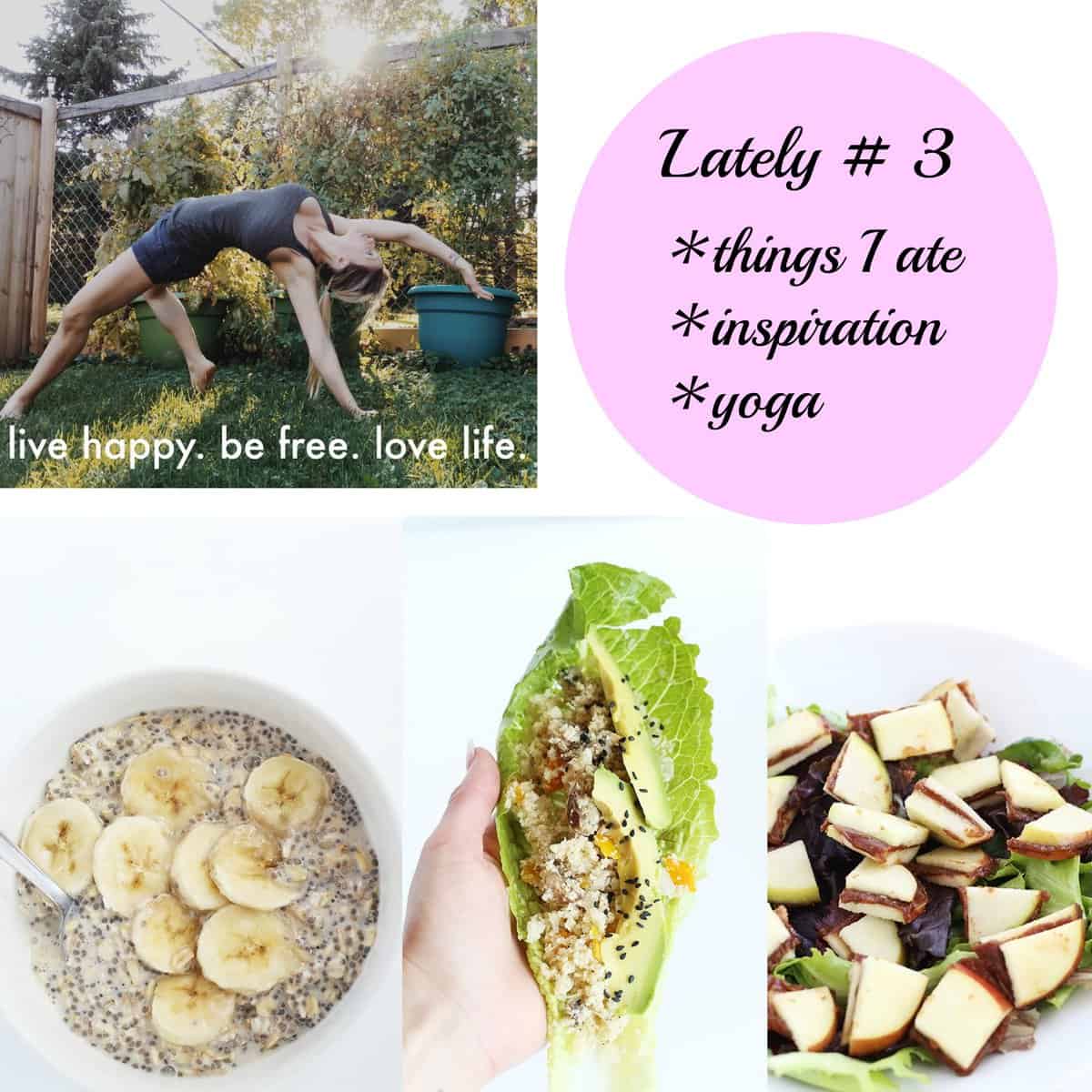 In this "lately" series I wanted to show you things that I have been eating + enjoying that I don't list as a FULL recipe post as well as little pieces of life and things that I'm loving at the moment like exercise or beauty or house things, inspiration, our garden and anything else that falls under the category of Food- Life- and Inspiration! 😉
I hope you enjoy them! 😉 let me know if you do! 
SO as I have already mentioned, I have been working on my yoga a lot lately, yoga is something that I seems to come and go in my life...it gives me a relaxed piece of mind like a happy place.  BUT I have been including some more cardio into my life recently because for me personally if I can't relax my mind then it just spins during my whole yoga practice... and lately I have had that spinning mind that won't stop! I'm sure a lot of people can relate especially those who have anxiety and tend to overthink EVERYTHING! ...
So like I said I have been including some cardio and body weight exercises because when I do something that requires a lot of concentration vs. something that is supposed to relax me I seem to be able to get a break from my racing thoughts! temporarily!
***if you battle anxiety or similar things, what do you do? I would love to hear??? 😉 
ALSO on a better note: I have been writing a lot of inspirational things lately, I'm not sure if I am going to share blog posts or videos (yes I said videos) around some topics that have been on my mind but be on the look out in the coming months because I have also been on this kick of facing my fears lately! Inspired by a couple people, Alex Beadon and Jodie Jensen! and videos have always been a fear for me, I am totally camera shy but I'm saying to heck with that! I'm not going to live life fearing things, I want to go at them like they are nothing, I hate fearing things so I'm jumping right in to uncomfortable things lately!
BREAKING FREE!
***what are your fears? or something that you want to break free from??? I love hearing from you so leave a comment or message me on social media or email! 😉 
ok, that's probably enough talking, let's get on to the FOOD!
let me leave you with this: Live happy. Be free. Love life.
if you aren't living happy or free right now find one thing you can do to move you towards your goal, because you are destined to LOVE LIFE! every second of it.
it's never too late to re-invent and go in a direction that makes you happy + free and wake up every morning feeling alive!
and if no one has told you they believe in you (lately or ever) ... I BELIEVE IN EVERY SINGLE ONE OF YOU!
Happy weekend beautiful people!
xo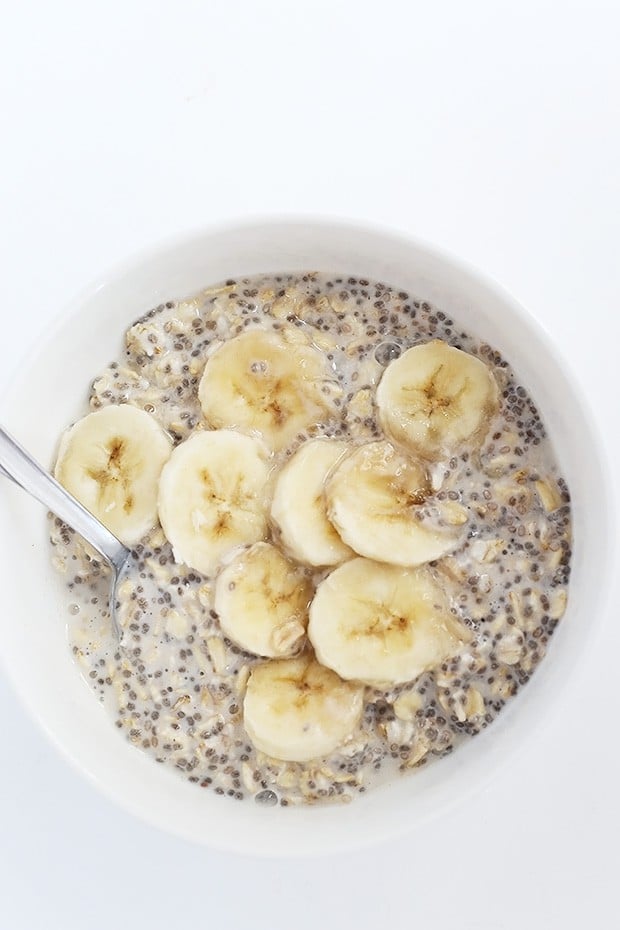 Banana Chia Oat Bowl- simple and totally filling! best lunch ever (or breakfast)
* 1-2 cup oats
* 1 tablespoon chia seeds
* 1 cup unsweetened almond milk
optional: 1 teaspoon pure maple syrup
TOPPING: anything you want! I used fresh ripe sliced bananas!
Healthy Caramel Apple Salad
for this tasty salad I just used the
chocolate caramel date sauce
from my blog and made apple slices like I posted a couple weeks  ago in the
Lately # 2 post
and sliced them up and topped them over some greens! because you can never have too many greens... get those vitamins and minerals in! Y-U-M
FAVORITE!!! Curry Burger Salad Bowl! I make these burger all the time and freeze them, I always have tomatoes and onion on hand too (and lettuce) 😉 so this is one of my staple throw together! 😉
Curry Broccoli Rice Bowl! this is a simplified version of my Quick and Easy Vegan Veggie Curry 😉 it's the same recipe just minus the mushrooms and peas!
Tropical Kiwi Overnight Oats! (minus the almond butter) 😉 I have been on a kick lately of chia and oats because they are SO easy to make and are perfect for meal prepping! lunch (or breakfast) is ready to go the next day! It's the best!
Lettuce Tomato Avocado Celery Wrap! simple and basically anything you put in a wrap is a winner! in this wrap I have:
- lettuce (I like spring mix)
- avocado
- cherry tomatoes
-celery chopped up
and a squeeze of lemon juice + a sprinkle of sesame seeds!
Healthy Cauliflower Fried Rice Lettuce Tacos! WINNING right now!
I hope you give some of these a try and let me know what you think!
Leave a comment and a rating if you do try this!
Also take a pic and tag us on social media!
 let's keep in touch too on TwoRaspberries, Facebook, Twitter, and Pinterest! 
want to PIN this for later? click here
and don't forget to sign up for email updates (drop your email in the box below!) 
*******************************
******************************