Mushroom Veggie Rice Soup is a warm and comforting dish that's really easy to make. It is oil free and low sodium, vegan and gluten free!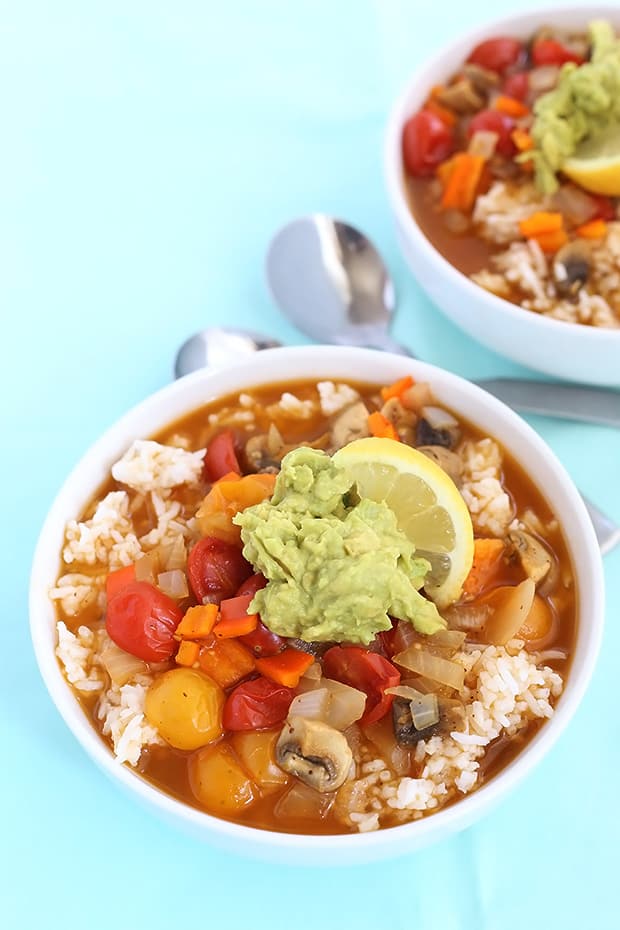 It's FriYAY! Am I the only one who still says that??? Well even if I am who cares cause' I'm always like YAY on Friday!... I mean who isn't? HA! 😉
So, today I thought would be a good time to bring ya' a soup recipe because it's mid-November and unless you live in the southern warmer places (lucky you!) it's getting pretty cool or cold if you're a freeze baby like me!
This soup is totally healthy, its low sodium and oil free! Plus EASY of course, do I ever make complicated recipes? I know you're busy too!
So here's how this recipe goes… make the rice whatever rice is your favorite, I used basmati but you can use brown rice if you prefer.
Then chop up the veggies you can add in other veggies also if you want or even beans, just be sure to rinse the beans first if you add those.  Also note that if you add more veggies you will need more veggie broth as well.
Pour the veggie broth into a pan, add the chopped veggies and seasoning, cover it with a lid and let simmer on low-medium heat for about 10-15 minutes until its hot!
side note: if you love easy soup you might also like my One Pot Quinoa Veggie Soup  it's easy and spicy and totally YUM! 😉
Then you dish it all up! I put the rice I my bowl first and then used a ladle to pour the soup over the rice but if you prefer to mix the rice in you can do that as well (doing it this way will require more veggie broth so keep that in mind when making this recipe, if you plan to pour the rice in add another 1 cup of veggie broth and a little more seasoning).
I like to top my mushroom veggie soup with some smashed avocado and a couple slices of lemon!  The reason I like the lemon is because it slows down the insulin shock that the rice will give you, meaning it will help to raise your blood sugar slow and steady as opposed to fast and then crash like some people get with carbs! READ MORE ABOUT THAT HERE
SO! To sum up this Mushroom Veggie Rice Soup I would say this, it's:
Warm
Comforting
EASY!
Healthy
Oil free
Low sodium
Versatile (add whatever other veggies you want)
Great to make in bulk/extra and re-heat the next day!
That's it! I hope you try it and leave me a comment and a rating! It's super helpful and I really appreciate it! Also snap a pic and tag me on social media!
Print
Mushroom Veggie Rice Soup
Mushroom Veggie Rice Soup is a warm and comforting dish that's really easy to make. It is oil free and low sodium, vegan and gluten free!
Author: TwoRaspberries
Prep Time:

15 mins

Cook Time:

30 mins

Total Time:

45 mins

Yield:

2

-4

1

x
Category:

Soup/Lunch/Dinner
2 ¾ cup

low sodium veggie broth

1 cup

chopped mushrooms

20

cherry or grape tomatoes sliced in half (squeeze the seeds out if they bother you)

¼ cup

chopped red sweet pepper

¼

of a white onion chopped

½ tsp

chili powder (or more to taste)
Pinch of black pepper
OPTIONAL:

⅛ tsp

cayenne powder

¼ tsp

onion or garlic powder
SERVE POURED OVER:
Rice (about ¾ cup dry will give about 2 cups cooked)
Smashed avocado for topping
Lemon slices for topping
Instructions
First make the rice according to package instructions and set it aside.
Chop up the vegies and add all the veggies, veggies broth and spices to a pot with a lid and let simmer for about 10-15 minutes on low-medium heat just until it is hot and fragrant.
Place rice in bowls, serve veggies soup mixture over the top! Add smashed avocado and lime slices!
Serves 2-4
healthy. easy. warm and delicious!