Oil Free Healthy Cauliflower Fried Rice is low carb, low fat, full of health benefits and super easy to make! Vegan and Gluten Free
TODAY we eat cauliflower-turned-into-RICE! Don't get me wrong I love my rice but sometimes I want to have something that has more nutritional value and is a bit lighter on calories and carbs.  So today I am showing you an Oil Free Healthy Cauliflower Fried Rice recipe using the Cauliflower Rice I showed you how to make recently!
Cauliflower is such a healthy food, I personally don't like to eat it raw because I'm not a fan of the taste but when you bake, fry or steam it I'm all for it!
Check out my How to Make and Freeze Cauliflower Rice post to see how to make it as well as read a few healthy facts about cauliflower!!! (anti-inflammatory antioxidant  filled superfood)
Today we are fryin' it up with some more power food veggies.
I choose to pair this cauliflower rice today with pepper, onions and mushrooms.  The peppers and onions totally give this enough flavor but I couldn't leave you with a plain dish 😉 so I seasoned it with pepper, cumin, chili and onion seasoning powder!  I also topped it with lemon juice and sesame seeds. (did you know sesame seeds contain folic acid and a TON of other nutrients!)
I put tamari sauce as optional because honestly I don't like to add the extra salt but if you can't live with just natural flavorings and lemon juice then you should totally add a dash of that or even siracha.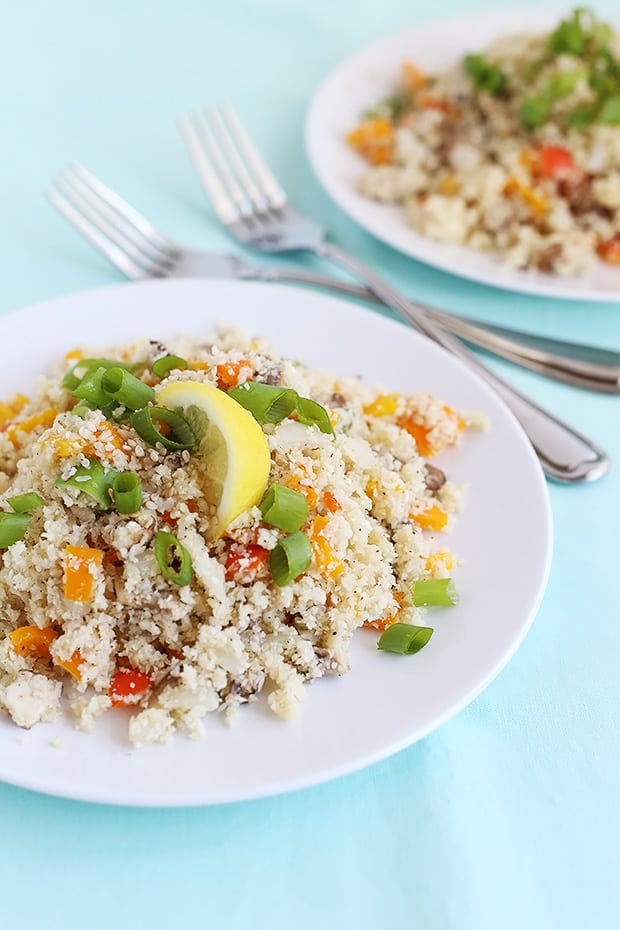 I can't forget this, I was eating these leftovers for lunch the day after picturing it and I added a couple slices of avocado and O-M-GEE… you need to add the avocado! It makes an already delicious dish even bettah! 😉 I added that to the recipe list even though it's not pictured, so just keep that in mind…you totally want to add it YUM!
Ok so the peppers and onion, they get added to the skillet FIRST because they need to cook a bit more than the rest of the ingredients, although it's totally fine to eat this dish raw if you prefer but I personally can't handle eating peppers raw they give me stomach cramps for some reason… I like em' cooked! 😉
Here's the fun facts about this Oil Free Healthy Cauliflower Fried Rice!
Low carb
Low fat
Oil free
Low calorie
SUPA HEALTHY!!!
Easy
Delicious
Veggie filled
Amazing lunch or dinner!
Ok guys! Try it and leave me a comment and rating below I appreciate it, you're the best! Also snap a pic and tag me on social media if you make it I love seeing what you make!
I hope you give this a try and let me know what you think!
Leave a comment and a rating if you do try this!
Also take a pic and tag us on social media!
 let's keep in touch too on TwoRaspberries, Facebook, Twitter, and Pinterest! 
want to PIN this for later? click here
and don't forget to sign up for email updates (drop your email in the box below!) 
***********************************
Subscribe to Email Updates!
***********************************
Print
Oil Free Healthy Cauliflower Fried Rice
healthy + full of nutrients + DELICIOUS!