Raspberry Nicecream and Chia Pudding + Inspiration! Bananas and raspberries make the nicecream, and chia seeds with almond milk make a layer of PUDDING!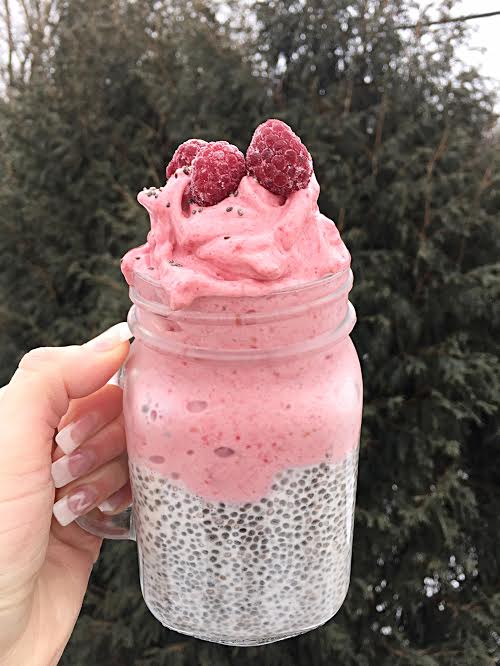 Hey everyone! I felt like making a little bit of a Monday Inspo post for you today! and I thought I would include this yummy Raspberry Nicecream with a Chia + Almond milk bottom layer (like pudding!) 😉
this is a nice switch up from a regular recipe post I think! so I hope you enjoy the few words if inspiration today!
also if you haven't read my post about Chia Seeds you can check that out
here! 
they are like a TOTALY SUPERFOOD and you need them in your diet asap!
ok on to the little bit of inspiration! 😉
"Don't compare-do your own thing"
Too many times in life we put our dreams or desires aside because we feel like it just couldn't  ever happen or we aren't good enough or someone else could do it better or it's already being done!
But by doing that we will never live to our full potential, fact is... No one can do anything like you can! Every person is different and has their own unique story, their own struggles, their own strength and weakness...
The choice is yours if you decide to share that with the world or hold it to yourself!
It doesn't matter if it's a personal struggle or an invention new to the world, it's YOU who has the choice and the power to share it and make that dream of helping or changing the world become reality!
I'm choosing to go after my dreams and share it with the world! I want to live happy + healthy + simple and show people healthy living doesn't need to be difficult or stressful!  ...
What will you choose? What is your dream?
share it in the comments below! 😉
(only nice things please, no hateful comments or they will be removed, only love on here + support one another!) 
Print
Raspberry Nicecream and Chia Pudding + Inspiration
Raspberry Nicecream and Chia Pudding + Inspiration
Author: TwoRaspberries
Prep Time:

5 mins

Cook Time:

60 mins

Total Time:

1 hour 5 mins

Yield:

1

1

x
BOTTOM layer:

2 tbsp

chia seeks soaked in about ¾ cup almond milk (soaked atleast

60

minutes or overnight)
TOP:

2

frozen bananas +

½ cup

raspberries blended with a dash of water!
Notes
stir the chia+almond milk mixture every 10 minutes for the first 30 minutes if possible for best results!
to sweeten it up you can add maple syrup to the bottom layer but honestly when enjoyed with the fruity top it really is't necessary.