Chips and Salsa addict right here! anyone with me on this?! ...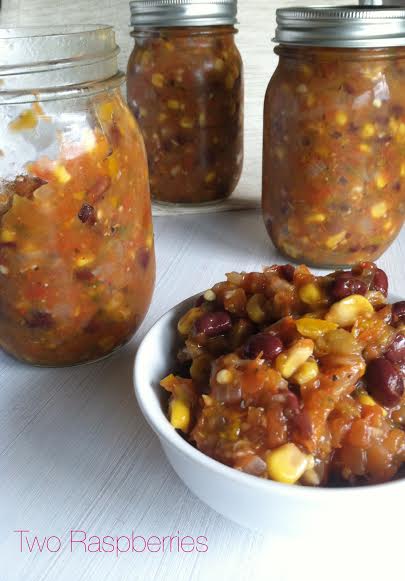 SO first of all I hope everyone had a great Halloween weekend! my niece and nephew stopped by Halloween night and they were SO cute, my nephew was dressed as Optimus Prime and my niece was a cute lil fairy 😉
on to the recipe...
I know I have told you all before how much I LOVE salsa... this will be the last version of it until next summer because we have now used up everything from the garden and have about 5 jars canned to get us through the winter... HA yeah right, they won't last through the winter but atleast we have some saved right! 😉
this version is a MILD-SPICY version with an extra option to bring out even a little more heat!  if your like ma man Nick you'll want that option but if your like me... skip the option.
I don't know about you all but I'm the type of person who likes to have tastes buds left to actually taste my salsa 😉  I guess some people have stronger taste buds than others ?!
anyways... this recipe is super simple it's mostly food processing, straining and the stirring!  I mean you can't get much easier than that!
plus it's going to taste wayyy better than what you buy at the store pre-done, I promise!
I like to eat it with chips but I also LOVE to put it on wraps with vegan cheese and rice OR I will also mix it in with pasta!  pretty much I'll put salsa on anything... except desserts because that would just be weird... 😉
alright go try this recipe and let me know what ya'll think of it!
Hope everyone enjoys this addictive snacking spicy salsa!
 and have a beautiful day! 
don't forget to follow us on:
and sign up for our email updates (link in the sidebar)
Print
Spicy Garden Salsa
Author: Nick/Michele
Prep Time:

30 mins

Cook Time:

60 mins

Total Time:

1 hour 30 mins

Category:

Salsa
5 cups

of cherry or grape tomatoes or mixture of both

2

onions (I used white)

6

-

7

cloves of garlic
juice of

2

limes

5

sweet yummy peppers (I used Orange)

2

Anaheim peppers

2

jalapeno peppers

1

can of corn (including the water from the can)

1

can of rinsed black beans

4 TBSP

sugar
salt and pepper to taste
Instructions
in a food processor add your tomatoes and pulse until broken up but NOT pureed and then strain and rinse the liquid and seeds out ...add to Large pan
finely chop the onions and the garlic and put them in a small bowl with the lime juice and leave marinating for about 15-20 minutes and then strain the juice out
while that's marinating, roughly chop all the peppers and add to food processor and pulse until finely chopped but NOT pureed and add to the pan of tomatoes
then add corn WITH the liquid from the can and the black beans rinsed
add the strained onion and garlic to the pan
add sugar and salt/pepper to taste
let simmer frequently stirring for about 60 minutes until most of the liquid is absorbed
transfer to mason jars or other sealed glass jars
ENJOY
Notes
Makes about 3 mason jars full!
this recipe is already a mild spicy version but for a little extra heat you can roast the peppers first and then peal the skin off before adding to food processor!