Spicy Roasted Cauliflower paired with a lime dipping sauce is perfect for an appetizer or side dish, and quick and easy to make. Vegan and Gluten Free.
This time of year we bake vegetables! Don't you agree? I thought you would, especially when it's a spicy and totally dip-able appetizer/party/snack food!
This cauliflower makes a great snacking appetizer when you have people over or even as a side dish to a main meal!
I paired it with a lime dipping sauce (that you could totally drizzle over the whole thing if you aren't a "dip" kind of person… just a suggestion!)  😉
If you try it, I think you will love it and be blown away by how easy it is and how flavorful it turns out to be!
You may remember my Italian baked cauliflower from a while back… that used to be my favorite baked flavor for cauliflower untilllll this yummy spice blend called "southwest chipotle seasoning blend" came into my life!
SRSLY you need to try it, I'm sure a lot of different brands carry a version of that (my brand was just the generic market pantry from target) and if you have not yet tried it then you are totally missing out!
Here's how it goes, chop and rinse the cauliflower… toss it into a large bowl with a little olive oil and some seasoning and give it a toss!!! Simple right?!
TIP: please please please don't skip this, line a baking sheet with parchment paper, it makes life SO much easier so the cauliflower won't stick to the pan and not to mention the clean-up is EASY PEEZY! So just do it my friends! (not wax paper or tin foil… parchment paper!) 😉
Also I paired this with a lime dipping sauce! maybe it's just me but I feel like lime just goes with spicy things, wouldn't you agree???
Anyways the dipping sauce is easy, just add fresh squeezed lime juice to veganaise with a dash of pepper and stir it up! Tangy and perfect with the spicy cauliflower!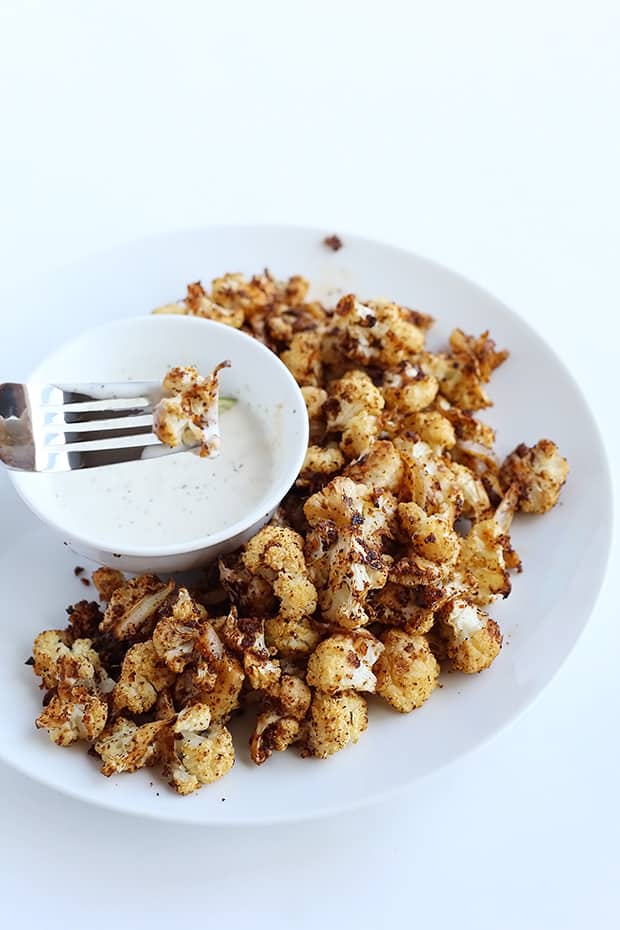 TIP #2: be sure to roll out the lime on the counter before trying to squeeze it especially if it feels hard, otherwise you will cut into it and won't be able to squeeze any lime out!
Roll out= use your hand to apply pressure to the lime while rolling back and forth on the lime on the counter! You will feel it start to soften up!
A few more things about this Spicy Roasted Cauliflower, it's:
SUPER EASY!
Healthy
Great side dish or appetizer
FULL of flavor
Spicy OBVS. 😉
Lime dipping sauce is perfect with the spicy-ness
I hope you try this, comment and rate it below if you do it's super helpful! Also take a pic and tag me on social media I love seeing what you make! 
Print
Spicy Roasted Cauliflower
Spicy Roasted Cauliflower with a lime dipping sauce!
Author: TwoRaspberries
Prep Time:

10 mins

Cook Time:

45 mins

Total Time:

55 mins

Category:

App/Side
1

head of cauliflower

½

a sliced white onion (sliced in long pieces, not chopped)

2 TBSP

olive oil

1 TBSP

spicy southwest chipotle seasoning

1 tsp

onion powder

1 tsp

chili powder
Pinch of black pepper
LIME DIPPING SAUCE:

2

-

3

tablespoon veganaise
Pinch of black pepper

1

small lime juiced
Instructions
Start by pre-heating the oven to 350 degrees F and lilning a baking sheet with parchment paper.
Chop and rinse the cauliflower, pat it dry because you don't want it wet.
Place the cauliflower and sliced onion in a large bowl, add the olive oil and the seasonings and give it a stir until all the cauliflower is well coated!
Pour it on to the baking sheet and place in the oven for 45 minutes flipping half way through.
Once the cauliflower is almost done, prepare the dipping sauce by mixing everything in a small bowl and set aside.
Plate the sauce and the cauliflower once it's cooled and being snacking on this appetizer or serve as a side dish to a main meal!
spicy and lime are the perfect pair!