This Strawberry Banana Chia Oat Breakfast Bowl is PERFECT for a healthy breakfast or lunch! This can be made the night before and is vegan plus gluten free! 
"Today look in the mirror and LOVE what you see, appreciate the magnificent machine that keeps you going from day to day and be thankful for it, give yourself a compliment and really appreciate ALL that is you, today and every day"
Alright, I know this isn't really a Valentine's recipe BUT strawberries do count as a Valentine 's Day food if you ask me, they just go together right?!
Plus if you make this healthy breakfast recipe then just think… you have the rest of the package of strawberries just screaminggg to be dipped in some chocolate! 😉 that counts as balance right?! I think so!
But if you aren't into the whole "healthy V-Day recipe" then go ahead and check out my FUDGE from last year, that will definitely be something you will love if you are looking for more indulgence!
Alright, getting a little serious for a second with a quick health fact… did you know that oats and bananas naturally contain prebiotics? Prebiotics are food for the probiotics in your gut… the good bacteria that keeps your insides healthy.  Probiotics (which can come from fermented foods like sauerkraut or pickles and many more or it can come from supplements)  feed off of prebiotics… so basically eat your probiotic and prebiotic containing foods for a healthy gut! (you can do  search for whole lists of good sources for pre and probiotic foods!)
Ok, so about this Strawberry Banana Chia Oat Breakfast, it's super easy and you can make it the night in advance so you have a healthy + yummy breakfast or lunch ready the next day!
I like to put the mixture in mason jars if I plan to be eating on the go, in the morning I'll just add the fruit on top and it's ready to pack as lunch!
As for the serving size listed, depending on your specific needs you may need to double the recipe if this a lunch of something that you need to hold you over until dinner, so feel free to adjust according to your specific needs! 😉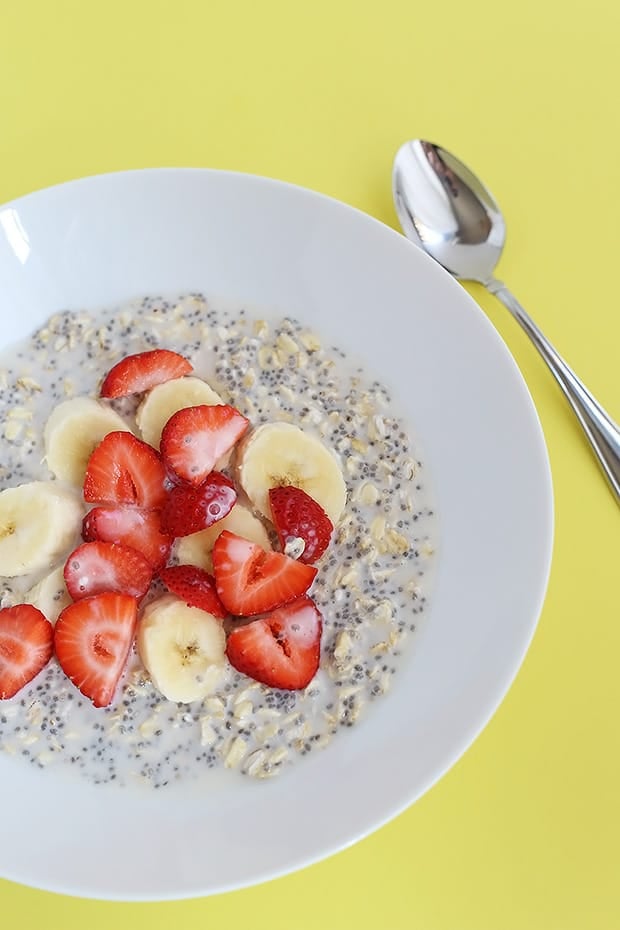 This Strawberry Banana Chia Oat Breakfast is:
Healthy
Easy
Fast
Packed full of vitamins + minerals+ fiber + naturally occurring prebiotics
Filling
Naturally sweetened
Great breakfast, lunch or snack!
I hope you give this combo and try and let me know what you think! Leave me a comment and rating below as well as snap a pic and tag me on social media!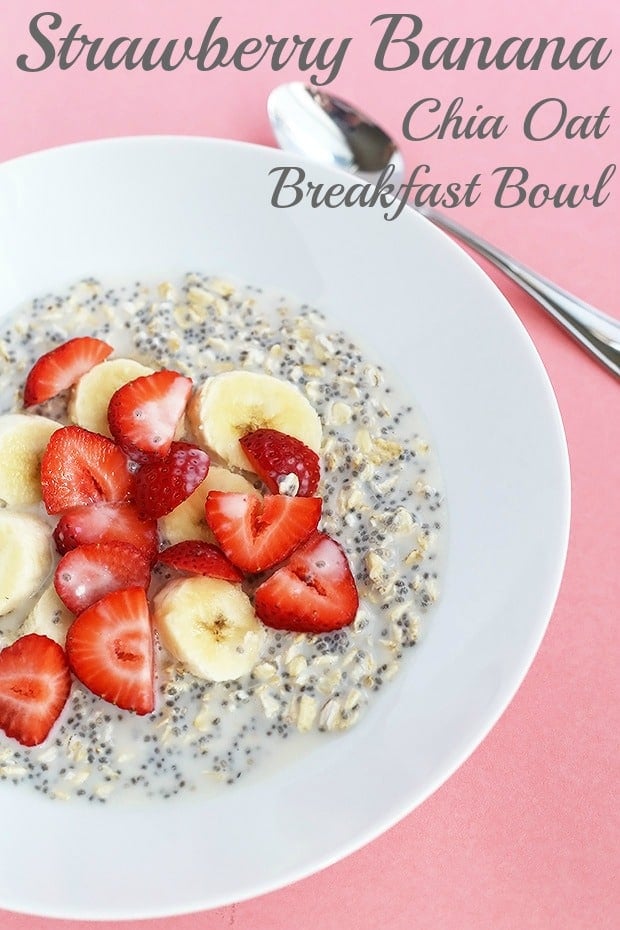 I hope you give this a try and let me know what you think!
Leave a comment and a rating if you do try this!
Also take a pic and tag us on social media!
 let's keep in touch too on TwoRaspberries, Facebook, Twitter, and Pinterest! 
want to PIN this for later? click here
and don't forget to sign up for email updates (drop your email in the box below!) 
**********************************
Subscribe to Email Updates!
Print
Strawberry Banana Chia Oat Breakfast Bowl
Strawberry Banana Chia Oat Breakfast Bowl
Author: TwoRaspberries
Prep Time:

5 mins

Cook Time:

60 mins

Total Time:

1 hour 5 mins

Yield:

1

Category:

Breakfast/Lunch/Snack
- ½ cup oats
- 1 tablespoon chia seeds
- 1 Cup Almond milk (I used unsweetened vanilla SILK brand)
- Strawberries for topping
- Banana for topping
- 1 teaspoon raw cacao chips optional
OPTIONAL sweeteners, choose 1:
- 1-2 teaspoon pure maple syrup
- Couple drops of stevia
- 1 tablespoon coconut sugar
Instructions
In a container add the oats, chia seeds and almond milk. (add in sweetener of choice here if choosing to) Stir it all up and place in the fridge over night or at least 1-2 hours.
Pour into a bowl and add toppings! (unless you put the mixture in a mason jar, then you can just add the toppings right into the jar)
Serves 1