you will LOVE this Strawberry Nanacreme with Chocolate Chips because it is SO healthy for you, gives you energy and makes you feel great,  but it tastes like dessert! 
it is Vegan, Gluten Free, Soy Free and extremely healthy QUICK AND EASY!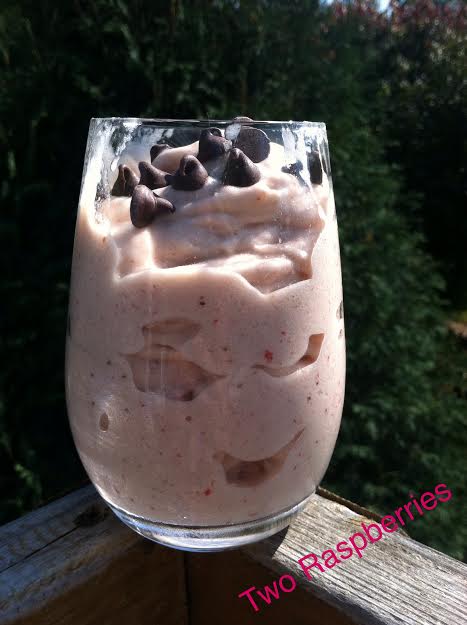 ok everyone!  Hope you all are having a beautiful Monday 😉 I'm going to make your Monday a little bit better!
how? you ask...I'm going to give you something that taste like dessert (literally) but it's so great for you and gives you energy and the vitamins and minerals your body needs to keep going!...
it will help you feel energized and ready for anything instead of weighed down and heavy.
so if you haven't noticed I've been posting pretty healthy things lately... that's because this is what I eat, no I don't eat healthy ALL the time but most of the time I try to, because it makes me feel good and helps me stay active and more productive...PLUS it keeps me in a better mood mentally 😉
anyways back to the recipe... literally 3 ingredients! well actually 4 but I'm not counting water as an ingredient... is that cool with ya'll?
in this Nanacreme we have frozen bananas and strawberries blended with a little water topped with chocolate chips!!! I mean seriously can you get healthier than this?... yeah I suppose you could drop the chocolate chips ;-/ but come on, I NEED them 😉 ... no seriously I need them to stay happy, chocolate keeps me in line HA!
keep checking back because there will be more super healthy "treats" coming soon!
try this and let me know what ya thought!
dont forget to follow us on:
and sign up for our email updates (link in the sidebar)
Print
Strawberry Nanacreme with Chocolate Chips Vegan
Strawberry Nanacreme with Chocolate Chips -Vegan, Gluten free, Soy free
Author: Michele
Prep Time:

3 mins

Cook Time:

3 mins

Total Time:

6 mins

Yield:

1

1

x
Category:

"ice cream"
2

-

3

frozen bananas

7

-

10

frozen strawberries

¼

-

½

cup of water (for blending)
vegan chocolate chips for topping!
Instructions
make sure you have your bananas chopped and frozen as well as your strawberries (I like to have frozen fruit inthe frideg at all times for smoothies, "ice creams" desserts ect.)
take 2-3 chopped frozen bananas (depending how much nanacreme you want to make) and place them in a food processor OR really great high powered blender
add you frozen strawberries and a little bit of water (start with less water and add more as you go)
blend the 2 fruits together (you will need to stop in the middle and push the sides down and stir the mixture and blend again repeat as needed until smooth)
place in a cup, glass or bowl and top with vegan chocolate chips 😉