Attn: Cookie Dough Lovers!!! This Vegan Cookie Dough Ice Cream Sandwich is egg free and totally safe to eat raw!... If you love cookie dough like me, keep reading, if your not a fan ... Your missing out 😉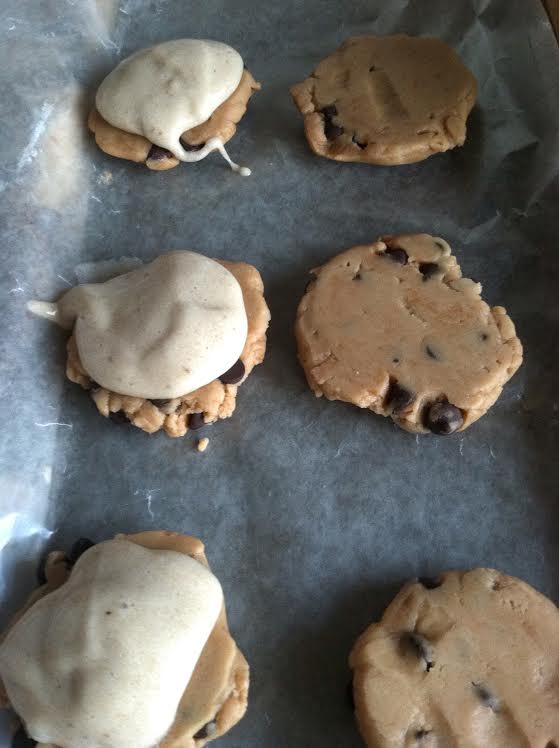 Alright, in the past I was totally quilty of buying those pull-apart and bake cookies and seriously just eating a piece of cookie dough off of it instead of baking them! :-/ come on! I know I'm not the only one who has done it... Well that was before I started making this vegan safe to eat cookie dough, I promise you won't notice the difference between this dough and the other "real stuff"
I'm not sure why I even called that the "real stuff" because in reality this cookie dough is more real than the packaged stuff!
Anyways I'm also a lover of cookie dough in my ice cream... Or something with a little crunch, I have what I call "food fads" I will want nothing but ooey gooey yum-ness for months and then I'll be so sick of it and need the exact opposite like crunchy chewy-ness... Anyone else like that?

😉 anyways... I thought how yummy would it be to have a cookie dough ice cream sandwich! ...
Now I'm trying to make this a little healthier so we have these cookie dough "cookies" paired with probably the healthiest "ice cream" that you could ever make, and still extremely delicious.



Try it, picture it, tag me, and comment!
Print
Vegan Cookie Dough Ice Cream Sandwiches
Vegan Cookie Dough Ice Cream Sandwiches
Author: Michele
Yield:

3

Category:

Vegan Dessert
- ½ cup packed brown sugar
- ⅔ cup minus 1 tablespoon all purpose flour
- 2 TBPS softened butter ( I used vegan earth balance butter)
- ½ teaspoon vanilla
- 1 ½ tablespoon vanilla almond milk
- pinch of salt
- 2 ½ tablespoon vegan chocolate chips
Filling:
- 2 small frozen bananas (or 1 large one)
- 1 teaspoon vanilla
- 2-3 tablespoon vanilla almond milk (add as needed for blending)
Instructions
Using a food processor (I used a mini ninja blender/food processor) add the brown sugar, flour, butter, vanilla, almond milk and salt and mix until dough consistency is achieved. (May need to use a spoon and push down the sides a couple times to get it well combined.)
Pour mixture into a bowl and fold in chocolate chips.
Shape into round cookies and place on a baking sheet lined with wax paper and place in freezer for about 1 hr.
Once the cookies have been in the freezer for about 50 minutes you can start to make you "ice cream" ... Add you bananas vanilla and almond milk (start with 2 tablespoon and increase ass needed) into the food processor and blending until you get an "ice cream" consistency
Remove cookies from freezer and assemble you ice cream between 2 cookie dough cookies.
Place back in freezer for at least 30 minutes then enjoy!
Notes
the cookie dough stores really well for 1 week in the freezer, but the ice cream filling should be consumed the same day it is made otherwise it becomes hard so if you want to make the cookie dough in advance you can but be sure to make the ice cream the day you will eat it!