These Vegan Gluten Free Chocolate Almond Snack Bars are super easy to make.  They only require 9 simple, whole ingredients including oats and almond butter!
"a healthy body is a healthy mind, a nourished body is an energy filled body"
I only need 1 word to describe these snack-y bars… ADDICTING! 😉
I think you are going to love how quick and simple these are to make!
They only require 9 simple ingredients, a mini food processor or blender and a little muscle!
YUP! I said a little muscle… cause these bars really require you to put a little bit of effort into mixing them up by hand, really getting in there and almost kneading it like a dough, HA! 😉
Alright let's back up, first let talk about the medjool dates, they should be pitted and soft.  They don't need to be gooey necessarily but they should squeeze open to get the pit out easily… if they are tough be sure to soak them for about 15 minutes in water first.
Moving on, when you blend up the dates, almond butter and maple syrup it's going to be a super sticky super thick mixture… THAT is why you need to put a little bit of muscle into mixing it with the dry mixture.
Trust me it will come together in a few minutes of smashing it together with your hands 😉 and it will 100% be worth it once you take a bite.
These bars are filled with filled with proteins, essential fats, vitamins and enzymes which are found in the hemp seeds as well as in the almonds!  and I can't forget about the fiber in the oats and all the minerals found in the dates! ... I should have called these SUPERFOOD bars! 😉
They are also really great to wrap up individually and pack in your lunch or even put in your purse because they don't melt! They do get a bit softer but they stay nice a chewy!
And as always you can get creative with this recipe, if you prefer vegan chocolate chips over raw cacao nibs then go for it! If you want to add in a few dried cherries go for it! Just make sure to not add too much more otherwise you won't have enough "wet" mixture.  😉 but don't worry if that happens you can always add a little extra dash of almond butter and maple syrup!
Ok, to sum it up…
These Vegan Gluten Free Chocolate Almond Snack Bars are:
Filling
Healthy
Easy
Chewy
Nutty
Great fiber filled snack
Great to pack in lunches
I really hope you give these a try and if you do leave me a comment and rating below as well as snapping a pic and tagging me on social media! I love seeing what you make!  😉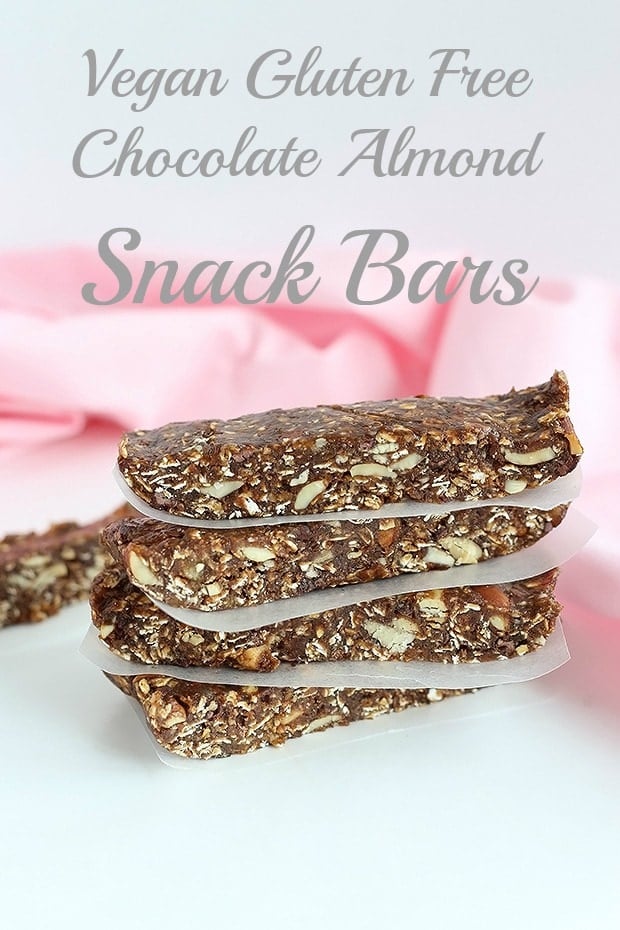 Print
Vegan Gluten Free Chocolate Almond Snack Bars
Vegan Gluten Free Chocolate Almond Snack Bars
Author: TwoRaspberries
Prep Time:

10 mins

Total Time:

10 mins

Yield:

6

1

x
Category:

snack/breakfast
WET INGREDIENTS:

1 cup

pitted medjool dates (about 11-13)

3 TBSP

runny natural almond butter

2 TBSP

pure organic maple syrup
DRY INGREDIENTS:

1 cup

oats

½ tsp

cinnamon

1 TBSP

cocoa powder (or raw cacao powder or carob)

2 TBSP

cacao nibs (or vegan chocolate chips)

3 TBSP

almonds (chopped)

1 TBSP

hemp seeds
Instructions
In a large bowl add all the dry ingredients and mix it up, set it aside.
In a mini food processor add the pitted dates, almond butter and maple syrup. Blend until well combined!
Add the wet mixture to the dry mixture… start to fold the mixture together with a spoon and them finish by slightly wetting your hands and really getting into it and mixing it really well! (this mixture is really hard/sticky so put some muscle into it!
Next line a baking dish (about 4x8) with parchment or wax paper, scoop the mixture into the dish, push down and then grab another piece of parchment/wax paper place over the top and use the bottom of a cup (a flat on) to push and flatten the bars the rest of the way.
Place in freezer 1 hour before cutting OR in the fridge overnight.
Makes about 6-8 bars
Notes
***if you don't like full pieces of oats in your snack bars you can feel free to pulse them in the food processor to break them up before adding all the other dry ingredients! ...process the oats first, add them to a bowl with the rest of the dry and then process the wet ingredients!