This Vegan Gluten Free Pumpkin Spice Bread is moist, soft and delicious! Chocolate chips are added for extra sweet-ness in this bread!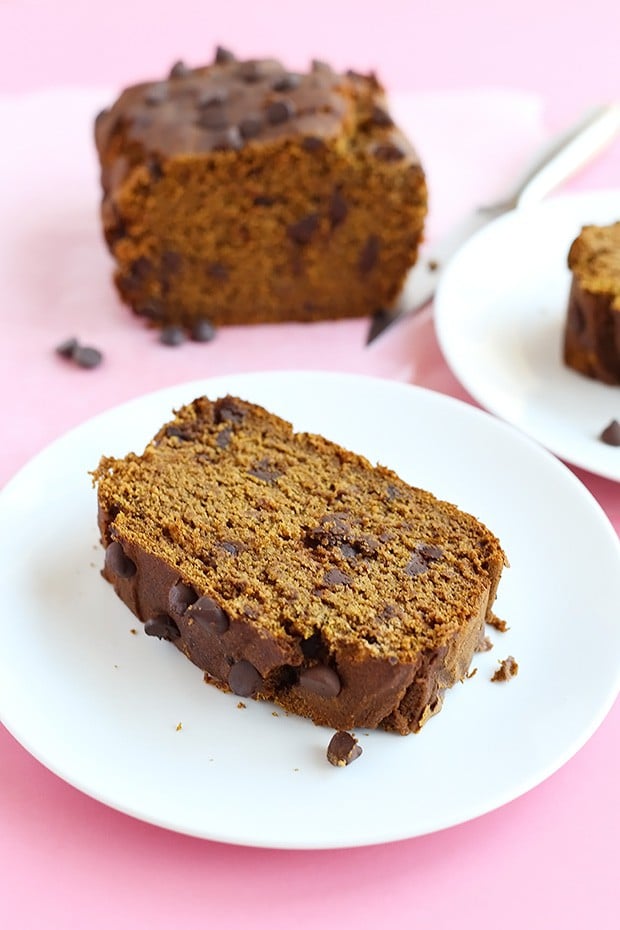 It's the middle of the week and you know what that calls for? A mid-week snack bread!
It can't be baking season without a pumpkin spice bread right?!
I don't know about you but breads like this or even banana breads or peanut butter breads I always like to heat them up with a little vegan butter on top and have it for lunch! Usually my lunch is something like a quinoa dish or veggie packed sandwich but something about this time of year makes me crave warm baked breads like this! Not muffins or bars but breads! It must be because it's getting cold out and my tastes are switching to comfort foods! 😉
Anyone else like that?
Anyways, you are going to love this bread because it's soft and moist AND the bread part is refined sugar free! (the chocolate chips aren't sugar free but you could sub carob chips if you want)
The nice thing about using spices is that they have so many flavors on their own that it makes a refined sugar free dessert taste not-so-sugar-free. 😉
This isn't totally sugar free though, the bread is naturally sweetened with dates and maple syrup, but the bread IS free of white processed sugars (the chocolate chips contain sugar, unless you use carob chips or dark chocolate sugar free chips)
Also! Pleaseee read the recipe notes carefully before making this bread, I have notes about the flax egg and the date caramel in there! Thank you bunches! 😉 wink wink!
A few more things about this Vegan Gluten Free Pumpkin Spice Bread:
It's soft and moist.
Slightly dense.
Smells amazing!
Naturally sweetened (except the chocolate chips if you choose to add them, could sub pecans or other nuts)
Even better heated and topped with butter the next day.
Totally yummy lunch! 😉
I hope you give this a try and let me know what you think! Leave a comment and rating! Also snap a pic and tag me on social media!
Print
Vegan Gluten Free Pumpkin Spice Bread
warm and comforting! perfect Sunday afternoon snack!