Buttery yummie-ness!
Butter on the bread, buttery avocado mashed in the middle of the sandwhich I mean can I ask for more?
The butter on the bread and the freshness of tomato and creamy avocado and obviously amazing cheese smushed in the middle of a warm Vegan Grilled Cheese sandwich has my taste buds in heaven!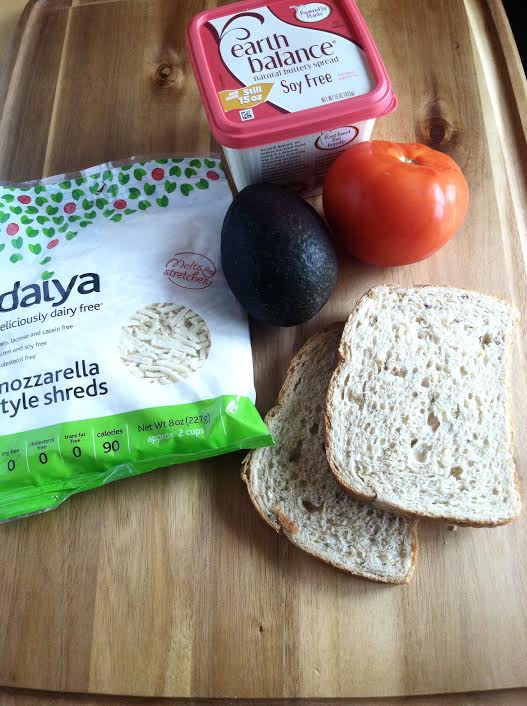 Now I have to admit that if you are not used to the taste of dairy free cheese you might want to just use the real thing, but if your like me who has been eating it for years your going to fall in love! (no I'm not vegan but I like to use dairy free a lot and I have been interchanging the two for years)
As for the butter I used the Earth Balance Butter which I use 95% of the time, the only time I don't use it is in some of my baking.
Anyways, I made this Vegan Grilled Cheese and split it with my mom and we were both like… where's the rest? I swear I was craving this at midnight (obviously I wasn't gonna make it again that late at night but I mean that tells you how good it was!)
You gotta try these, it's going to be your new favorite! …even if you use real cheese…I won't tell!
Print
Vegan Grilled Cheese
Author: Michele
Prep Time:

5 mins

Cook Time:

7 mins

Total Time:

12 mins

Yield:

1

Category:

Vegan Grilled Cheese
- 2 slices of whole grain bread
- 1-2 tablespoons Vegan butter (I used earth balance)
- 1 ½ slices of tomato
- ⅓ of an avocado
- ¼ cup of vegan cheese (I used daiya brand)
Instructions
Use a small pan and non-stick cooking spray and turn on low heat
Butter 1 side of each slice of bread.
Slice your tomato and avocado
Place 1 slice of bread buttered side down in the pan and layer ½ of the cheese then the tomato and avocado and the other half of the cheese on the bread, and then place the other slice of bread on top, buttered side up.
Use a spatula to lift the sandwich up to peek if its brown and once it is lightly browned carefully flip and brown the other side
Transfer to a plate slice in half and enjoy!