how to make vegan hot chocolate with a video! it's low in sugar, super easy dark chocolate recipe for Hot Chocolate made on the stove top!
Vegan Hot Chocolate + VIDEO !!! I'm excited to show you all my second video including a lil bit of life 😉 and a super easy+creamy dark chocolate recipe for Hot Chocolate!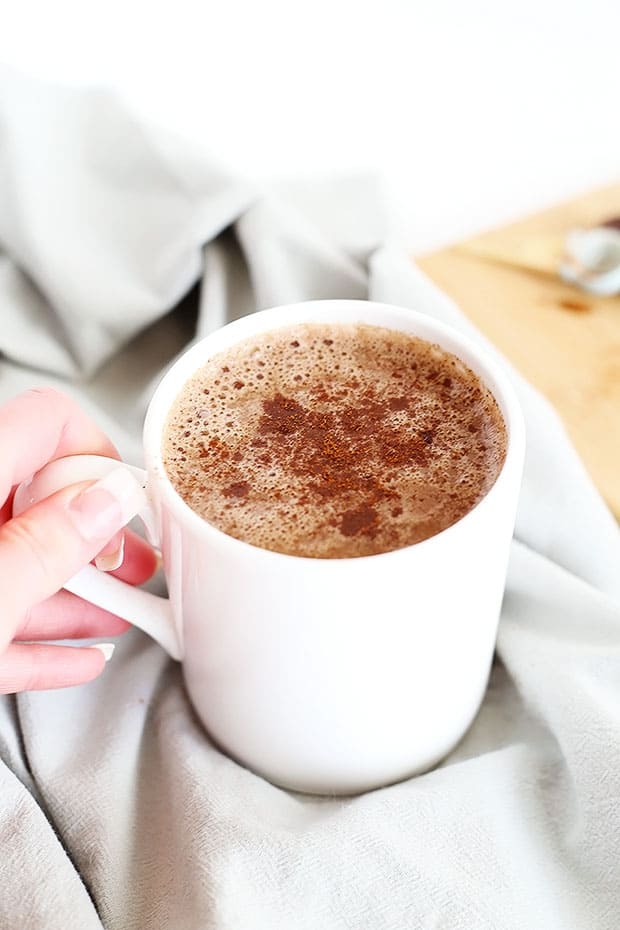 "It took me 1200 years to get it right! Not too hot, extraaa chocolate, shaken not stirred!"
Anyone know the name of the movie where that quote is from?!
I'll give you a hint...
I officially want a sleigh bed! ?
Do you know yet? ...
Santa Clause the first movie!!! Yep, if you follow me on TwoRaspberries you probably already read that we started watching Christmas movies last week! I absolutely loveeee the Santa Clause movies!!!
Okay enough of my Christmas movie obsession... This Vegan Hot Chocolate is a little different from Santa's we didn't shake it like the movie, we used a whisk! HA!!!
I have a little video for you with this too, and to make it a little more interesting and personal the pupperz made an appearance at the beginning of the video! Can you tell I love my boys!
I'm not sure if you watched my other Rawnola video but I tried to video that one myself, I wanted it to look "homemade" I guess is the word? I'm not sure just not stiff and professional… chill does that make sense? But it didn't work very well doing it myself, 😉 and I don't want to use a tripod because I don't like that there's no natural movement with a tripod... So I had Nick help me this time, let me know what you think???
Now maybe I'll get to talking about the hot chocolate! 😉 it's super simple only 6 ingredients and it's like dark chocolate heaven (of course you can use a vegan milk chocolate if you don't like dark, but I love dark)
Basically you just pour your two kinds of milk, maple syrup and vanilla in a pan and heat it up, then add your chopped chocolate and cinnamon and waLA! Grab a movie and a blanket and enjoy!
If you try this I would love to hear from you! And let me know what you think about the video too!
Tag or send me a message here:
FB
TwoRaspberries
and I would love it if you subscribed to emails too so you never miss anything!!! 
Print
Vegan Hot Chocolate + VIDEO
Vegan Hot Chocolate + VIDEO
Author: TwoRaspberries
Prep Time:

5 mins

Cook Time:

5 mins

Total Time:

10 mins

Yield:

1

1

x
Category:

Dessert/Drink
12 oz

. Almond Milk (I used unsweetened SILK brand)

4 oz

. full fat coconut milk from a can

1 tsp

vanilla

1

TSBP maple syrup

1.5 oz

of dark chocolate (I used 75% dark chocolate)
top with cinnamon

1 tsp

cane sugar (optional, I don't use this)
Instructions
add you almond milk and coconut milk to a sauce pan with you vanilla and maple syrup
whisk and put on stove on medium heat whisking frequently until it start to boil and is hot!
while the milk is getting hot roughly chop up your chocolate, once milk is hot, turn the heat off and add your chocolate and whisk until creamy smooth!
pour into a mug CAREFULLY! and top with cinnamon!
makes 16 oz.
small drinks or 1 large drink!
Notes
If your can of coconut milk is hard and has separated, simply pour it all into a bowl and whisk it back together, it should all mix back up easily into a thick creamy texture!
I have tried this with just almond milk and no coconut milk, it's not a creamy and the texture isn't as smooth!