Vegan Plant Based Grocery Guide:
This is my vegan plant based grocery guide, hopefully show you that eating healthy doesn't need to be difficult!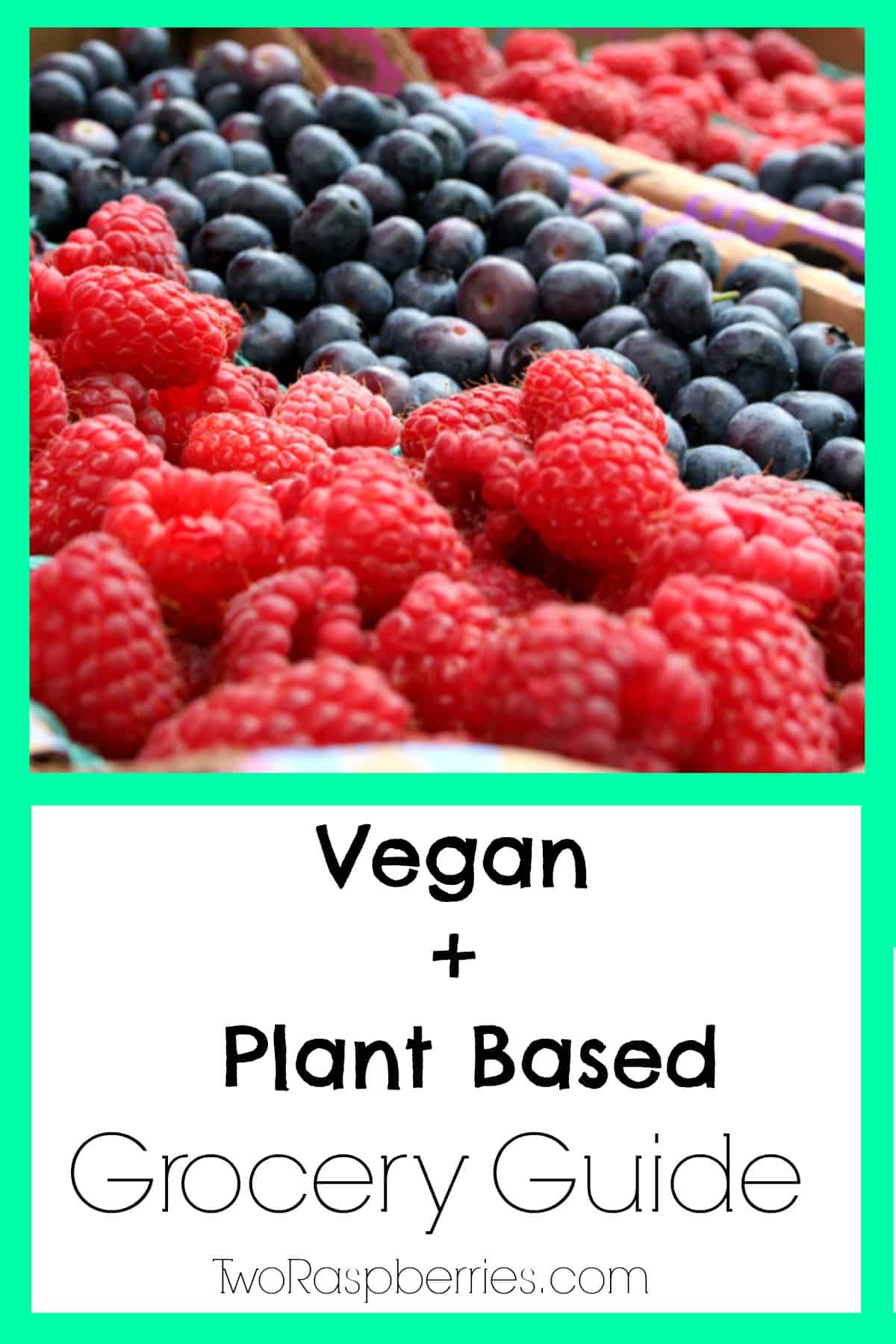 Hey! So today I wanted to share a vegan grocery list with you all.  Sometimes it can be annoying and stressful when you don't know what to get at the grocery store, you walk in and it's like instant uhhhhh??? And then you end up buying too much processed food and get home with nothing to eat!
Well that's why I wanted to share with you my essentials, things that I buy every time I go to the grocery store (if I need more, depends on what I already have at home) so that you can have a "base list" of things to get. 😉
Most of the time I shop at Super Target or Walmart and make special trips to Whole Foods and Trader Joes when needed.  I buy organic as much as possible here is a link to produce you should always buy organic, another rule of thumb I like to follow is: if you're going to eat the skin buy organic, with the exception of bananas I like to buy those organic too because the non-organic ones just taste funny too me.
Organic foods don't always look as pretty as the rest but have you ever tried to rinse off an apple that's not organic? It has a waxy nasty-ness that won't even wash off! Gross it is not supposed to be there, that's chemicals/pesticides and all things that you do NOT want to eat!
Another thing, I don't plan out my whole week meal for meal but I find that when I have my basics stocked and buy fresh things every week you can look at what you have a get creative because if you're like me, if you go to the grocery store on Saturday or Sunday what you are craving at that time probably won't be what you want come Tuesday or Wednesday! So keep your "Basics" stocked and get some fresh foods every week!
Although I don't meal plan, I DO make extra of things like rice, quinoa, pasta etc. and keep in the fridge for a day or two so I can pair it with lettuce or fresh veggies for a quick lunch.
I like to keep things SIMPLE. FAST.  EASY.
Once you start eating cleaner your body will just naturally tell you what it needs, and when you stop making it difficult and complex you will notice you start to eat cleaner than you even intended in the first place when you started.  The more you start to feel better the more healthy your choices will be.  PLUS it is SO freeing for your mind to cut the addiction to foods and routines and go with how you feel instead of this is routine and this is what I eat! I'm not perfect I still have a couple things I'm "addicted" too but far less than what I used to have.  I do eat a lot of the same breakfast and dinners most of the time, not always though and different flavors like breakfast smoothies but using different fruits! Lunch is usually different every 3 days (because I make bigger batches to save for lunches).
Ok enough of my talking! On to the lists!!!
Let's start with produce, these are things I normally have around but don't buy every time I go depending on what I have on hand and what I am craving!
*Another note, I am listing what I would buy for 1 single person, if you are buying for more than 1 multiply this list by how many people!
PRODUCE:
·         10 bananas (I freeze 7 of them and leave the other 3 out)
·         Lemons (buy the bag, I use this on top of salads, or squeezed over rice or in water)
·         Limes (I don't always buy these but if you like limes and not lemons get these)
·         2 Apples
·         1-2 packages of lettuce (spinach, spring mix, baby kale mix)
·         2 avocado's
·         2-3 tomatoes
·         Onions (buy the bag, use on salads, rice dishes, quinoa dishes etc.)
·         Garlic
·         1 cucumber
·         1 sweet potato
·         Whatever else looks good as fresh fruit,  strawberries, raspberries, grapes, oranges, peaches, mango's, plums.
·         Whatever else looks good for fresh veggies, broccoli, carrots I like baby carrots, mushrooms, celery, peppers.
FROZEN PRODUCE:
·         Frozen strawberries, pineapple, blueberries, raspberries for adding to smoothies
·         Frozen veggies and mix veggie packs for adding to lunch/dinners if you don't have any fresh ones… (make sure they are plain or lightly salted, no butter, oils, other added crap!)
Other Basics:
·         Almond milk (I use SILK unsweetened vanilla)
·         Coconut milk (also use SILK Brand)
·         Corn tortilla wraps
·         Baked chips + plain chips or crackers for dipping (read the ingredients, get as clean as possible some oil is ok but not the other nasty things)
·         Yogurts (I don't usually buy these but if you like them then you can, I suggest SILK brand for those too)
·         Salsa (get organic if possible, read ingredients! great to mix with avocado and have as a chip dip)
·         Beans (chickpeas, black beans – no salt added if possible, you can season it yourself)
·         Bread (if you get bread get a whole grain or GF variety)
·         Rolled Oats
·         Quinoa
·         Basmati or Brown Rice
·         Pasta (GF or whole grain)
·         Organic rice cakes (I like Lundberg brand)
Seasonings:
·         Garlic powder
·         Onion powder
·         Italian seasoning
·         Dried oregano
·         Dried thyme
·         Chili or BBQ seasoning
·         Sea salt
·         Pepper
·         Tamari or soy sauce
·         Vinegars, white rice vinegar, balsamic vinegar, apple cider vinegar (these will be used in rice dishes, salads, and baking)
Those are all things I get at my regular grocery store, it may seem like a lot but I don't get this every single time, a lot of it you will find you still have on hand especially the Basics and Seasoning's.
Now I am going to share with you specific things I get at Whole Foods and Trader Joes! 
Whole Foods:
·         Tortilla wraps (I like the Food for Life GF ones) I use this for quinoa wraps, rice burrito wraps, or hummus veggie wraps.
·         Roasted red pepper hummus.
·         Lara Bars, Nuts Over Chocolate Luna bars (these don't say vegan but the chocolate is dairy free I emailed them, I think the reason for them not being vegan is because of the added vitamins so make your own choice about them) and any other vegan granola bar they have, just read the ingredients and make sure they are as natural as possible.
·         Shredded unsweetened coconut (I like the Let's Do brand)
·         Coconut sugar for baking
·         Nuts and Seeds… almonds, walnuts, cashews, peanuts occasionally, sunflower seeds, pumpkin seeds.
·         Chia seeds
·         Vegan cheese (I rarely buy this unless I am really craving it but I like the Daiya brand)
·         Vegan ice cream (also rarely buy, and only eat small amounts when I do but I like So Delicious and SILK brand)
·         Nut butters (I like PB&Co.. Not totally natural but sometimes you just need it, also not all of them are vegan I like the smooth operator kind and the white chocolate kind!)
·         BAKING STUFF (rice flour, almond flour, coconut flour, GF flour (I get both kind of the Bob's Red Mill GF flour, the red and blue package) , cocoa powder)
·         Vegan chocolate chips (I use the Enjoy Life brand and the Sunspire if wanting cacao ones)
Trader Joe's:
Nut butters (the all-natural ones, it's their own brand peanut butter and almond butter)
Jelly ( I don't eat this very often but sometimes I really crave PB&J sandwiches so they have a great grape jelly that has far less crap in it)
Spicy Dijon Mustard
I also buy their roasted red pepper hummus
Medjool dates (I also buy these at Costco )
Vegan chocolates
I hope you enjoyed reading this!
Let me know if you have any questions!
Eating vegan mostly plant based doesn't need to be difficult, so be easy on yourself and watch as you slowly incorporate these foods how much better you will feel!!! 😉
I hope you enjoyed this post and let me know what you think! let's keep in touch too on TwoRaspberries, Facebook, Twitter, and Pinterest! 
want to PIN this for later? click here
and don't forget to sign up for email updates (drop your email in the box below!) 
**************************************
***************************************