Vegan "Steak" Tacos! Perfect dinner night food. Super easy, filling and healthy!
Vegan and Gluten Free
Taco nightttt!!! Spoiler: the "steak" is actually portobello mushrooms and it works perfectly as the meat replacement!
So I absolutely love tacos but usually I just do a simple rice a beans taco... But NOT tonight! Nope, tonight is a faux steak taco and it was deeeelicious!
Tonight was a fun night, we made this Vegan "Steak" Taco and watched Cutthroat Kitchen on the Food Network! Does anyone else love that show?  I never used to be a fan of that show but ever since they came out with "Camp Cutthroat" I've been totally watching all the other re-run episodes of that show! We love it, it's too funny 😉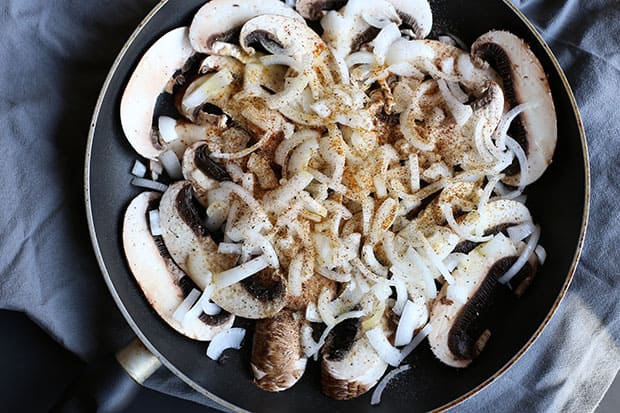 Anyways, on to the tacos! SO EASY!!!
I seasoned the filling with onion, garlic, chili and cumin to give a really nice smokey steak like flavor and topped with fresh ingredients tomato and lettuce!
And this Avocado Cream Sauce is some seriously insane stuff! By itself it's a little strong of lime flavor but when you put it on top the taco it's like a flavor explosion of creamy good-ness! You taste the avocado and cilantro with a hint of lemon! It works perfectly! these neeeed to be at your next taco night! 😉
I really hope you try it and take a picture so I can see it! Tag me on IG @TwoRaspberries #TwoRaspberries
Also don't forget to sign up for emails so you can be the first to know everythangggg! 😉
Print
Vegan "Steak" Tacos
Vegan "Steak" Tacos! Perfect dinner night food. Super easy, filling and healthy! Vegan and Gluten Free
Author: TwoRaspberries
Prep Time:

15 mins

Cook Time:

15 mins

Total Time:

30 mins

Yield:

6

1

x
Category:

dinner
6

corn tortillas

2

portobello mushrooms

1

-

2

garlic cloves

1

small white onion

1

-

2

tablespoon olive oil

1 tsp

cumin powder

½ tsp

onion powder

½ tsp

garlic powder

1 tsp

chili powder
Salt/Pepper to taste
Sliced tomatoes (1-2 depending on size)
Shredded lettuce
Avocado cream sauce:

1

large avocado (ripe/soft)
Juice on lime (half of a large lime or a whole small one)

1 tbsp

olive oil

1 tsp

cumin powder

2

stems of cilantro (pull leafs off of stem)
Salt/Pepper to taste
Instructions
In a large skillet pan on medium heat, slice your mushrooms, onions and garlic and place them in the pan with your seasonings (onion, garlic, cumin, chili, salt, pepper) add your olive oil and let cook for about 10-15 minutes while you prepare the rest.
For the creamy avocado sauce, place all the ingredients teaspoon into a food processor and process until smooth, once smooth spoon into a zip lock back (so you can drizzle it over the tacos) don't snip the end of the bag until tacos are ready!
Warm your tortillas, you can use the oven if you would like but I just tossed them in a different pan over medium heat until they warmed up.
Chop your tomato's and rinse your lettuce.
Assemble your tacos, tortilla, "steak" filling, tomato, lettuce, filling, tomato lettuce again and then drizzle your creamy avocado sauce over the taco and enjoy!!!
Makes 6 tacos