This Vegan Veggie Spaghetti Sauce is easy, low fat, low sodium, super healthy and several servings of veggies!
Vegan + Gluten Free Option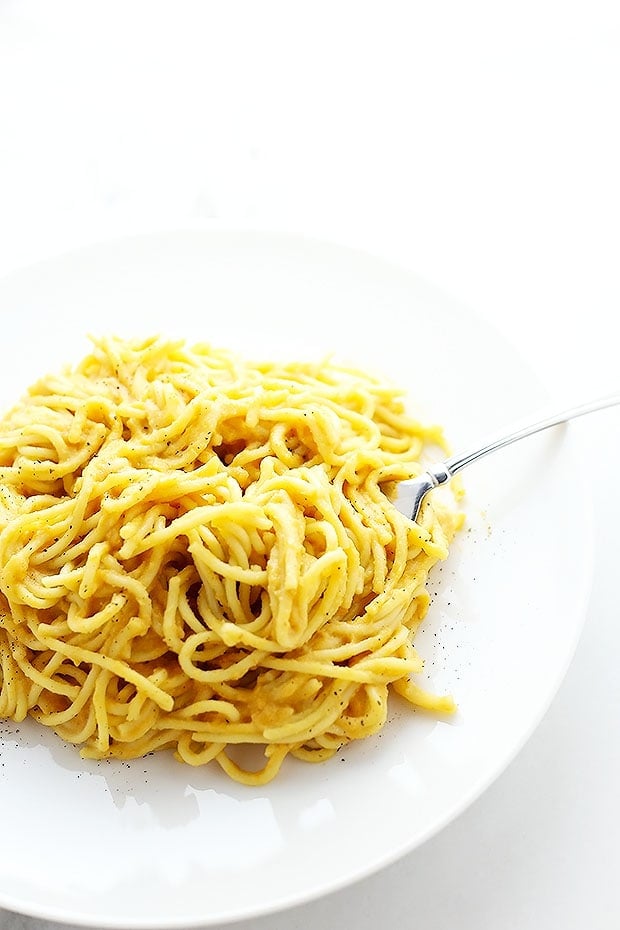 My. New. OBSESSION.
I have had this SO many times this month it's not even funny!  This recipe started out as trying to be a vegan mac n cheese... it didn't taste much like that.  But it tasted SO good I could not, not share it with you all! I gave it a different name because this is a veggie sauce you cannot pass up!
Vegan Veggie Spaghetti  Sauce!
Nick and I decided to attempt this recipe a few weeks ago and the batch we made ended up being WAY bigger than we expected but that was OK because we ate it for the next two days and even being leftovers it was totally bomb! So I decided to leave the recipe as is, I didn't want to make it smaller because for larger families or those of you who like left overs this will be perfect!
And literally as I am typing this, I am wondering if this sauce would be good canned/frozen or something to have ready to go on hand? I have only ever canned salsa from our garden, Q: to any of you out there that are into canning other things let me know your thoughts on this? Do you think it would work?
Anyways back to the recipe, the sauce is a bunch of veggies with a hint of almond milk and lots of nutritional yeast! (aka the kinda cheesy flavor) it's creamy and flavorful.
I choose spaghetti pasta but you can choose whatever you want.
So for the sauce you boil the veggies until they are soft and then you put them in the blender or food processor and blend with the almond milk and nutritional yeast and that's it, pour over your pasta and go to happy pasta land. 😉 I know you know what I am talking about!
creamy. flavorful. totally addicting. make it tonight!
I hope you give this a try and let me know what you think! let's keep in touch too on TwoRaspberries, Facebook, Twitter, and Pinterest! 
check out some of my favorites on amazon also! 
want to PIN this for later? click here
and don't forget to sign up for email updates (drop your email in the box below!) 
*************************************
************************************
Print
Vegan Veggie Spaghetti Sauce
Vegan Veggie Spaghetti Sauce
Author: TwoRaspberries
Prep Time:

15 mins

Cook Time:

40 mins

Total Time:

55 mins

Yield:

6

-8

1

x
Category:

pasta/sauce
16 oz

. of spaghetti pasta (regular of GF)

1

medium sweet potato (roughly peeled and chopped)

½

a white onion chopped

2

large carrots chopped

½

a head of cauliflower roughly chopped

2 cups

water

1 ¼ cup

unsweetened vanilla almond milk (I use SILK brand)

¾ cup

nutritional yeast
Salt/pepper to taste
Instructions
Prep, chop and boil veggies with the 2 cups of water and a lid on low-med heat until soft (about 20-30 minutes)
Boil and prepare your pasta
Once veggies are soft scoop your veggies AND the water it was boiled in, into a blender or food processor
Add you almond milk, nutritional yeast, salt/pepper and blend until creamy smooth
In a large bowl add your pasta and top with the veggie sauce. Mix and enjoy!
Serves about 6 people (Large Servings) depending if you have a side dish and how much each person eats.
Notes
Notes:
This is a large serving of veggie sauce and I recommend spaghetti, fettuccini , shell pasta or anything with textures for this, any other pasta will work and taste amazing but this serving size of sauce will probably be way too much because they don't absorb as much sauce!
eat. this. every. night.  pasta = love