These are not all "recipes" some of these are things that I have eaten lately that I would like to share with you for food inspiration, maybe spark some ideas for you.  Eating vegan doesn't need to be difficult or stressful, a little meal prep and it's just as easy as fast food! I hope you enjoy these and get inspired to get in the kitchen and throw together something healthy with what you already have on hand! ?
to PIN any of these recipes separately or Long pins you can check them out here! ? 
and don't forget to check our my other "What I Ate" posts! 😉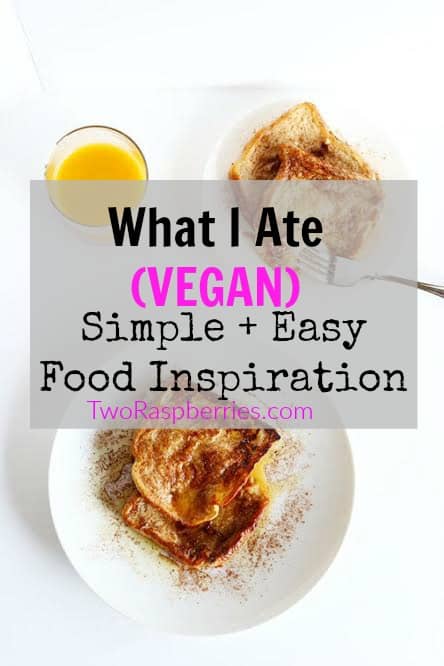 ok ya'll it's been a while since I posted one of these! a lot of these recipes are actually ones from my blog that I have been making over and over the last couple months, and a few that were not on the blog! 😉 I hope you get some ideas and let me know if you have any questions! I hope you enjoy!
first! one of my favorite comforting recipes from the blog, we made this on a Sunday morning one of the freezing cold days we had last month, it was in the negatives! this was just what we needed! you can get the recipe for this Healthy Vegan Cinnamon French Toast Here!
another one from the blog, seriously I have been making this a lot just as a snack to have in the fridge... I'm not sure if this is good or not but I have been leaving it in the fridge for up to 3 days just snacking on it! 😉 super YUM! this is my Peanut Butter Overnight Oats 😉
another obsession, I have been into snacking foods, this is a small recipe but I have made it probably 3 times since posting this recipe! Chocolate Banana Walnut Breakfast Cookies.
seriously. should have done this SOONER! this 5 Ingredient Quinoa Superfood Breakfast Bowl is just like the overnight oats! I don't know which I like more... they are both so easy and they fill you up! unlike the oats though, I do not leave this in the fridge for days 😉 I make the quinoa ahead of time but I assemble it when I am ready to eat!
my Detox Quinoa Bowl!  I make this often, and my Superfood Quinoa Bowl  ... I need to come up with another version that I love as much as these two. 😉 these are just perfect and so different in flavors and textures... I don't know which one would be my favorite but lately I have been eating the DETOX one!
smoothies. every. day. yeah pretty much every morning it a berry smoothie! this one has been my favorite lately...
1 frozen banana, couple handfuls of frozen blueberries, 2 frozen strawberries and a handful of pineapple blended with ice and ZICO coconut water.
STRAWBERRY Nice Cream! it's just like dessert! 3 frozen bananas 6-8 frozen strawberries and a couple tablespoons of water just enough to blend... this is just like my Raspberry Nice Cream and my Blueberry Nice Cream 😉
yum yum Y U M! I love taco's this is an easy leftover style wrap/taco
corn tortilla with hummus, lettuce, mixed quinoa with onion (dressing: olive oil, onion powder, salt, pepper, tiny bit of spicy mustard) topped with salsa
if you want to try my Vegan "Steak" Taco's you can check those out too! also very tasty, the mushrooms act as "steak"! 😉
this was leftover's from 2 different blog recipes!
this pasta sauce is my obsession lately, it's so different from red pasta sauce and completely addiction... like a party in my mouth! It's the Vegan Veggie Spaghetti Sauce 
and this salad oh my gosh, clean, fresh and so good! Easy Walnut Cranberry Orange Salad  I love my salads to have flavor, crunch and fresh-ness! 😉
and together they were totally bomb!
I eat rice a lot! but this was a second round of my Healthy Veggie Rice Bowl! I love the addition of corn and peas in here, I made this and ate it for 3 lunches! 😉 it's super clean tasting, you can tastes all the individual flavors and it's kind of an earthy flavor. LOVE.
I hope you like this post, let me know what you think! let's keep in touch too on TwoRaspberries, Facebook, Twitter, and Pinterest! 
check out some of my favorites on amazon also! 
want to PIN this for later? click here
and don't forget to sign up for email updates (drop your email in the box below!) 
***********************************
**********************************
feel good. inspire.  nourish.
check out my eBook too! 😉 over 40 easy recipes that are simple and healthy!
AND when you sign up for email updates you will get this FREE Fruity eBook sent right to your inbox!